Student housing is an attractive investment opportunity due to inherently demographically driven  nature. Based on trend lines from past economic downturns and other factors, we know that the industry is recession-resilient industry and can be classified as countercyclical. In this blog, we dive into the three primary reasons why, even in times of economic trouble, student housing may be considered a worthwhile opportunity for investors.
Point 1: Historical Trends of Increasing Undergraduate Enrollment
Should another recession in the United States transpire, it may mean more undergraduate enrollments for student housing properties. While the future state of affairs for fall enrollment is uncertain; generally, past recessions tend to not only increase undergraduate enrollment, but also keep those enrolled in college for a longer period of time due to a lack of job prospects. Despite the recession in 2008, total undergraduate enrollment in degree-granting, post-secondary institutions increased by 27% between 2000 and 2017 (NCES). Statistical evidence indicates that undergraduate enrollment numbers will continue to increase by 3%, reaching a total of 17.2 million students between 2017 and 2028 (NCES). In general, recessionary periods correlate with increased undergraduate enrollment, as well as extended student enrollment periods.
Point 2: Historical Trends of outperformance versus its conventional periods.
In review of the "same-store" results of publicly traded real estate investment trusts ("REITs") over a ten-year period straddling the Great Recession, student housing REITs outperformed their conventional apartment peers. During the Great Recession (2008 to 2010), student housing REITs increased NOI by 8.7%, whereas conventional apartment NOI decreased by 6.3% (SEC).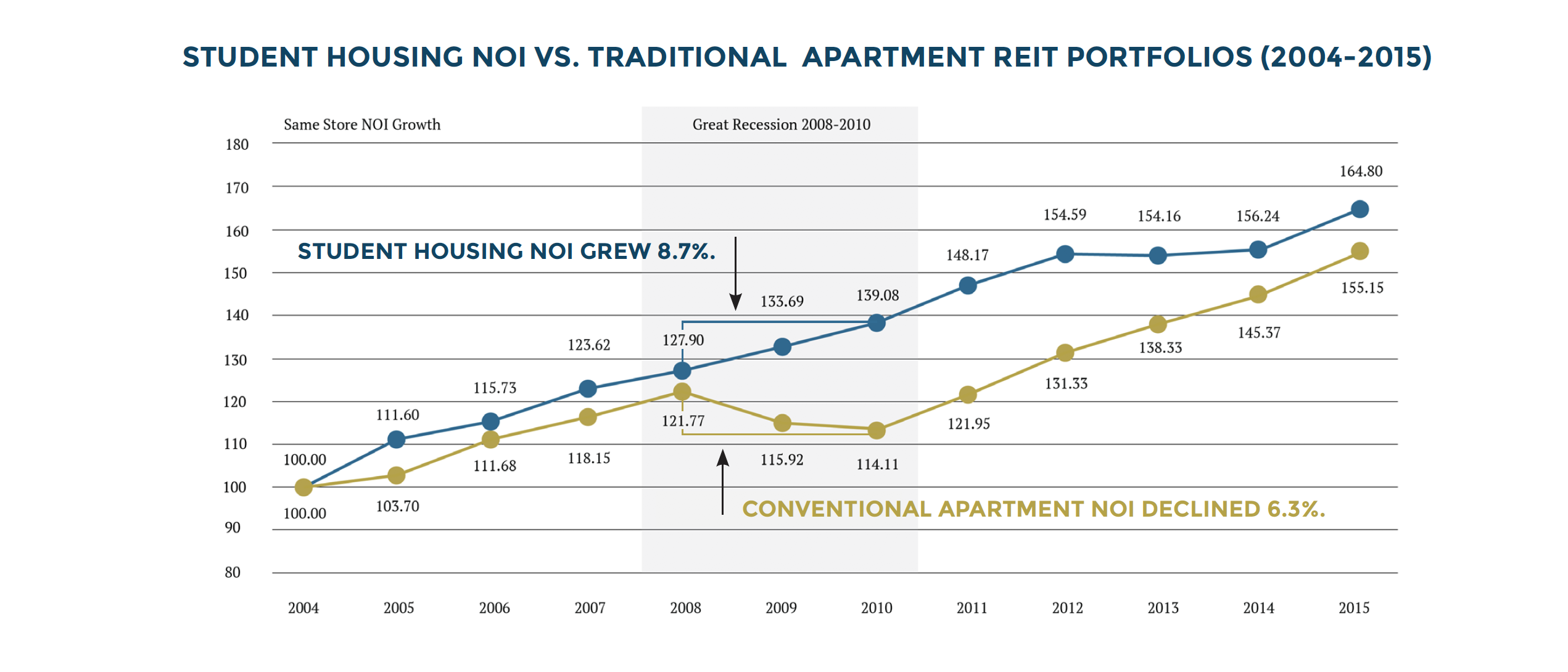 *Data from the SEC. 
Point 3: Housing Preferences
It's important to take into consideration that current and future students have different needs than students from previous generations. Today's students are more likely to come from higher-income families and have grown accustomed to amenities such as separate bathrooms, spacious bedrooms, natural lighting, and washer/dryer access. Student housing provides students with all of the above amenities, as well as residence life perks and the convenience of walking or biking to class. The research suggests that students will continue to enroll in college during a recession and when they do so, they will need somewhere to live that is close to campus and meets their personal standard of living criteria. These facts paired with student demands underscore the recession-resilient nature of investing in student housing.
Point 4: Student Housing Investing Compared to Other Countercyclical Real Estate Investment Opportunities
The countercyclical nature of student housing also provides a uniquely beneficial opportunity for investors, especially with the anticipation of a recession on the rise. Senior housing, self-storage and manufactured housing are other niche real estate investment plays thought to be recession-resilient, but these options lack the familiarity offered by student housing investment opportunities. Student housing offers an option that investors understand on a personal level. Many have had, currently have or will have children enrolled in college and living in student housing. Thus, the student housing investor demographic will likely have the closest working relationship and understanding of student housing.
The Bottom Line
Student housing offers a stable, recession-resilient investment option for anyone seeking an opportunity to aggregate a valuable investment portfolio. If you're interested in student housing investment opportunities, our investment team is well-versed in the student housing industry and offers over a decade of delivering excellent returns. Please contact us here to learn more.