A Global Leader in Student Housing Management
Campus Advantage provides property management, consulting, acquisitions, and development with the goal of creating successful student housing communities.
What the EXPERIENCE Means For You
OUR MISSION
We are on a mission to lead the world in creating financially successful communities that excel in providing rewarding living, learning, and career experiences.
Student Housing Management
Campus Advantage is one of the top operators of student housing communities in the world. Our management team specializes in creating an academic, social, and recreational environment where students can thrive. By maintaining and operating each property to the highest standard, we create an environment that our residents love, resulting in maximum occupancy and returning resident ratios.
Consulting
Campus Advantage Consulting has conducted over 200 professional consulting engagements around the world, including market analysis, project feasibility studies, operational assessments, due diligence services, and design consulting. Clients include universities, large national developers, and investment banks.
Investments
Campus Advantage has acquired over $650 million in student housing assets. We have contributed to the development of more than 50 successful new student housing communities. In 2013 and 2014, Campus Advantage was the most active buyer in the student housing industry in the United States.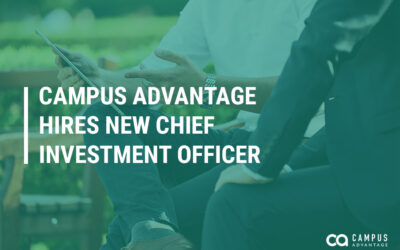 Scott Barton to Oversee Acquisition, Development, Asset Management and Capital Efforts AUSTIN, TX (SEPTEMBER 13, 2021) -- Campus Advantage®, an industry leader in student housing property management, consulting, and investment management, today announced the hiring of...
read more