Arcadia on the River
Location: Milledgeville, Georgia
University: Georgia College and State University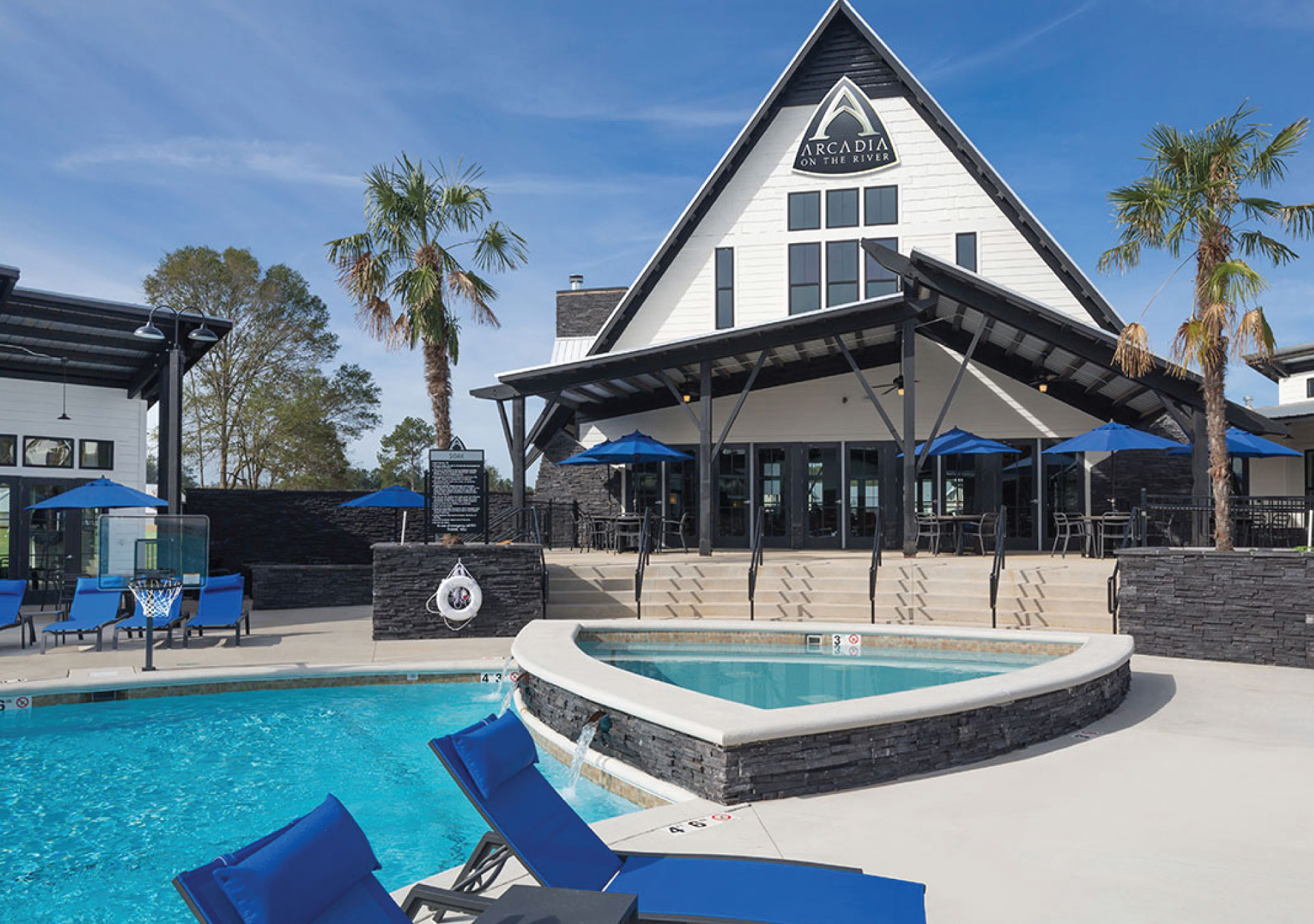 100%
occupancy in 2021
94%
pre-leased for fall 2022 with $0 concessions
83% to 100%
occupancy improvement from 2019
The Challenge
Campus Advantage was hired in 2015 to provide third-party management services for Arcadia on the River after successfully managing Arcadia Student Living in Charlotte, North Carolina. Arcadia on the River is a 123-unit, 510-bed student housing development in Milledgeville, Georgia, that serves Georgia College and State University as well as Georgia Military College.
Campus Advantage was contracted to manage the development from construction through first-year operations. The new property was built on more than 56 acres, creating a neighborhood feel and offering luxury amenities, including an 80,000-gallon pool, a state-of-the-art fitness and yoga center, a sauna, a pet park, and more.
At the time, the Milledgeville market was experiencing some over-saturation due to university requirements for sorority/fraternity residences, and had late delivery of new developments prior to the development of Arcadia on the River. Georgia College and State University and Georgia Military College are smaller universities in a smaller market, which produced lower enrollment trends for several years prior to the opening of Arcadia on the River.
The Solution
Due to the student housing property being a brand-new development, the key was to hire stable staffing to ensure operations ran smoothly, which could greatly affect the reputation impact in the market. To further build reputation, an interactive social media presence was created, reputation campaigns were utilized, and an award-winning Students First® residence life program was established to foster an active community where residents contribute to a positive lifestyle and experience. To achieve high occupancy numbers, a tiered rate program was offered for limited floor plan types that generated a sense of urgency in lease-up.
In addition, Campus Advantage implemented the E3 customer service model to ensure resident satisfaction, which incorporates the company values of intelligence, passion, integrity, and MOJO.
The Results
Campus Advantage's approach to management, customer service, resident engagement, and reputation campaigns positioned Arcadia on the River to develop a solid reputation in the Milledgeville community, boasting a 4.3 rating on Google and a 4.4 rating on Modern Message.
Arcadia on the River achieved 100% occupancy in 2021, is currently 94% pre-leased for fall 2022 with $0 concessions, and improved occupancy from 83% to 100% when compared to 2019.
Although Campus Advantage was initially hired to manage construction of the property only through the first year of operations, the success of Arcadia on the River strengthened the client relationship and Campus Advantage continues to provide third-party management services.