Liv+ Gainesville
Location: Gainesville, Florida
University: University of Florida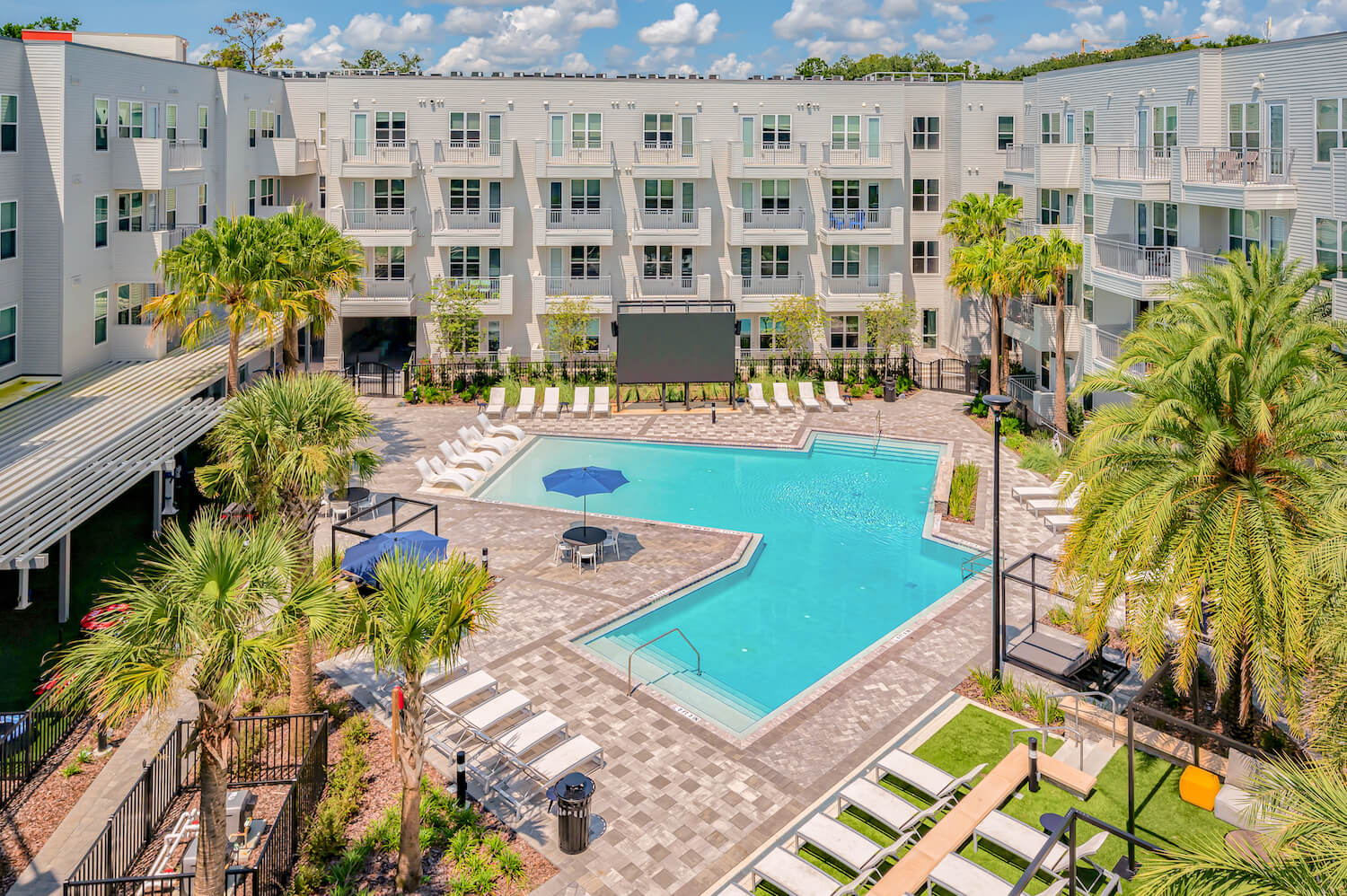 100%
Occupancy in Fall 2021
100%
Pre-leased as of April 2022
45%
Renewal ratio
2.9
Million impressions
The Challenge
In spring 2018, Campus Advantage partnered with Stark Enterprises to perform a market analysis and feasibility study for Liv+ Gainesville — a proposed 618-bed student housing development near the University of Florida (UF) in Gainesville, Florida. Campus Advantage also provided consulting services during the design phase of the project, which was then followed by third-party management services to oversee the lease-up and operations of the new community.
The Solution
The Campus Advantage consulting team visited the UF market, toured the subject site, and examined the commute from the site to campus. The team also spoke to more than 100 students on campus regarding the potential project to gauge insight regarding the location, desired amenities, and preferred transportation. Additional market conditions were analyzed, including the existing on- and off-campus housing supply, rental rates, concessions, enrollment trends, and the university's plans for future growth. The team then compiled their findings and presented recommendations, which included a proposed unit mix, rental rates, common area amenities, apartment features, parking and utility inclusions, and marketing opportunities.
Based on the market assessment and preferred amenities insight, the Liv+ Gainesville amenities package included a fully equipped indoor/outdoor clubhouse, the market's first 24-hour Fresh Market, indoor and outdoor fitness centers, a sparkling pool, two study lounges on every floor, an outdoor courtyard featuring a Jumbotron, a miniature golf course, firepits, several outdoor games, a dog park, and a dog wash.
Stark Enterprises retained Campus Advantage for development and design consulting during the development's planning process. The consulting team determined that the market had approximately 3,330 beds delivering in the same year as the development, which was the most significant increase in supply across all student housing markets, and in the midst of a global pandemic. Undergraduate enrollment declined by 1.3%, or 474 students, from 2019 to 2020, and the average market occupancy decreased by 10% from the previous year to 86%.
Campus Advantage's oversight of lease-up and operations established a strong foundation of performance-focused property management with high-quality staff, exemplary maintenance standards, first-rate residential services, efficient marketing efforts, results-driven revenue management, and more.
Campus Advantage enlisted the help of their marketing partner, Catalyst, which worked closely with Stark Enterprises to follow the Liv+ brand (established when Liv+ Arlington opened in fall 2018) for the Gainesville community. For promotion, Catalyst used both digital and traditional media, including a custom website, a brochure, a sales sheet, a flyer, and a paper system. In addition, marketing strategies were utilized via search engine optimization (SEO), search engine marketing (SEM), social media marketing (SMM), and geofence campaign services.
The Results
Liv+ Gainesville opened in fall 2020 and boasted a robust and inviting amenity package, stand-out branding, and engaging marketing campaigns throughout the duration of management until it was sold in October 2022.
Although the COVID-19 pandemic continued to affect many student housing markets across the country, and despite the additional 783 beds that entered the Gainesville off-campus market in 2021, Liv+ achieved 100% occupancy for fall 2021 with a 6.8% increase in rent growth, or $52 per bed. As of April 2022, the community was 100% pre-leased for the upcoming year with a 45% renewal ratio, and a rate growth of 5.6%.
The leadership of Campus Advantage led to a successfully managed community with a stellar reputation, happy residents (as shown by high renewal), premium rents, and high demand within the market, especially due to effective marketing. Since early 2019, SEO contributed to 209K sessions, 136K new users, and 12.8K website goal completions. From August 2019 to October 2022, SEM search and display campaigns garnered 2.9 million impressions and 2.7K conversions. From October 2019 to November 2022, SMM Facebook and Instagram campaigns garnered 1.8 million impressions with a reach of 265K and 16K clicks.