Lyons Corner and Campus View Place
Location: Gainesville, Florida
University: University of Florida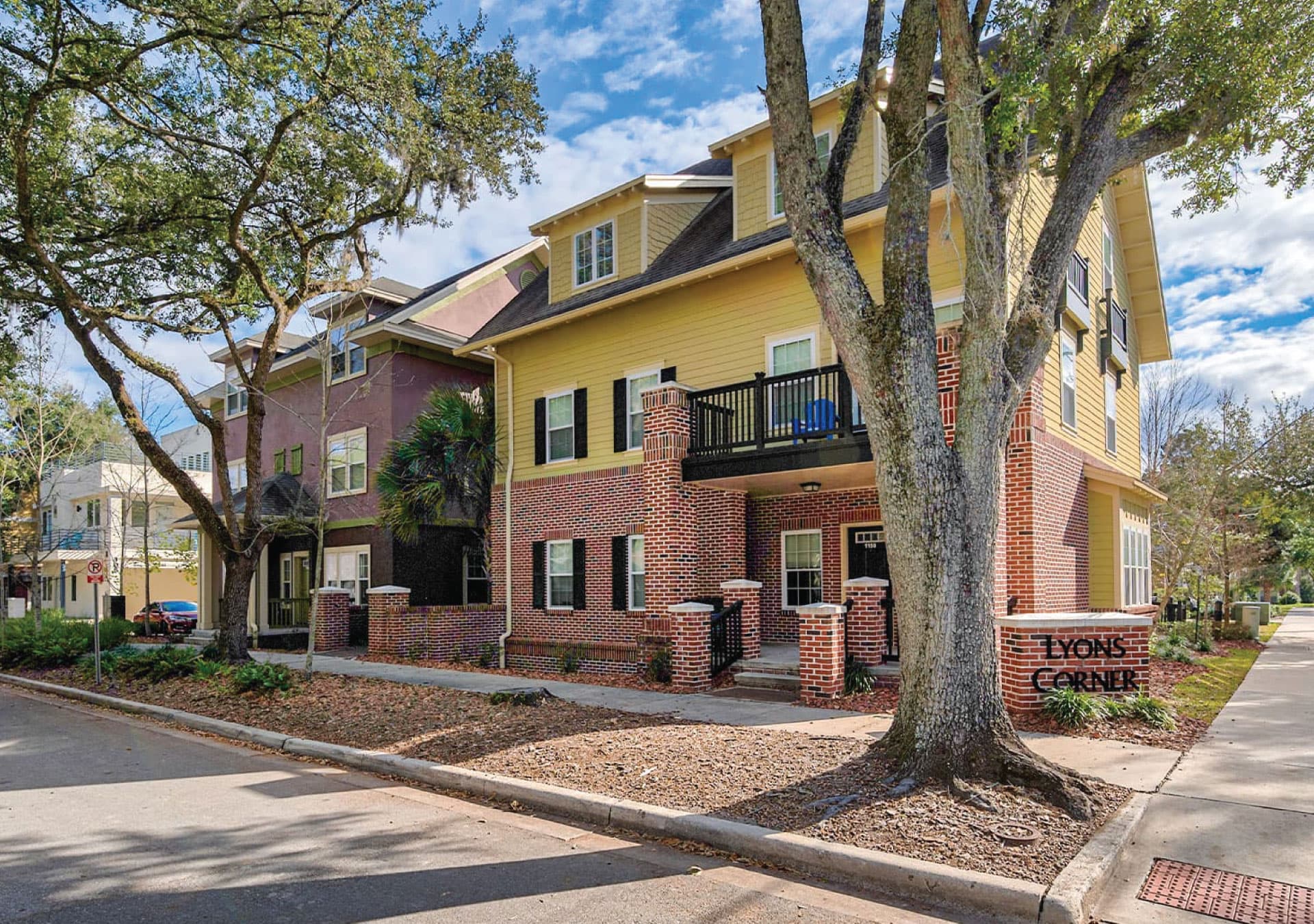 $21 million
Purchase Price
$22.4 million
Total Investment
8.50%
Projected Average Cash Yield
6.90%
Projected Net Fund Average Cash Yield
The Challenge
Sourced off market by Campus Advantage, Campus View Place (CVP) and Lyons Corner (LC) are two boutique student housing assets in pedestrian-to-campus locations near the University of Florida in Gainesville. Campus Advantage was engaged to conduct a financial and property due diligence of the two properties in November 2019, prior to the co-investment acquisition with Stark Enterprises.
The properties are two of 37 off-campus purpose-built communities serving the University of Florida. Campus View Place opened in 2008 and is comprised of 112 beds and 45 units. Lyons Corner was built in phases between 2013 and 2017, and is comprised of 116 beds and 28 units. The assets are complementary product types, with CVP consisting of two- and three-bedroom apartment-style units, and LC consisting of two-, three-, four-, and five-bedroom townhome-style units.
The Solution
Property Inspection Report
The Campus Advantage team performed an on-site inspection of each apartment unit and all common areas. All damages and normal wear and tear were recorded during the inspection, and based on the team's findings, repairs were recommended to be completed in a phased approach throughout the turn process as opposed to an upfront capital expense. The team also made capital improvement recommendations that would help the properties remain competitive within the market, such as adding electronic locks, landscaping improvements, and LED upgrades.
Lease Audit Report
A lease audit was performed on current lease files and pre-lease files. Applications, financial qualifications, move-in/move-out dates, parking, short-term premiums, pet rent, renters insurance, and utility fees were also verified to determine current and future lease accuracy. The data documented on the lease files was compared to the rent roll to ensure a proper calculation of the properties' revenue. Campus Advantage identified numerous rental rates that were not in line with the market rates during the lease audit, which was then brought to the attention of the investor.
Financial Analysis
A financial analysis also was completed on Campus View Place and Lyons Corner to verify the rent roll, concessions, and non-revenue beds. Information on current payroll, repairs and maintenance, turn, common areas, unit utilities, marketing and leasing, residence life, and general and administrative expenses were gathered and assessed to prepare a sample operating budget for both properties.
Market Analysis
While in the Gainesville market, Campus Advantage completed a market analysis, which included physical tours of competitors, a detailed pipeline of future student housing developments, an absorption analysis, market rate comparisons, enrollment trends, and future enrollment projections based on historical trends. The team analyzed all the data collected to assess the properties' positions in the market and confirm revenue assumptions made in the underwriting.
The Results
Based on an analysis of the existing market, overall property conditions, and the properties' exceptional locations near campus and Sorority Row, Campus Advantage recommended pursuing the acquisition of Campus View Place and Lyons Corner. The investors closed on the properties in February 2020 — the Campus Advantage Student Housing Fund 1 strategically partnered with Stark Enterprises on the transaction.
The business plan included strategic operational improvements, including implementing Campus Advantage's residence life platform, revenue management to drive effective rents, and restructuring the lease terms to exclude utilities from rents, which is now typical in the market. The properties have historically achieved occupancies in the high 90s due to their pedestrian locations, particularly Lyons Corner, which is near the popular Greek corridor.
Stark Enterprises and CA are in a separate joint venture co-developing another Gainesville project that delivered in fall 2020. This development is near both properties, allowing the leveraging of additional local resources and increased economies of scale.
Acquisition Date: February 2020
Loan-to-Cost: 71% (assumption and new loans)
Projected Hold Period: Seven years
Projected Project / Net Fund MOIC: 2.1x / 2.6x
Projected Net Fund Average Cash Yield: 6.90%
Lyons Corner
Campus View Place