Morgantown, WV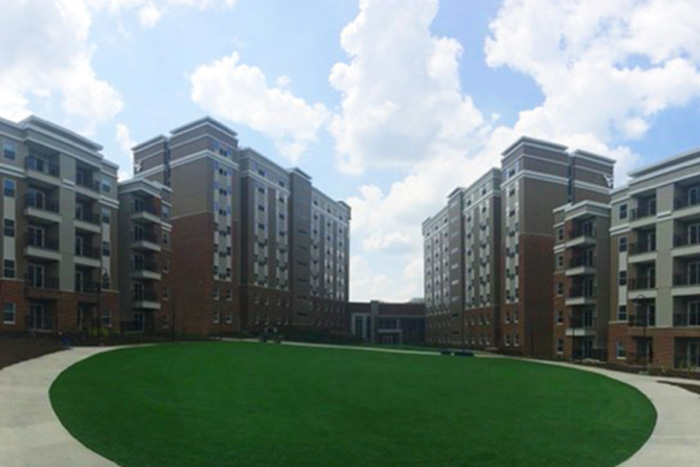 Operational Assessment
In January 2016, Campus Advantage was engaged to provide an operational assessment along with ongoing marketing and leasing support for a student housing complex in Morgantown, West Virginia. This unique, two-part, 1,312-bed complex is composed of an apartment section and a traditional residence hall. The complex was newly constructed but opened with very low occupancy, so the owners needed a third-party perspective on how to improve marketing, leasing, operations, and resident retention. In order to provide operational recommendations, the Campus Advantage team interviewed the site staff, toured the properties, conducted student intercept surveys, evaluated operating procedures, reviewed historical documents, and surveyed the market. Operational data and budgets provided by the owners were analyzed and compared to industry standards to identify excessive expense variances.
The operational assessment was provided to the owners with recommendations primarily focused on achieving higher occupancy. The owners hired Campus Advantage as a leasing consultant to assist with tackling the leasing obstacles and achieving the occupancy goal.
A sampling of Campus Advantage's recommended improvements:
Marketing and Leasing:
Refreshed the property branding and marketing materials
Differentiated the identity of the apartments and the residence hall
Relocated the leasing office and increased organization
Relocated the model unit
Revamped the model unit aesthetics
Increased social media usage
Revised the rate structure
Implemented a renewal campaign
Revised the website to promote both communities
Facilities:
Revised staffing structure
Made capital expenditure recommendations
Implemented a unit inspection schedule
Made improvements to the Wi-Fi network and amenities
Operations:
Implemented a resident satisfaction survey
Implemented a parking permit structure
Made staffing and training recommendations
Implemented new policies and procedures to increase efficiency
Residence Life:
Made co-vending recommendations
Recommended event and programming ideas
Made programming promotion and social media recommendations
After implementing Campus Advantage's recommendations and utilizing the CA consulting team to assist with the marketing and leasing efforts, the residence hall's occupancy increased 44%, and the apartment occupancy increased 31% from August 2015 to August 2016.