The Marq
Location: Milwaukee, Wisconsin
University: Marquette University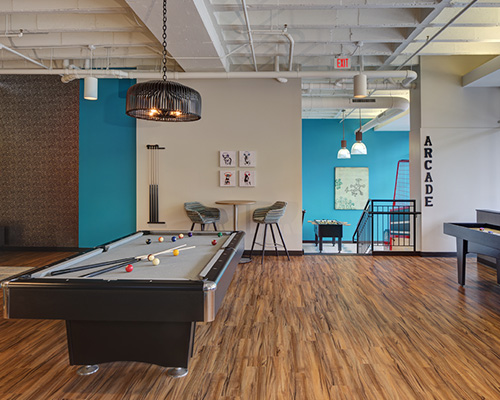 22.9%
IRR
49%
NOI Increase
3.1%
rental rate increase
16.2%
Occupancy Gain
The Challenge
Originating as an operational assessment for an institutional owner, Campus Advantage was later hired to third-party manage the asset, along with six other assets owned by the investor. Upon marketing the portfolio for sale, Campus Advantage was the successful bidder for a subset of three value-add deals, including The Marq (then known as 2040 Lofts).
The 612-bed property was 81% occupied at acquisition and had a poor reputation in the Marquette student housing market. It also lacked modern student housing amenities, particularly social spaces and sufficient internet bandwidth.
The Solution
Upon acquisition in March 2014, Campus Advantage invested $1.4 million in capital improvements to update the property, including a complete renovation of the first-floor lobby/clubhouse and laundry facilities, the addition of a computer lab, a yoga studio with Fitness On Demand, a fresh market, and study and tanning spaces.
In addition to the physical transformation, the property went through a complete rebrand from 2040 Lofts to The Marq (names after Marquette University) that included a new logo and branding, website design, and marketing collateral designed by Catalyst, Campus Advantage's marketing partner.
To introduce the newly rebranded property to the Milwaukee market, Catalyst promoted a VIP party held at the property prior to the start of the 2014 school year. The new brand was teased in direct mail invitations, email invitations and reminders, and social media posts, all of which drove traffic to an RSVP landing page for the event.
The Results
Of approximately 250 people who attended the brand reveal party, 51 signed leases and another 87 leases were pending guarantor paperwork at the end of the night. The event allowed The Marq to kick off their leasing season with nearly 21% of their beds leased at the VIP event — an increase of 13% from where they were in 2013 at the same time in the leasing season.
Post-event, The Marq stayed ahead of their leasing goals and outperformed their numbers from the previous year. By the end of 2016, the property was up from 2015 by 23.64%. The effective rental rate increased 3.1%, from $674 for the 2014–15 academic year (AY) to $695 for the 2015–16 AY, rising above the $690 pro forma effective rate for the 2015–16 AY. Occupancy increased from 80.17% in fall 2014 to 96.36% in fall 2015 for a total gain of 16.2%.
With the combination of capital improvements and rebranding efforts, net operating income (NOI) increased 49% from inception. The project sold in 2017 for $42.3 million, achieving a 22.9% leveraged internal rate of return (IRR) and a 2.0x equity multiple on invested capital (MOIC).