COMMERCIAL REAL ESTATE DEVELOPER LRC REALTY SELECTS CAMPUS ADVANTAGE TO MANAGE STUDENT HOUSING PRODUCT, UNIVERSITY EDGE, IN AKRON, OHIO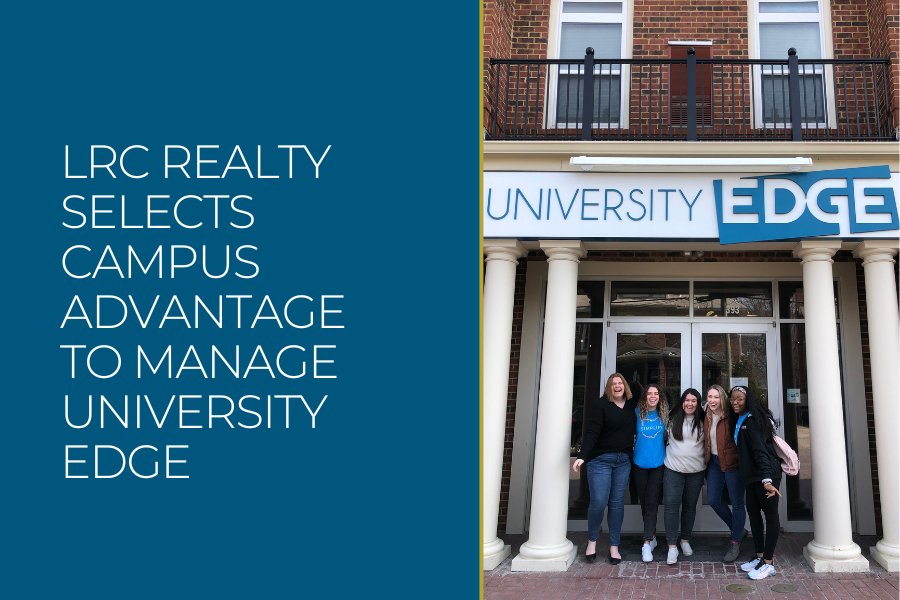 578-BED MID-RISE COMMUNITY SETS SIGHTS ON INCREASED REVENUES IN 2022–2023
AUSTIN, TX (October 3, 2022) — Campus Advantage®, an industry leader in student housing property management, consulting, and investment management, today announced it has been selected to manage University Edge — a purpose-built, 578-bed off-campus student accommodation in Akron, Ohio, steps from the University of Akron.
With its ideal location directly across the street from campus, University Edge features two-, three-, and four-bedroom floor plans with bed-bath parity. Student-friendly amenities include a clubhouse with ample study space as well as free Wi-Fi and printing; outdoor gathering and grilling areas; a state-of-the-art fitness center; free tanning domes; and a community room with billiards, gaming stations, and big-screen TVs. As an added benefit to residents, the community's several thousand square feet of ground floor retail space is home to several national and local retailers and restaurants, including Chipotle Mexican Grill, Penn Station East Coast Subs, Panda, Pulp Juice and Smoothie Bar, Five Guys, Cricket Wireless, an Amazon Hub Locker+, and Arby's.
"We are pleased to have developed a relationship with LRC Realty through our field-proven consulting department and Catalyst's best-in-class marketing services. Our team's dedication and expertise have built confidence at the right time for LRC Realty in our ability to increase the value and returns of their asset when they need a partner they can trust," said Dena Costello, Vice President of Business Development and Client Services at Campus Advantage. "We believe the community has outstanding potential to outperform historical numbers, generating increased revenues and optimal resident satisfaction given its prime location, robust amenity package, and numerous retail offerings."
"We have discovered through our work with Campus Advantage's consulting team that the company's culture and values align seamlessly with our own, so taking the next step in forming a management relationship is organic and natural," said Mat Miller, President of Asset Management at LRC Realty. "Our teams align well on the priorities and philosophies of great culture and we're confident that will yield the results we seek from a property management partner."
Under Campus Advantage's third-party management services, University Edge residents will benefit from student-focused experiences and programs that inspire and equip residents to thrive in all areas of life. Campus Advantage's Students First® Experience Program is designed to ensure that students who choose to live at our communities have more opportunities to achieve financial, educational, and community success today and in the future.
About Campus Advantage
Campus Advantage® is a student housing management company that specializes in fostering financially prosperous communities through its property management, investments, and consulting services. Since its founding in 2003, Campus Advantage has been creating successful communities that provide rewarding living, learning, and career experiences, and as a result has become one of the fastest-growing private student housing companies in the nation. The company's asset acquisition and management strategies combined with its dedication to residence life and student development has made Campus Advantage one of the largest student housing and property management companies in the United States. Learn more at https://campusadv.com.
About LRC Realty
Since its humble beginnings, LRC Realty has grown to a full-service real estate development company with a staff of 30 full-time associates and assets operating or under construction in Ohio, North Carolina, Pennsylvania, and Florida.
LRC Realty provides full development services to dozens of name-brand retailers and has developed more than 5 million square feet of retail properties. LRC Realty continues to expand its portfolio, while providing premium customer experience for its clients.
Media Contact for Campus Advantage
Dan Oltersdorf | Chief People Officer, Campus Advantage
Christy McFerren | President, Catalyst
[email protected]