Addressing Mental Health in the Post-COVID-19 Workplace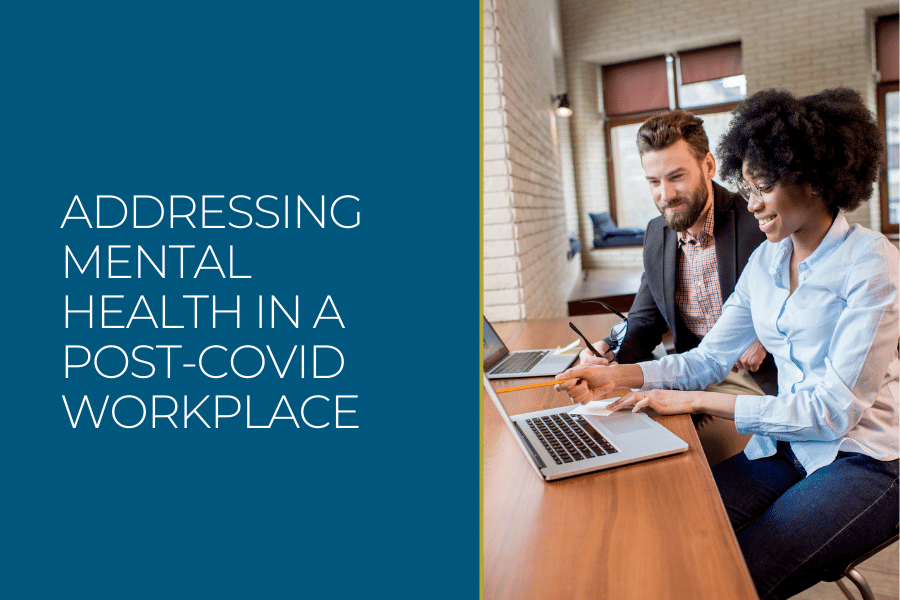 When a global pandemic became our reality in spring 2020, it's fair to say no one was prepared for what the next couple of years would look like for Campus Advantage and the student housing industry overall. From the dynamic of our on-site teams operating as frontline essential workers serving 20,000-plus residents to how COVID-19 hit home personally for everyone within our CA team, it was a collection of unprecedented situations.
As a company committed to creating successful communities, we firmly believe this principle applies to the good times and the difficult times. Even when tested with a global pandemic, we adapted by implementing innovation, gaining wisdom, strengthening our fortitude, and seeing new facets of our core values shine — integrity, intelligence, passion, and mojo.
Campus Advantage has navigated the effects of COVID-19 on our industry remarkably well, but in no way does that imply it was a stress-free experience.
Dan Oltersdorf, Chief People Officer for Campus Advantage, recalls how team members — on-site and corporate — showed up to champion the continued momentum of excellence and encouragement of serving each other and our communities nationwide.
"Our team came through with flying colors in finding ways to be innovative and finding ways to support each other that we didn't put in a manual anywhere," Oltersdorf said. "The culture and values of our company were unmasked in ways that make me proud to be a part of this team. For example, passion for us is about not giving up; it's about grit and tenacity. I saw our values, mission, and purpose playing out in more tangible ways than I had ever seen before. That was very encouraging and inspiring for me."
Fast-forward to our current post-COVID-19 workplace environment and it's clear that normal is a destination in front of us instead of something we can return to, and there are some silver linings to be explored. One of those is an increased focus on mental health in the workplace.
Forbes published an article in February 2022 titled "Mental Health In A Post-Pandemic World" featuring a survey that found "productivity, engagement, and morale on the job skyrocketed during the pandemic… Yet, paradoxically, mental health concerns and burnout have skyrocketed. Nearly six times as many employers report increased mental health issues among employees since the pandemic began — burnout being among the most common."
The National Apartment Association (NAA) also released survey results at the end of 2021 that evaluated employee well-being within the housing industry. They found that "nearly a quarter of respondents said they are unsure if employee well-being is a priority at their company."
The October 2021 Harvard Business Review article, "It's a New Era for Mental Health at Work," made a powerful statement: "Employers must move from seeing mental health as an individual challenge to a collective priority." These words are something Campus Advantage wholeheartedly agrees with to ensure the wellness of our employees takes precedence.
From doing our part to remove the stigma of the term "mental health" to providing mental health resources and communication channels, we're committed to cultivating a healthy culture where our team members get as much support as possible.
"From the standpoint of mental health and well-being as a whole, a healthy culture is a place where people feel supported to be able to fully show up," Oltersdorf said. "We want to foster a healthy culture that creates a place where people can bring a hundred percent of themselves or the highest that they can on that given day."
Even prior to the pandemic, Campus Advantage offered a wide variety of resources, including a robust Employee Assistance Program. The post-pandemic workplace shift to having an even greater emphasis on mental and emotional well-being assures employees they aren't alone within a supportive environment that offers the right tools, outlets for connection, and opportunities to make a difference.
"The more open companies are about resources provided to employees, the more opportunities we have for employees to get any support or assistance needed," said Kaitlyn Vicars, Human Resources Manager for Campus Advantage. "I want people who are struggling to know they are not alone, to know that there is help, and to never feel like giving up is the best option."
Whether you're new or have been with Campus Advantage for a long time, please know there's help available if you're struggling. In searching for assistance, it may be hard for employees to know where to start, so we encourage you to review the options available through Campus Advantage and other sources.
Employee Assistance Program
Specialists are available to you and your family members 24/7, 365 days a year, through the ADP TotalSource Work-Life Employee Assistance Program (EAP) — a valuable, complimentary service to help with whatever challenges you may be facing:
Emotional health (your choice of three EAP sessions face to face or by telephone, per person per concern per year — up to nine sessions total)
Parenting, childcare, and education
Senior caregiving services
Wellness and daily living
Legal and financial (may be eligible for free consultations and discounted legal fees)
Call toll-free, 24 hours a day at 1-866-574-7256 (1-800-873-1322 TTY). Please mention your affiliation with ADP TotalSource.
Diversity, Equity, and Inclusion
Campus Advantage launched our Diversity, Equity, and Inclusion (DEI) program and committee to help create working and living environments that allow all to thrive, to be seen, to be appreciated, and to achieve full potential. This purpose is our fuel to learn, grow, and make changes through the following initiatives and more:
A strong Diversity, Equity, and Inclusion committee along with DEI ambassadors throughout the organization
Live DEI discussions and a DEI book club
Expert guest presenters on a variety of DEI related topics
A dedicated DEI communication online channel with ongoing discussions, education, and engagement
Team outreach and assessment to promote reflection, action, and continued questions and dialogue
Development of Campus Advantage DEI training and resources
Ongoing assessment and education
To learn more about DEI or if interested in participating, please contact Dan Oltersdorf at [email protected].
After-Hours Communication
As a means to encourage work-life harmony in a practical way, Campus Advantage continues to promote their after-hours communication rule, where team members are requested to avoid sending non-urgent emails and messages after hours. Team members also understand they are not expected to check or respond (unless there is an emergency).
National Alliance on Mental Illness
The National Alliance on Mental Illness (NAMI) began as a small group in 1979 that has grown to become the nation's largest mental health organization dedicated to educating, advocating, listening, leading, and improving the lives of those affected by mental illness. NAMI created a detailed helpline directory with information, resources, and support to connect you or a loved one with professional resources. In addition, Campus Advantage has drawn on the valuable knowledge and insight NAMI offers by having representatives from the mental health organization speak to our team via online meetings, as well as at our leadership and FOCUS conferences.
NAMI Central Texas, a local affiliate of the national organization, offers free online classes and support groups for individuals and families affected by mental illness. In addition, they also provide a valuable resource with facts, warning signs, questions, and tools to assist with conversations if you know someone who may need help.
Central TX Change the Conversation Card
Resources used for this article were provided by the Campus Advantage HR team. If you are an employee of Campus Advantage and have any questions or concerns, or find yourself in a place where more support is needed, please reach out to our HR team. If you or someone you know is experiencing suicidal thoughts, please contact the Suicide Prevention Lifeline immediately at (800) 273-8255.
---
1 https://www.forbes.com/sites/forbesbooksauthors/2022/02/01/mental-health-in-a-post-pandemic-world/?sh=1403eacd3b7a
2 https://www.naahq.org/state-mental-health-well-being-apartment-industry
3 https://hbr.org/2021/10/its-a-new-era-for-mental-health-at-work