Anna Flores Doesn't Let Anything Break Her Stride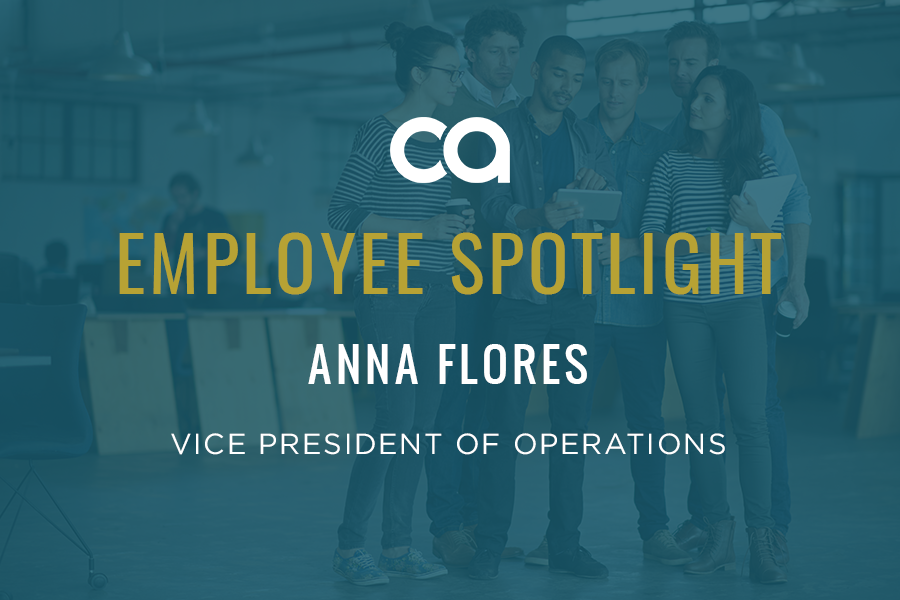 Anna Flores greets each and every day with zeal for her role at Campus Advantage, ready to meaningfully connect with her colleagues and drive results for the company. She first heard of Campus Advantage through past employees and just knew she'd be a good fit based on the company's core values. Bringing warmth to her role as Vice President of Operations, connection and growth are among Anna's top priorities; she believes that when your teammates improve, everyone around you improves, and the whole company is positioned for success. She was kind enough to allow us to interview her and find out more about her leadership style, the song that best represents her life, and what she most appreciates about her team.
Describe your current role at Campus Advantage.
As the Vice President of Operations, I am responsible for the overall operations and success of each asset in my portfolio.
Have you held any previous roles at Campus Advantage? If so, what were they and how did they help you get to your current role?
Yes, I have held several different roles at Campus Advantage. I began at Campus Advantage as a Senior Regional Manager 2.5 years ago, then moved into the role of Regional Vice President of Operations. I was then promoted about one year ago to my current role, Vice President of Operations.
What three words best describe you (inside or outside of work)?
Dedicated: I do what it takes to achieve results, whether they're for myself or the company as a whole.
Tenacious: I am a very determined person, and I do not bend easily when faced with adversity.
Detailed: Anyone who knows me knows how meticulous I am — I don't usually miss a thing!
If your life had a soundtrack, name one song that would be on it​.
I'm going to choose "Break My Stride" by Matthew Wilder.  It's an upbeat song, and is a nice reminder to keep moving onward and upward. It also gives me a bit of nostalgia, too, as it's an 80's song that my parents listened to at our house growing up.
What are three words you would use to describe our culture and why?
Supportive: We have each other's backs, all the time.
Family: The word family comes to mind for me and a lot of us at CA; we are a very close-knit group.
Passionate: We do what it takes to get things done.
What is one of your favorite moments at Campus Advantage thus far?
It's got to be the Cammy's!  Every year this event is such a great time to spend looking back on the previous year's accomplishments as a team.
If you had to choose one company value that best represents you, what would it be and why?
Passion! I always do my best, and I never give up!
Thinking of your most successful peers or teammates, what characteristics do they share?
Both intelligence and integrity — I can't pick one over the other. We have the brightest and most innovative team who does the right thing no matter who's watching.
How do you empower your team to go the extra mile?
I try to be the best leader I can be by showing them the thought process behind anything we do, motivating them to be their best, being there for them if a mistake is made, and really caring about them as people.