Ariel Douglas' Work Ethic is No Joke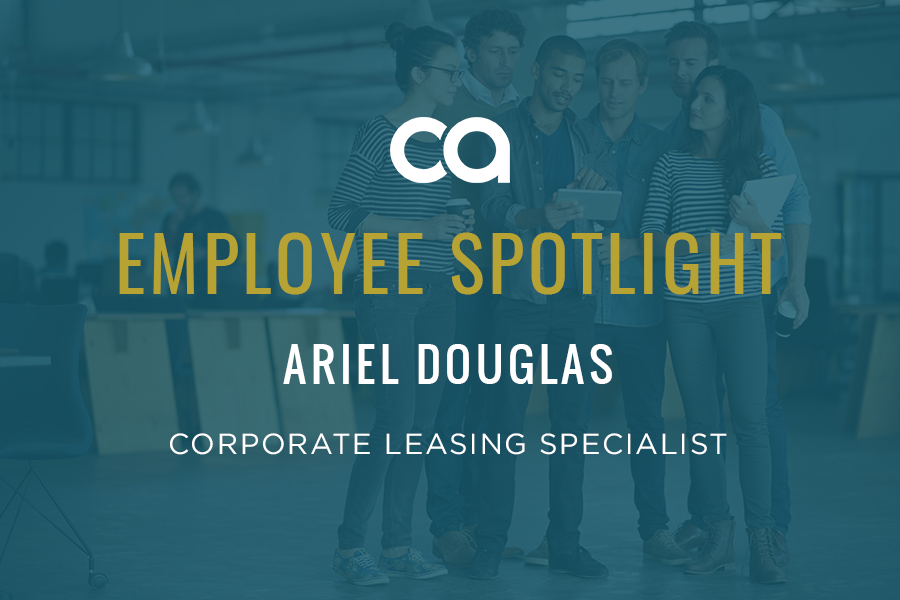 With this March marking Ariel's first full year at Campus Advantage, she reflects on her time thus far as a corporate leasing specialist, expressing gratitude for the past and excitement about what the future holds. Ariel spends 90% of her time traveling to Campus Advantage properties to increase their number of occupancies and pre-leases, taking on a variety of roles including anything from acting as leasing manager to conducting market surveys. Ariel fills in wherever the need may be with confidence, expertise and a stellar sense of humor. She shares more about her role and time at Campus Advantage with us today.
What first attracted you to working for Campus Advantage?
I was drawn to the family-oriented atmosphere at Campus Advantage. From your first day on the job, you have access to, and are encouraged to reach out to anyone within the company for help or advice —  no matter how senior they are in title or experience I really love working for a company that views my employment status as more than just a number.
What three words best describe you (inside or outside of work)?
Funny — I  believe that if you're laughing, then you're having a good time. I like to joke and laugh; in tough situations, that's really all you can do.
Hardworking — If a task needs to be completed, I will not only make sure it gets done, but I'll make sure it gets done correctly.
Trustworthy — It's important to me that I always do what I say I'm going to do. I pride myself on being reliable.
If your life had a soundtrack, name one song that would be on it​.
"Rise Up" by Andrea Day would definitely be on my life's soundtrack, as it describes who I am both on the job and in my personal life. Growing up within the foster care system, I had to have an optimistic outlook. I am proud of being strong enough to be where I am today, and I think this song captures that sentiment.
What are three words you would use to describe our culture and why?
Family —  I am in contact with so many people from Campus Advantage daily and vice versa. My colleagues feel more like my family than they do coworkers.
Values-Oriented — Campus Advantage does an amazing job instilling the company core values  into each team. All of the core values position employees to grow in their career while still having a good time.
Busy — For me, working at Campus Advantage means that I am always on the go, but my job is so rewarding that it's 100% worth it.
What are you doing to ensure that Campus Advantage remains a leader in the student housing market?
I welcome each challenge with open arms and determination to meet and exceed whatever goal is put in front of me. For example, I was once tasked with obtaining 40 new leases in 10 days. I secured the first 23 on day one. My tenacity ensures that Campus Advantage remains a leader in the student housing market because I am determined to drive foot traffic and signed leases.
What is one of your favorite moments at Campus Advantage thus far?
This year at the CAmmy's, our annual employee awards event, my team members and I won the "Road Warrior of the Year" award!  "Road Warrior of the Year" is awarded to individuals and teams that are on the road at least 50% of the time, overcoming challenges presented by consistent travel. To top it all off, I was also nominated for the "Passion" Award, which is given to the person who most embodies our company value of passion, as well as the  "Overcoming the Odds" Award, given to an individual or property who has overcome a significant challenge. With this being my first year at Campus Advantage, even being nominated for an award was a huge blessing for me, and then actually receiving the "Road Warrior of the Year" award was so meaningful.
What motivates you to get up and come to work every day?
The people I have the pleasure of working with are my biggest motivation. I am a huge people person, so I love getting to know the residents and working with the staff onsite — nothing is more exciting to me than seeing both residents and staff grow and succeed. Additionally, I sincerely admire my boss and cannot imagine letting her down, so that in itself motivates me.
Thinking of your most successful peers or teammates, what characteristics do they share?
I work on a very determined and hardworking team. One thing they all have in common is that they want to make a difference, and that shines in their performance on the job. I'm fortunate in that we're all very close, and when we get sent onsite together, we're going with the same motivations and expectations.
How do you empower your team to go the extra mile?
I do my due diligence to be available and approachable as a resource to each team member I work with. My goal is to ensure that they feel empowered and equipped to succeed, and in return, their hard work inspires and motivates me.