Austin Young's Dedication to Excellent Resident Events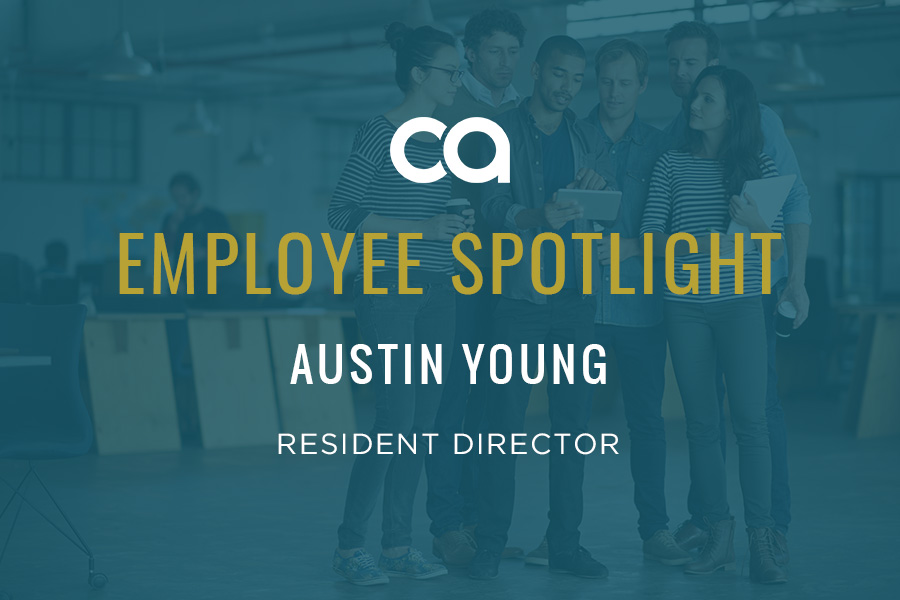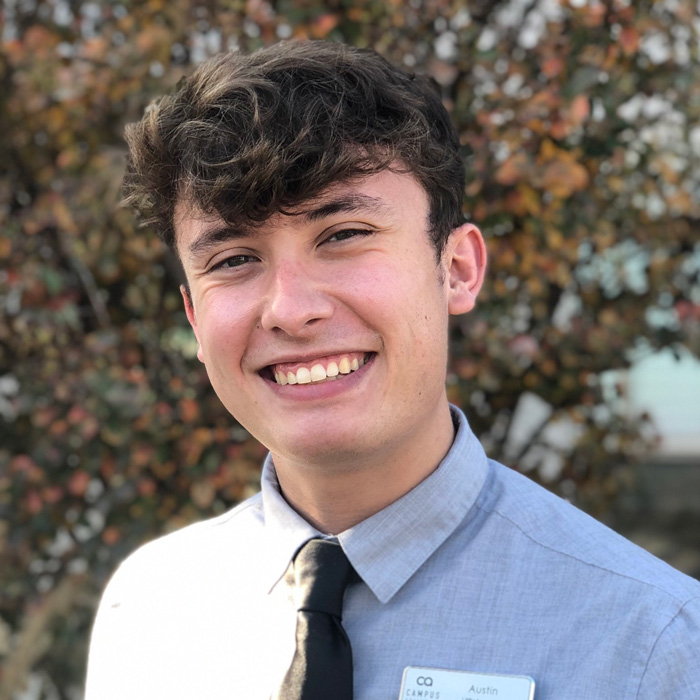 Austin Young has been with Campus Advantage for a year and a half, and during that time, he's made a big impression. As the Resident Director of Forum at Denton Station, Austin oversees all resident disputes and onsite events, and takes a lot of pride in offering creative and engaging event experiences that connect residents with staff and each other. He took a moment to share what he loves most about working at Campus Advantage (hint: it's the people) and how he motivates his team to be the best they can be.
In a few words, describe what you/your team does for Campus Advantage.
My team and I offer great event experiences to residents to prepare them for the job market and their future social lives. Right now, we're doing a lot of events or giveaways on our Instagram, as well as interactive Zoom events. While we all wish we could have more events in person, we do find that many residents still greatly enjoy the experiences we provide.
Have you held any previous roles at Campus Advantage?
Yep! I was a Community Assistant, which gave me industry knowledge and the opportunity for connection with the Campus Advantage team.
What first attracted you to work for Campus Advantage?
The chance to learn and grow in my position. The team is amazing — they make work entertaining. It's a great environment.
What three words best describe you (inside or outside of work)?
Pragmatic
Social
Dedicated
What is one of your favorite moments at Campus Advantage thus far?
Surprising my leasing manager by spraying them with silly string after move-in day and turn were completed!
What are three words you would use to describe our culture and why?
Spontaneous — We come up with a lot of things in the moment, and everyone invites new ideas with welcome arms.
Inviting — In general, our culture is very inviting and open. At our annual FOCUS conference (our annual training opportunity for property general managers and corporate staff), everyone always greets you with a smile and welcomes you in as part of the Campus Advantage team.
Creative — As it relates to resident events, we are constantly innovating; coming up with new and better ways to engage with residents and make things run smoother.
If you had to choose one company value that best represents you, what would it be and why?
MOJO (what we call our secret sauce of fun, charm, and charisma) speaks to me. I make a lot of events for our residents, but it is hard to make them stand out. MOJO is what it takes to go that extra mile to entice residents and get them excited about what we're doing.
Thinking of your most successful peers or teammates, what characteristics do they share?
Dedication to the community and one another. Everyone is always willing to pick up shifts if someone needs it and do everything they can to lend a helping hand.
How do you empower your team to go the extra mile?
I empower my team by giving them the tools they need to do their job well. I have a "Prep and Plan" sheet which maps out every step for successfully planning and executing an event. When people are equipped with the right resources, they can do their jobs exceptionally well.