Campus Advantage's Commitment to Work/Life Balance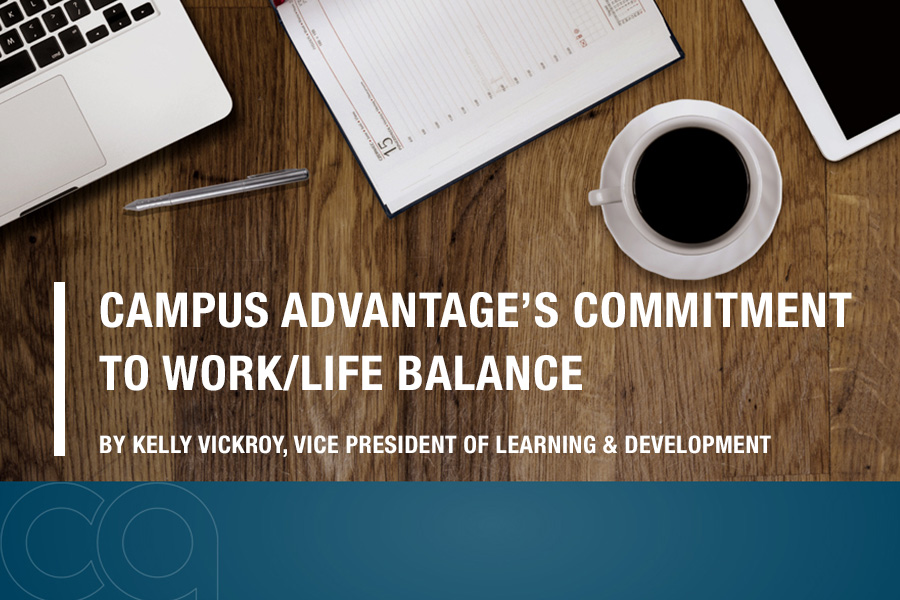 By Kelly Vickroy, Vice President of Learning & Development
Ask anyone job-searching today what they're looking for in an ideal career, and "work/life balance" is bound to come up. While individuals have become more skilled at balancing life's demands and pleasures, the number of hours in a week remains the same. That's why employees want – no, need – an employer who understands the importance of being able to work hard, but also have time to commit to family and personal interests.
More and more, businesses tout their company's new work/life balance initiatives in marketing and recruitment efforts, knowing that new recruits are likely to factor this into decisions about where to work. Luckily, we've been doing this work/life balance thing for a long time at Campus Advantage.
From the beginning, we incorporated the philosophy of balancing work and play into our core company values. We call it "MOJO", which means we take our work, but not ourselves, seriously. For us, an employer has the responsibility to its team to help cultivate a healthy work/life balance in five main ways, in order to sustain a place where employees are excited to come to work every day, inspired by what they're doing, and motivating one another.
Ask Employees What They Need
We don't just assume that we have consistently good work/life balance at Campus Advantage. We understand that the changing workforce and evolving workplace dynamic means at times we'll need to switch things up or revisit policies. We periodically survey employees on their engagement, on their perception of work/life balance at our company, and what we can do to improve it. Once we get that data, we analyze it, talk about it with senior leadership, and take action to make it better, day by day.
Educate Employees on Burnout
Burnout is a scary thing that's hard to come back from, so we work to educate all employees on what stress and burnout looks like, and how they can manage it well by being honest with their supervisor and raising the red flag when they need help. We also make sure our employees know and are encouraged to use our employee assistance benefits, such as counseling or other services to help them with struggles in their work or personal life. And, if the reason for burnout is something that we can fix or support the employee through, you better believe we're talking about how to do just that.
Embrace the Occasional Flex-Time
While our office does typically operate within the standard 9am – 5pm schedule, we work with our employees when important things arise– family school schedules, doctors' appointments, and favorite activities, for example. Our employees are nimble problem-solvers who embrace the "work smarter, not harder" approach, and we trust them to get their work done so they can be flexible when needed, and that they'll return the favor when times call for us all to roll up our sleeves and get busy.
Set an Example
Even if an employee already maintains a positive work/life balance, that "I should respond to that" feeling creeps up when a colleague or senior leader sends an email late at night. This creates an unhealthy perception that employees must work and be available at all hours of the day. Campus Advantage's CEO, Mike Peter, years ago established the 7-7 rule (don't send work communication before 7am or after 7pm), and expects senior leadership to do the same in order to send the message that putting the phone/laptop away and embracing family, friends, hobbies, is A-O-K. This intentional mental break encourages employees to come back to the office refreshed and ready to work in the morning.
Add a Little MOJO to the Day
Our MOJO Mafia committee is tasked with finding new ways for employees to embrace a little "play in their day." Whether it's holiday celebrations, office happy hours, or taking 15 minutes out of the day to enjoy a slice of cake and laugh with fellow co-workers — deliberately taking the time to pause work for a moment re-energizes employees and reminds us all that while we work hard, play time is equally important to the success of individual employees, as well as the company.
Why We Care About Work/Life Balance
At Campus Advantage, we hire rockstars, and these great employees tend to be fiercely loyal, dedicated, and excited about the amazing work they are doing. And while we absolutely love this about our team, we know that working all day and night is not sustainable or healthy for their long-term satisfaction. Sometimes our best employees are the ones that most need coaching and encouragement to establish and maintain positive work/life balance.
We encourage our employees to practice a balanced lifestyle because we believe it's the right thing to do for our people, but also because there are tangible benefits to creating an environment that supports happy and healthy people — employees that are satisfied and engaged have better retention rates. At Campus Advantage, the average tenure of our senior management team is just shy of ten years, which is a testament to the fact that our employees are passionate, driven individuals devoted to elevating our mission and delivering great experiences to college students — and we couldn't do it without them.
We are proud to be industry leaders, in both student housing and employee satisfaction, and we remain deeply committed to our people. We hire staff who enjoy innovation, love to learn and consistently push themselves onward and upward to provide the best possible experience for our residents and partners. Together, we are the Campus Advantage, and we will continue to apply a positive, efficient and fun work environment that ensures employees are fulfilled in all areas of their lives.