CAMPUS ADVOCATE 20 YEAR EDITION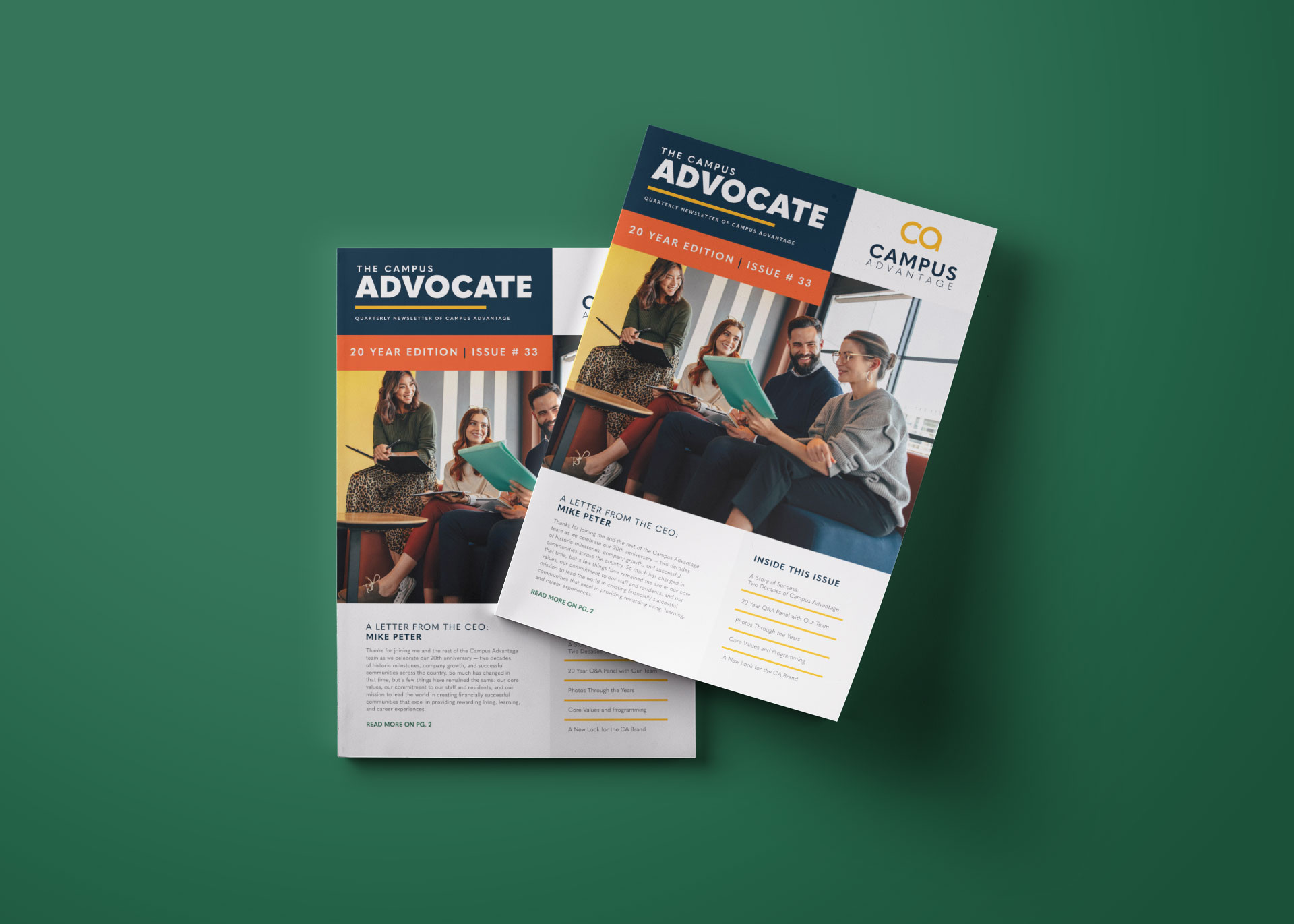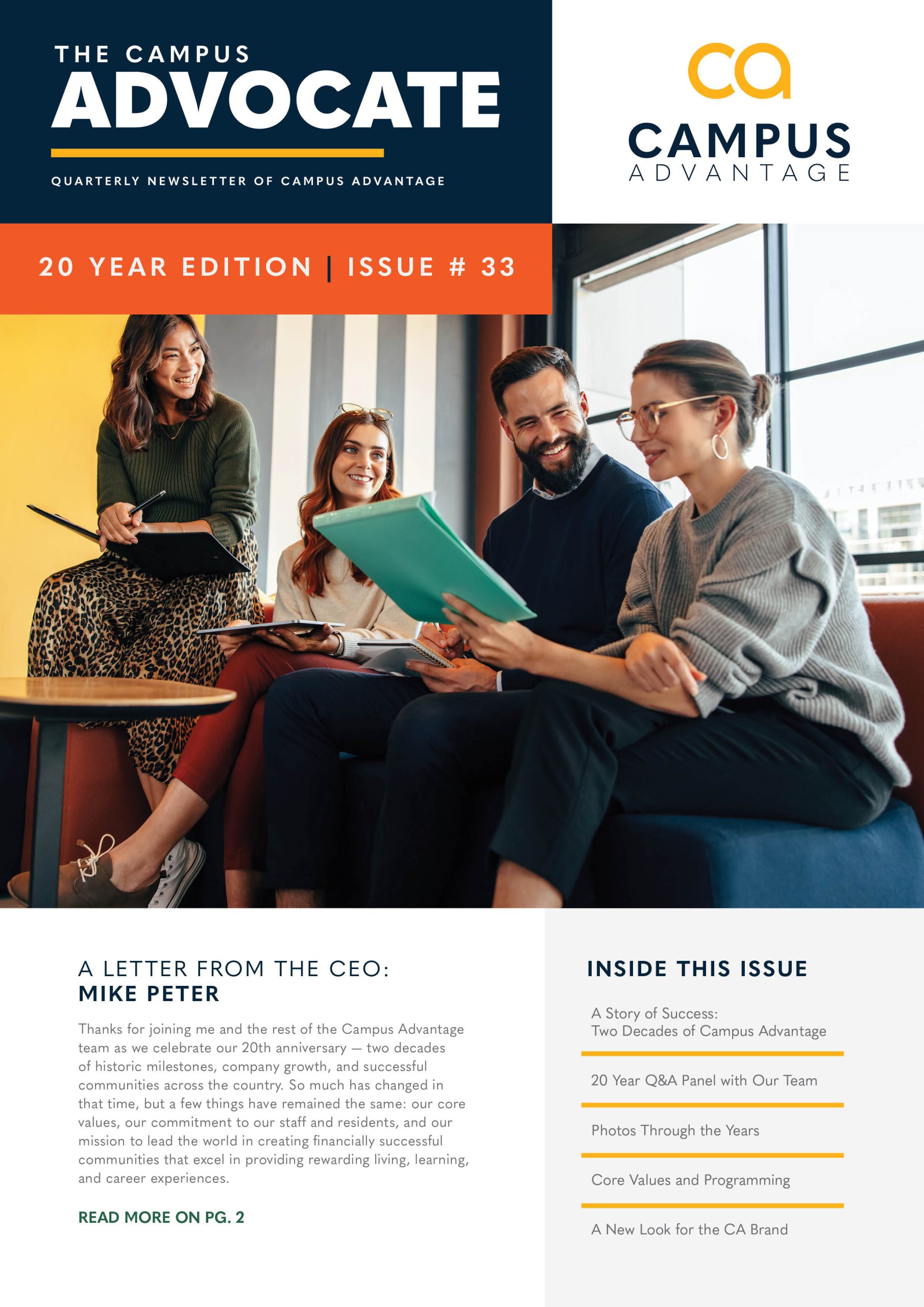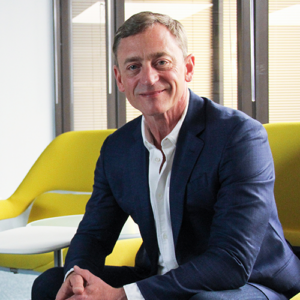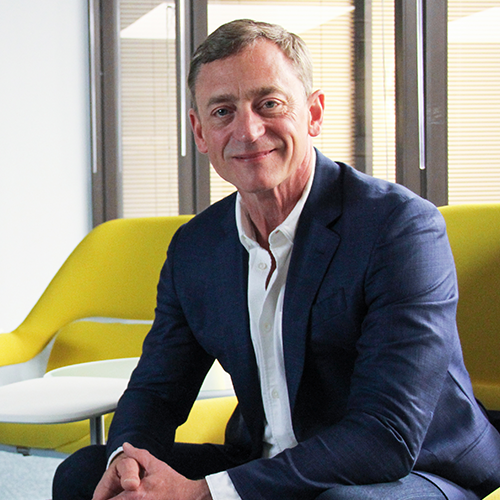 Thanks for joining me and the rest of the Campus Advantage team as we celebrate our 20th anniversary — two decades of historic milestones, company growth, and successful communities across the country. So much has changed in that time, but a few things have remained the same: our core values, our commitment to our staff and residents, and our mission to lead the world in creating financially successful communities that excel in providing rewarding living, learning, and career experiences.
When Campus Advantage began as a scrappy little startup back in 2003, student housing was a relatively new industry with the potential to make a positive impact for both owners and residents. Within our first five years as an organization, we made substantial waves in the space, including being awarded the CalSTRS portfolio, executing our first $100 million joint venture, creating an in-house agency focused solely on real estate marketing, and establishing our Students First® residence life program, which continues to lead the charge in student events and experiences to this day.
Nearly two decades later, we are a recognized thought leader that sets the standard for success — leading the way in our industry toward better service to our residents and, most importantly, to our staff. We have built key relationships with both investment and higher education partners, resulting in the expansion of our portfolio and a deepening of our ties with institutions around the country. We have added new markets, new departments, new services, and new awards to our shelves. We have built from the ground up — quite literally — innovative spaces for students, as well as technology and resources to equip them. And we have partnered with the White House, Rock the Vote, Pencils of Promise, and Relay For Life to ensure our values are reflected beyond our day-to-day operations.
This special issue of The Campus Advocate — a publication that is almost a decade old itself — takes a look back through CA's history and accomplishments while also reinforcing our focus on the future. I invite you to take a deeper dive into our core values of Integrity, Intelligence, Passion, and Mojo, as well as the core programming that sets us apart in the student housing industry. Take a walk through history on our timeline spread and reflect on key milestones we've accomplished over the years. Hear from some of CA's most tenured employees about their proudest moments, best career advice, and more. Read up on the long-term strategy behind our brand refresh with Catalyst, or simply enjoy the photos and memories scattered throughout the pages.
I find it very fitting that this week, we are celebrating the milestone of onboarding our 250th community. Through our strategic, efficient management of each of these 250 communities across the country, we have served hundreds of thousands of student residents in the past 20 years — inspiring and equipping them to thrive in their college years and for years to come. At the end of the day, we couldn't have done it without our innovative, dedicated team members that make it all possible. Thank you for being part of the Campus Advantage story. Today, we celebrate you!
Here's to two decades and many more to come.
Mike Peter, President and CEO
PUTTING OUR CORE VALUES INTO ACTION
Since the beginning, Campus Advantage has been guided by four core values: Integrity, Intelligence, Passion, and Mojo. These are the standard that guide our leadership, decision-making, and company culture — and what help us as an organization to set the standard for better student living experiences. Each year, one corporate and one property individual are recognized for putting each into action during our CAmmy Awards.

We live the Golden Rule, always trying to do the right thing to make our families proud.
WINNERS THROUGH THE YEARS: Christy Shorter ('16), Katy Smerko ('19), Pam West ('20), Melissa Cornine ('23)

We believe that learning is a lifelong endeavor, and we strive to stay ahead through innovations.
WINNERS THROUGH THE YEARS: Carlos Gonzalez ('16), Alex Hildebrandt ('17), Catalyst Team ('18), Peter Jbeili ('22)

We desire to do our best, and we never, ever give up.
WINNERS THROUGH THE YEARS: Michael Orsak ('13), Anna Flores ('19), Kaitlyn Vicars ('22), Jasmine Rivera ('23)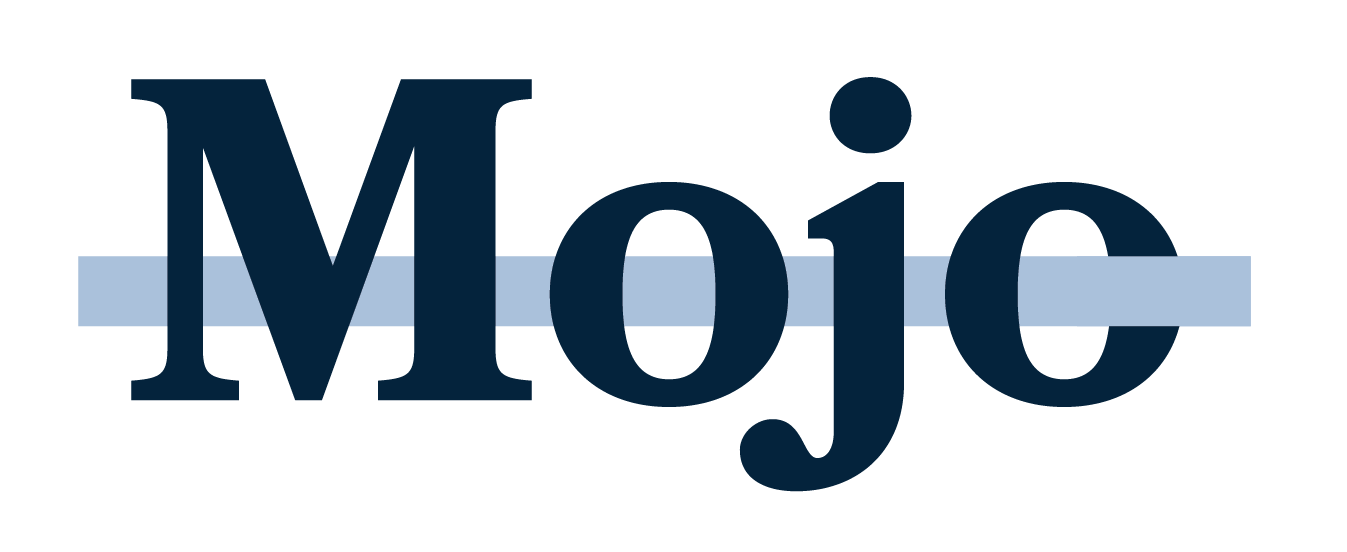 We attract and charm others through our success and outlook on life. We take our work and our communities, but not ourselves, seriously.
WINNERS THROUGH THE YEARS: Kerri Mobile ('11), Jenn Cassidy ('15), Lindsay Brown ('20), Mark Renkens ('22)
A Story of Success: Two Decades of Campus Advantage
20 Year Q&A Panel with Our Team
Panelists: Dan Oltersdorf, Chief People Officer (20 years); Alexandra Hildebrandt, Vice President of Information Services (16 years); Katy Smerko, Senior Vice President of Operations (15 years); Makenzi Sargent, Systems Manager (13 years); Christy McFerren, President, Catalyst (9 years);  Jasmine Rivera, Learning and Development Manager (9 years); Peter Jbeili, Director of Operations (6 years); Lindsay Brown, Senior Vice President of Leasing and Marketing (5.5 years);  Carlos Gonzalez, Senior Vice President of Asset Management (3 years); Beth Pinder, Chief Operating Officer (2 years); Scott Barton, Chief Investment Officer (1.5 years)
To help commemorate our 20th anniversary, Campus Advantage reached out to a handful of our executives and long-standing team members for some Q&A fun — a mix of thoughtful and creative responses from a professional and personal point of view.
WHEN YOU WERE A KID, WHAT DID YOU WANT TO BE WHEN YOU GREW UP?
Lindsay: The progression went mermaid, marine biologist, the president of the U.S., veterinarian, advertising exec, and then finally, studied all things PR and marketing in college.
Makenzi: A math teacher.
WHAT FIRST ATTRACTED YOU TO WORK FOR CAMPUS ADVANTAGE?
Jasmine: My previous manager at my first housing job went to Campus Advantage as a manager (back in 2012) and sung the absolute praises of the company. It made me want to be a part of such an awesome team!
Lindsay: The inclusive company culture and the focus on having fun while getting things done.
Beth: The people are what attracted me to Campus Advantage. I've been in student housing for a long time, and I've heard of, met, and admired many people at Campus Advantage throughout the years.
HOW WOULD YOU DESCRIBE THE CULTURE OF CAMPUS ADVANTAGE?
Dan: Our core value of MOJO really captures the culture we have created and continue to build on every day. MOJO is about taking very seriously the what and why of this important work, while having fun and not taking ourselves seriously in the process. What this approach to culture also communicates is that culture is not something created by a person or by a department. It is something that is carried by and strengthened through every team member, every day, in big and small ways.
Carlos: Campus Advantage's culture prioritizes teamwork, innovation, and accountability that focuses on being a best-in-class operator by creating an inclusive environment at the corporate and property levels with a strong commitment to providing a positive resident experience.
WHAT DO YOU LIKE TO DO FOR FUN?
Alexandra: I play all kinds of video games. They're something that I have always loved ever since I was in elementary school. It's my time to just have fun and not worry about anything.
Katy: For fun, currently, I am enjoying every minute of being my kids' biggest fan. You can find me on the sidelines rooting for whatever football, basketball, baseball, or cheer team they are on, and I wouldn't have it any other way!
Makenzi: Go to Chiefs games!
Christy: My husband and I have a Catalina sailboat and we get out to sail as much as possible.
Peter: Spending time with friends and family, and in an ideal world, I would be horseback riding, scuba diving, and snorkeling all the time. I love the outdoors!
WHAT'S YOUR FAVORITE CAMPUS ADVANTAGE VALUE AND WHY?
Dan: Isn't choosing a favorite core value like saying which of your kids is your favorite? I suppose if I had to choose one that really resonates with me, between our core values, I'd have to choose Integrity. For me, this is about maintaining a high standard in all arenas of what we do. We define it as "doing the right thing, always looking to make our families proud." This bleeds into every interaction, every initiative, every strategy, and every decision. This, when combined with our other core values of Intelligence, Passion, and MOJO, defines for us how we do what we do.
Alexandra: Intelligence because I believe that growth cannot occur without being open to learning and embracing new ideas and experiences.
Katy: Mojo is my favorite Campus Advantage value because I always take what we do seriously, but never myself. I love coming to work every day and being able to impact my teams, but being able to do it in a way that is fun.
Makenzi: Mojo. I love that everyone is encouraged to be themselves and have fun when they can.
Peter: Passion is the core value that is most prominent among the employees of the company. Every team member is so dedicated to the success and growth of their peers, our communities, the residents, and the company as a whole because they believe in our mission. It's not common to find a company full of such passionate and dedicated individuals.
Carlos: Intelligence. It allows individuals to solve problems, make sound decisions, and adapt to new situations, which are all essential skills for personal and professional success.
Beth: I love them all, but I think Mojo would be my favorite because this line of work requires a lot of hard work, long hours, and things are coming at you all the time. It's very important to balance that out by finding all ways to have fun and enjoy your family, friends, and co-workers.
Scott: Mojo. I think it encompasses many areas and has the connotation of one's complete energy/persona.
IS THERE SOMETHING NEW YOU'D LIKE TO LEARN THIS YEAR AND WHY?
Dan: I am learning guitar! My dad played and left me his guitar when he passed away, so I am excited to learn an instrument I have always loved, and in the process, enjoy memories of him while I do it.
AFTER A LONG WORKDAY, WHAT DO YOU DO TO RELAX?
Jasmine: Try to read an entire book (yes, in one sitting).
WHAT'S BEEN YOUR PROUDEST MOMENT AT CAMPUS ADVANTAGE?
Alexandra: Being named the Corporate Employee of the Year in 2020. As crazy as 2020 became, that moment was one of the best ones of my life. I had just finished graduate school in December 2019, and that schooling gave me the opportunity to really make an impact throughout the organization. It was an amazing way to celebrate the end of my program and really made me feel like all those sleepless nights materialized into something I could be proud of for the rest of my life.
Makenzi: When I accepted my current role! I was (and still am) excited for the opportunity to lead an amazing team and be part of all the exciting things coming this year.
Christy: Taking Catalyst to new places of growth and financial and cultural contribution to the overall company with the team, and forming a team that has bought into the Gold Standard, which trains us in excellent relationship and service practices that translate to any career and industry.
Jasmine: Winning the Regional Manager of the Year and the Passion Award at the CAmmys!
Peter: There have been so many moments within my time at CA that stand out to me. The first thing that came to mind is watching employees grow within the organization. We have team members that have grown within the company from Community Assistant or Bookkeeper to Systems Specialist, Systems Manager, Learning and Development Manager, and myself as Director of Operations among many others! That employee growth is something I am immensely proud of.
Lindsay: It's always such a great feeling when someone succeeds or shows growth under your leadership, and I am so proud when that happens.
WHAT BRINGS YOU JOY PERSONALLY AND PROFESSIONALLY?
Alexandra: Being able to spend time and share life's experiences with the people I love brings me so much personal joy. Being a military spouse took me away from the people I loved for long periods of time. Any time I have the opportunity to be with them is wonderful. Helping those that need assistance or making someone's tasks easier to accomplish brings me professional joy.
Katy: What brings me joy personally is seeing my kids growing into amazing people who are kind, loving, happy, and fiercely independent. Professionally, it brings me such joy to see so many people I have worked with growing into the next generation of thought leaders in the industry — not only at CA, but across the industry. I have been so blessed to be part of each of their stories.
WHAT'S A KEY LESSON YOU LEARNED FROM A LOVED ONE?
Scott: Sacrifice is the greatest gift.
WHAT'S THE BEST PIECE OF ADVICE THAT HAS HELPED SHAPE YOUR CAREER?
Christy: My dad always told me to focus on the people because the work and the money are great, but it's the people you'll appreciate the most over the years.
Carlos: Learn from the past and spend your energy moving forward.
WHAT'S YOUR SUPERPOWER?
Alexandra: Problem-solving. I believe there is a solution for almost everything and if there's any way I can find it, I will.
Beth: Perspective. Knowing what's important and why, what to be concerned with or not, and understanding of what requires my energy and how to approach things with an understanding from all sides.
IN YOUR PROFESSIONAL CAREER, HOW DID YOU TURN A FAILURE INTO A SUCCESS?
Beth: I don't view any part of my career or life a failure. I look at everything through a lens of learning. My kids are athletes and played sports growing up, and I used to tell them, "It's not the strike out or missed ball that defines you but what you do afterward that makes you great."
IN ONE SENTENCE, HOW WOULD YOU DEFINE LEADERSHIP?
Dan: Leadership is about constantly discovering, building, and utilizing one's strengths, while consistently using those strengths to serve others, thereby influencing actions that produce results toward a desired goal.
Carlos: Leadership is defined as prioritizing the needs and well-being of colleagues by setting simple strategic goals and expectations through clear communication and creating an environment of accountability that allows the team to learn, grow, and make mistakes.
Scott: The ability to describe the vision, inspire others to desire that vision, and show the path of how to turn the vision into reality.
WHAT IS AN AREA IN YOUR LIFE THAT HAS BEEN STRENGTHENED BECAUSE OF CAMPUS ADVANTAGE?
Katy: All areas of my life have been strengthened because of Campus Advantage in some way. Growing as a leader in this organization has helped me become a better leader in my home and community. It has forced me to look at the ways that I communicate with everyone around me and taught me to meet them where they are at.
Christy: I have learned so much about leadership, keeping a team aligned, and achieving goals as a group.
MOVING FORWARD, WHAT DOES THE FUTURE OF CAMPUS ADVANTAGE LOOK LIKE FOR THE NEXT 20 YEARS?
Scott: Bigger and better — more owned assets and more managed assets, more modern processes.
The Campus Advantage: Advantage
When residents call a Campus Advantage community home, they can enjoy close-to-campus convenience, stellar amenities, competitive rates, individual leases, excellent customer service, and more. Plus, living at a CA community includes some exclusive perks, discounts, and tools for residents to enjoy now and in the future.
CAREER SUCCESS PORTAL
The Campus Advantage Career Success Portal provides residents with 24/7 access to tools needed to help them perfect their resume, explore self-assessments, and practice interview skills. This exclusive amenity also unlocks access to millions of available job opportunities, including more than 500,000 unique to this site! On average, Career Success Portal users gain employment 3x faster than the national average!
RESIDENT INSURANCE WAIVER PROGRAM
Under the Insurance Waiver Program, residents pay $15.00 per month in addition to their rental payment. In return, they are covered for up to $100,000 in damage from fire, smoke, explosions, water, sewer backup, or falling objects. Other benefits include no deductible for any waived damage, as well as no paperwork for an insurance claims.
MYCREDITLIFT
Better credit makes adulting a whole lot easier when it comes to big financial decisions our residents will be making down the road — buying a car or a house, or even starting a business. Part of our Students First® Experience commitment is to provide ways to enhance student success. One of those ways is MyCreditLift, a program that allows students to build their credit by paying rent on time every month.
LEAP RENT GUARANTY
By embedding a rent guaranty directly into the leasing process, LEAP's application and one-time premium immediately qualifies students without a qualified guarantor to live in off-campus housing of their choice — not just the ones landlords say they quality for.
STUDENTS FIRST®
At Campus Advantage, we pride ourselves on putting residents at the center of every decision we make. It's an approach we call the Students First® Experience, and it's infused into our communities and customer service interactions across the country. Through interactive life, growth, and success experiences, we inspire and equip our residents to thrive in all areas of life while providing opportunities to create connections that will last a lifetime. We believe that by helping our residents succeed, we are in turn successful.
Life, growth, and success experiences can include:
Viewing parties
Game nights
Book clubs
Fitness classes
DIY activities
Guest speakers
Professional headshots
Resume reviews
A New Look for the CA Brand
To celebrate two decades of creating successful communities, the Campus Advantage brand has undergone a 2.0 refresh — including modernized colors and typography, future-focused messaging, exciting new merch, collateral, and more.
This new identity pays tribute to our organization's history while also bringing a renewed sense of life and energy. Read on to learn more about how this new brand sets the foundation for years to come.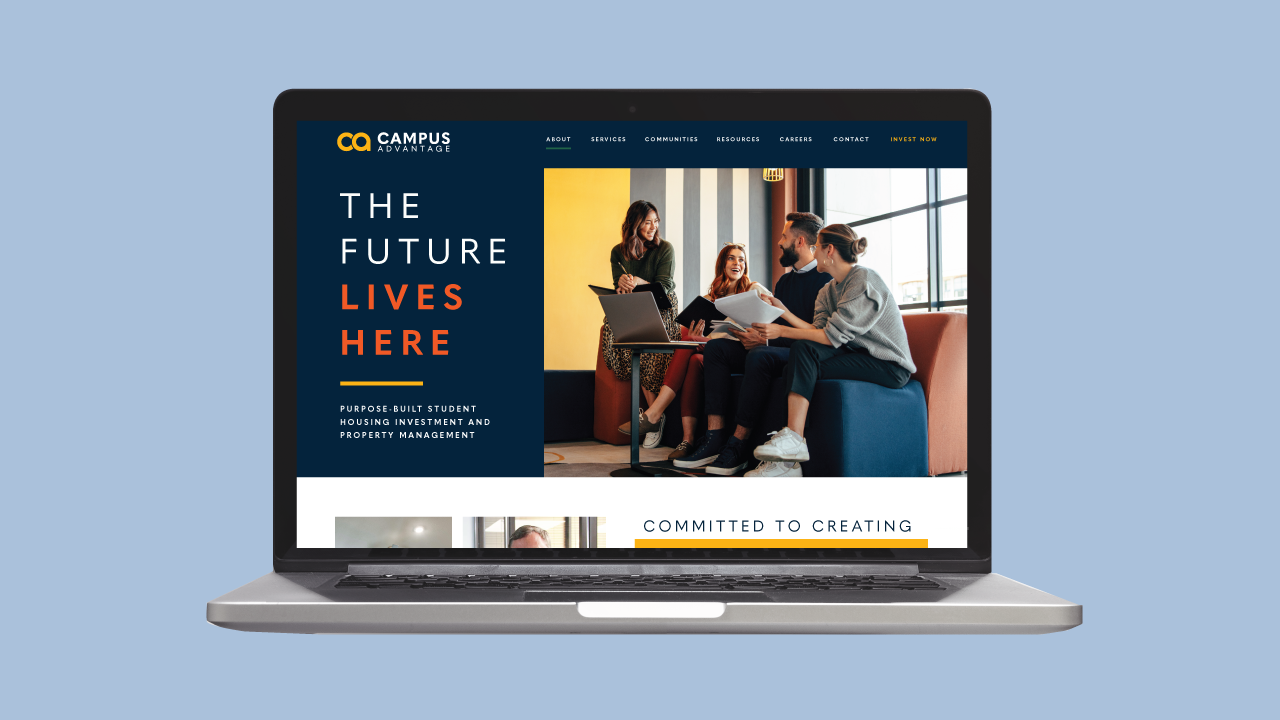 OUR brand is FLEXIBLE.
Four bold secondary colors allow variations of the same brand to appeal to different audiences.
CA departments are given free rein in areas where needed while still staying true to one overall look.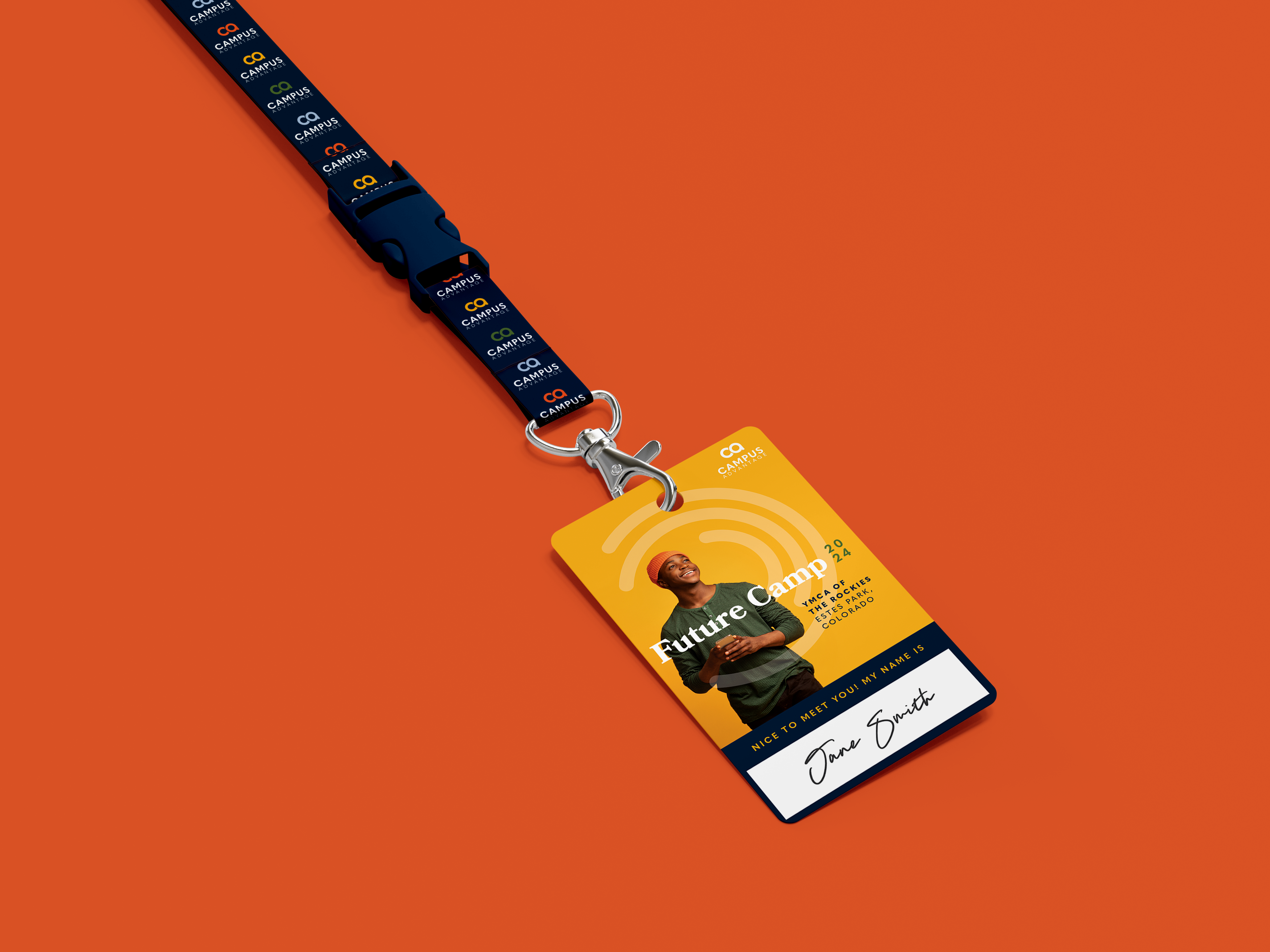 OUR brand is FUTURE-FOCUSED.
Color theory for this range of tones can feel both established and trustworthy but also innovative and ambitious.
Everything from the typography to the circle pattern was selected with our "Future Lives Here" tagline in mind.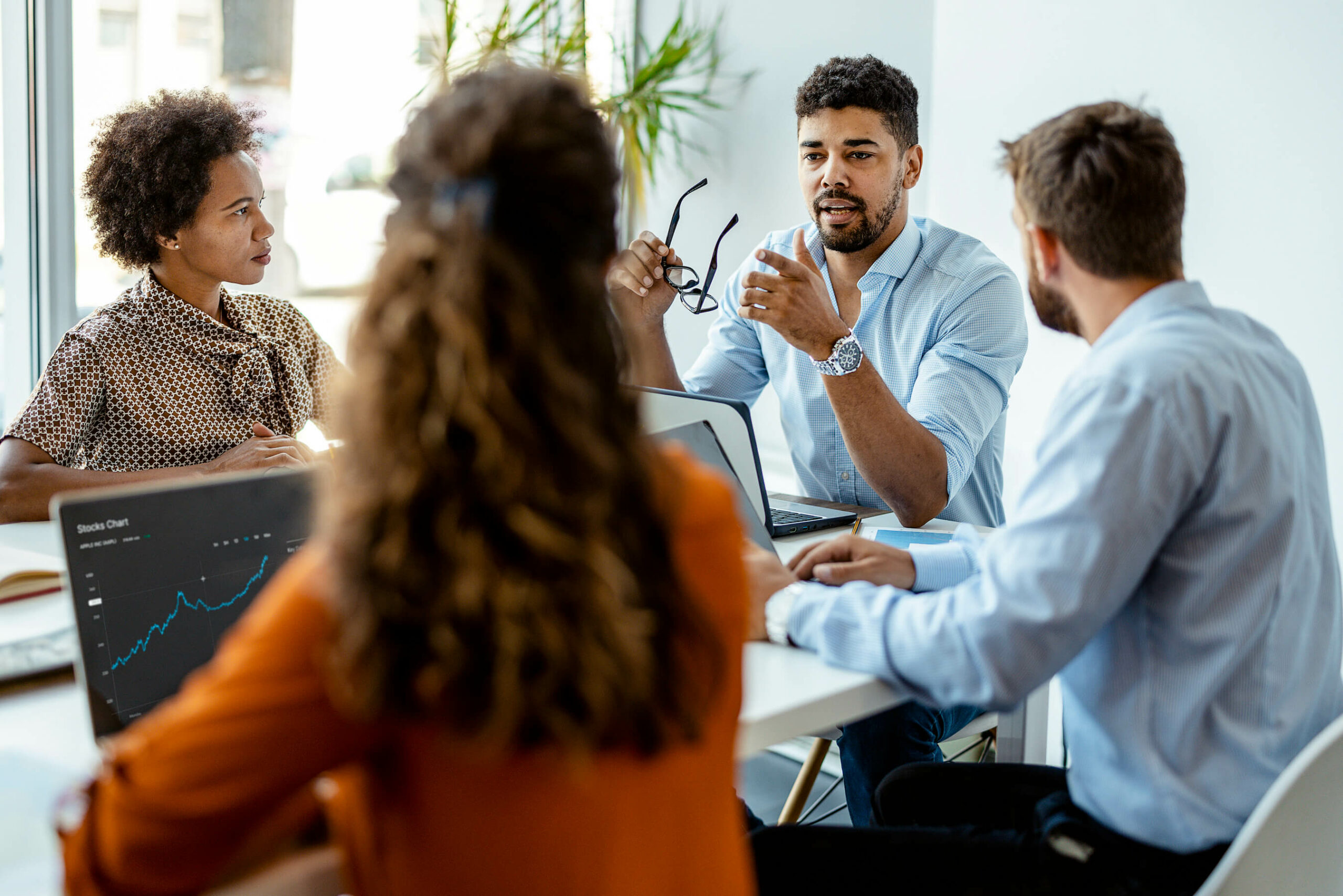 OUR brand is INCLUSIVE.
A new suite of stock imagery captures our commitment to diversity as well as a new generation of students and young professionals.
Our team's due diligence ensured these colors would resonate both across the country and around the globe.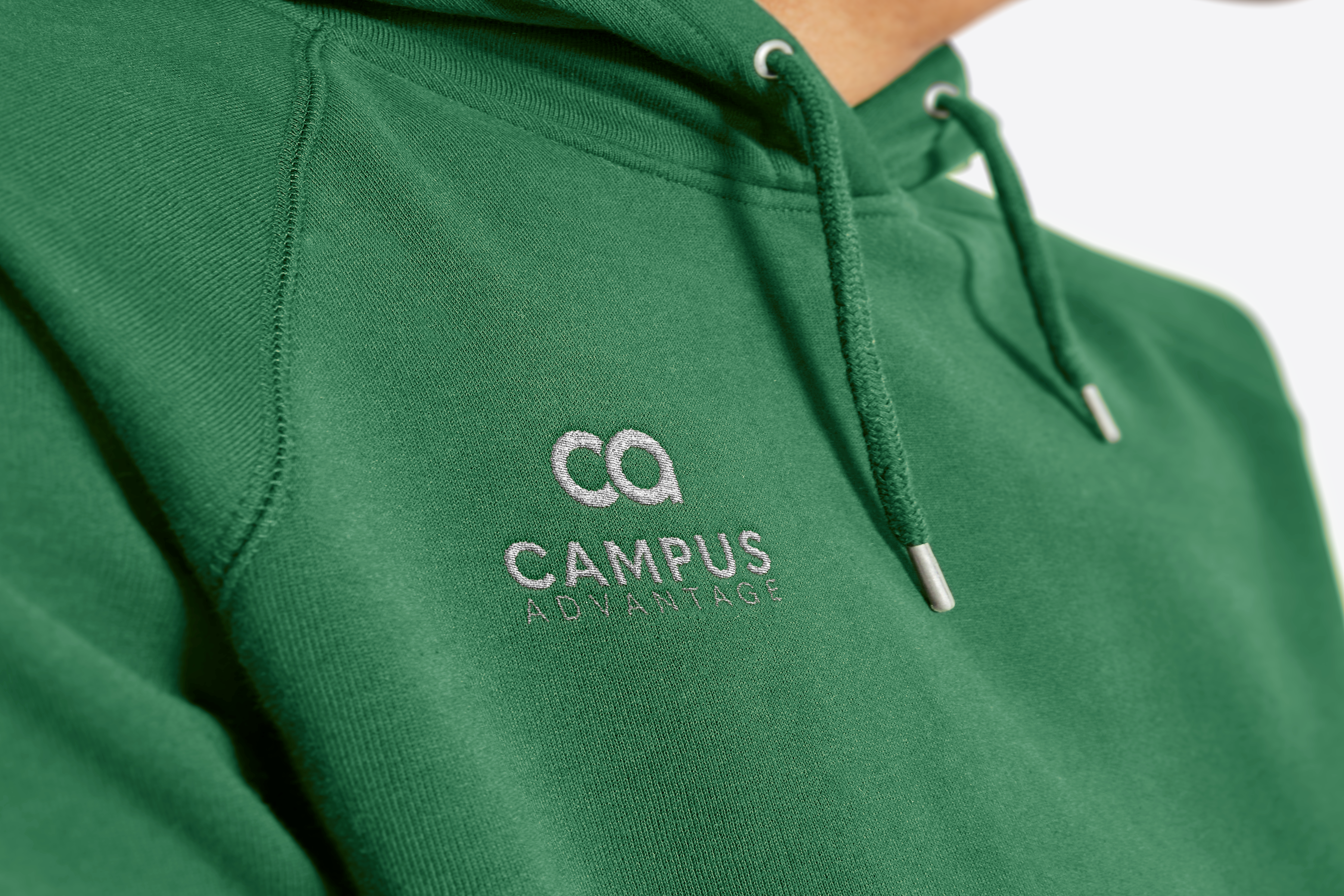 OUR brand is READY FOR GROWTH.
It was important to us as an organization to have a brand that was scalable and would last for years to come.
The Future Continues Here
STUDENT HOUSING INVESTMENTS
Student housing's recession-resilience makes it a solid investment to buffer your portfolio during times of economic uncertainty. If you, or someone you know, is interested in participating in our private fund, please inquire. Campus Advantage specializes in all aspects of student housing — operations, marketing, consulting, development, and acquisition — and has delivered excellent returns for over a decade. Learn more about our fund here.
JOIN OUR TEAM
Do you know a passionate, motivated individual who wants to be part of a company that encourages, supports, and inspires employees to achieve their full potential? One that is committed to cultivating and developing a diverse and inclusive culture? A culture that also believes in taking our work and our communities, but not ourselves, seriously?
At Campus Advantage, our team is the core of our success. We hire based on experience and character, keeping an eye to diversity, equity, and inclusion for everyone. We seek out new team members who are passionate about making raving fans of our residents and clients — and having fun while doing so!
If you know someone who fits this description and would like to be part of a team who loves what they do, check out our open positions and send them our way! View jobs here.