Chris Romero Is All About the Numbers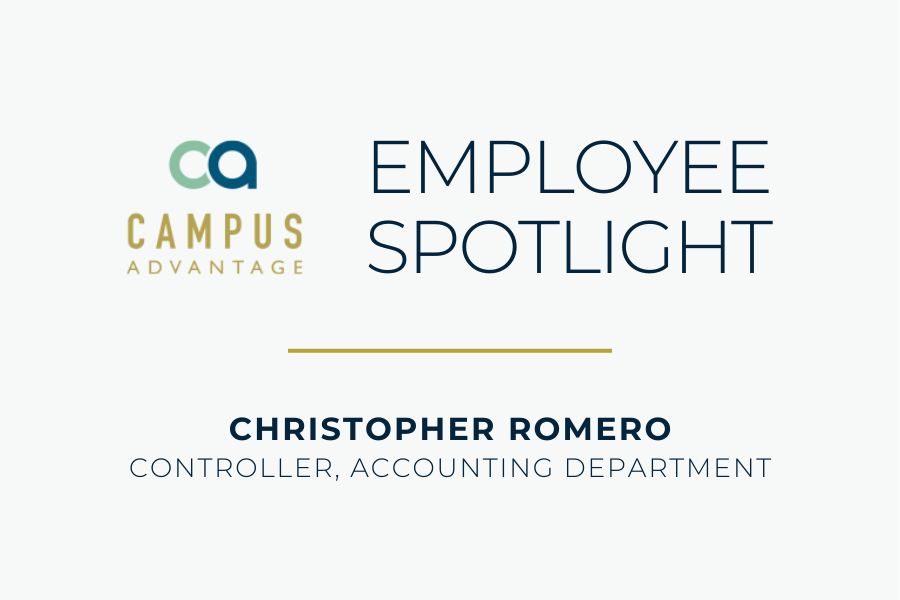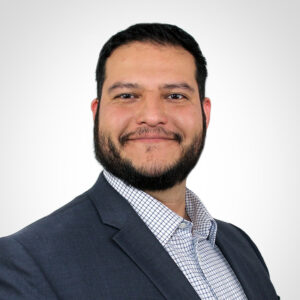 Chris Romero brought his accounting experience to Campus Advantage 2.5 years ago when he transitioned from the rental car industry to the student housing industry — a career move marked with promotion. He first joined CA as a Property Accountant, followed by Accounting Manager, and then was recently promoted in June to Controller. In his new role, Chris is responsible for supporting, reviewing, and ensuring the timely and accurate preparation of financial statements and account reconciliations for assigned properties, as well as assisting operating units with analysis and process improvement.
Chris greatly enjoys working with his team as they continuously cultivate their passion for all the intricacies involved when it comes to accounting and finance. And when the workday is done, you will most likely find him chatting about movies or in the theater catching the latest release.
Learn more about Chris and why eureka moments are one of the drivers that keep him going.
Describe your current role at Campus Advantage?
I'm the Controller for a portfolio of 11 sites. I oversee the team that helps to process the financials for each of the sites, as well as oversee the portfolio as a whole each and every month.
What first attracted you to work for Campus Advantage?
A change of pace. I was previously employed with Enterprise Rent-A-Car for about 12 years. The only mode to expand my skills and title would have been to move out of state, which I really wasn't going for. Luckily enough, a co-worker had started with CA before I left Enterprise — we used to work over there together. She informed me about CA and that it's fast paced, you get to learn a new type of accounting process, and there's the work-from-home ability that the company has, which I've never had something as flexible as that. So, all of the opportunities, as well as the challenge of taking on something new, drew me to the company.
Describe what your team does for Campus Advantage.
We assemble the financial packages for the client every month as accurately and efficiently as possible. We serve as the backbone to help make sure that everything is running necessarily as possible. We're the keepers of the purse strings, so a lot of stuff ends up flowing through our department based on what the sites do on a month-to-month basis. Additionally, we train our people to be the go-to for the sites, so if they have any questions that are involved in the accounting process, they immediately reach out to us. We're the subject matter experts when it comes to that.
What three words best describe you inside or outside of work?
Outgoing, dependable, and inquisitive.
What is one of your favorite moments at Campus Advantage so far?
That's like asking me to pick what my favorite movie is or my favorite song. There's definitely three moments. The first moment is when I came into CA and was only two weeks in and we had our holiday party at The Highball. I was just very flabbergasted about how everybody was so excited to see each other and really have that camaraderie. It had been a long, long time since I've felt that within a company, so it definitely made me feel at home.
Another time was when a lot of the regional managers and the vice presidents came in town for a conference. I went to hang out with them to do the meet and greet, and they're just fantastic people, and I got to play a little bit of Trivial Pursuit with everybody.
And then there are the everyday eureka moments that I have with my team, with other people in the accounting department, with people in the ops department. When you get to sit down and understand the process together and learn from each other, and then watch how that knowledge spreads to everyone else like wildfire, that's a favorite moment of mine. It just means that everybody has increased their ability to do their jobs better.
If you had to choose one company value that best represents you, what would it be and why?
That's kind of easy for me — it would definitely be mojo. You have to have that ability to work hard, but then also enjoy yourself and have a good laugh with your fellow co-workers when you can, and as needed. You have to have a little bit of that spark in life with anything; otherwise, it's just not really worth doing.
What motivates you to get up and come to work every day?
It's really about opportunity and challenge. When I first came into the company, there was a lot of opportunity, and then looking down the road, this industry definitely has a lot more movement and it is much more dynamic than the rental car industry, which I came from. So that in of itself, without me even trying to do anything, brings both opportunity and challenge to the industry as a whole. So now in my role, I get to navigate those waters with the element of constant issues or challenges to overcome, and other opportunities to grasp upon is really what keeps me getting up and coming to work every day.
Thinking of your most successful peers or teammates, what characteristics do they share?
They have passion and an inquisitive nature to do things, as well as drive to get them done. I think those are the major qualities of everyone that I've ever worked with here at CA. They're just continually trying to do better at their job, at their tasks, be more efficient, be faster, understand more, and then continually try to teach that to their various co-workers. I think that's a common element we all share across the board.
What do you like to do for fun when not working?
One passion I have is talking about movies. I love movies and TV shows! I have a podcast with a couple of friends of mine where we review movies, do movie trivia, and just talk about whatever. It's interesting throwing your opinion out there into the void, and it's even more interesting when people respond to it.
If your life had a soundtrack, name one song that would be on it.
"Fuel" by Metallica because, every once in a while, you just need to throw on some hard rock, get amped up and pumped, and then just hit the day with everything that you've got. And a little bit of coffee doesn't hurt, either.