Delaney Hahn Is All About the MOJO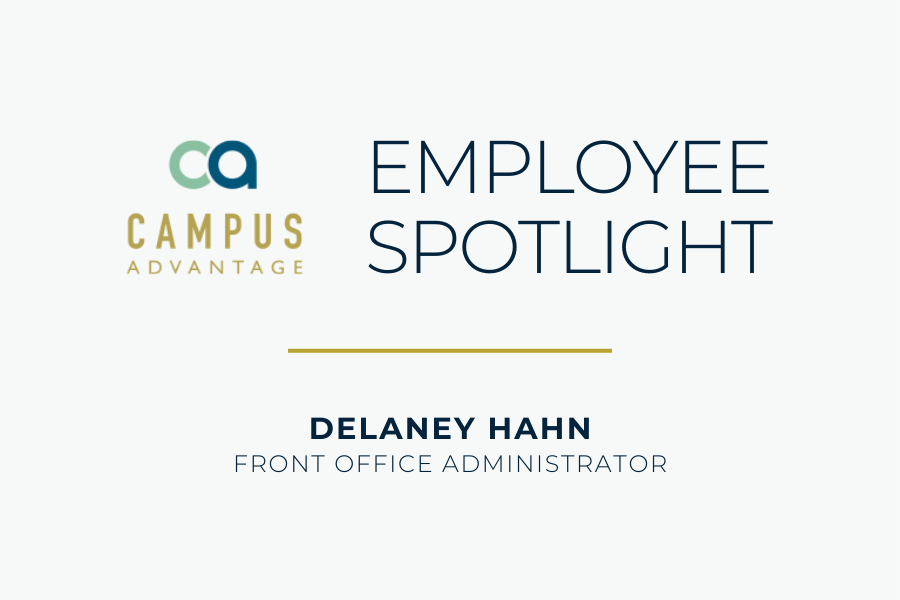 Delaney Hahn joined the Campus Advantage family six months ago, and th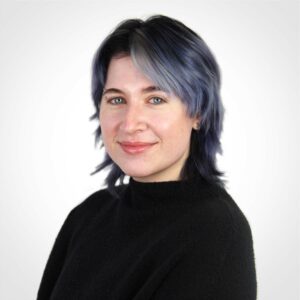 ough their tenure has been short, they feel right at home. Serving as the first point of contact for CA, Delaney's friendly and easy-going style is key when it comes to the responsibilities of providing first-class customer service and administrative support across the organization. From making sure the corporate directory is updated to answering resident questions and all details in between, you can be sure this multitasking pro has got CA covered in every way — and with excellence.
When not working, you can find Delaney enjoying life with a paintbrush, coaching volleyball, or exploring new music. Learn more about "the face" of CA and why the MOJO value makes them smile.
What is your professional background?
I graduated from the University of Oklahoma with a Fine Arts degree. Professionally, I am an oil painter, and I think it's interesting to take that and come into the world of student housing. It gives me a good background of how to market things, but also I really just connect with folks on a different level because I'm so used to having creative conversations. I also have a background with customer service being in the food industry for five years as a hostess, so I'm a people person.
What kind of things do you like to paint?
My medium of choice is oil painting, but I dabble in everything. I also paint in acrylic, I love charcoal, watercolor — everything in that nature. I love to do surrealism work where it's taking things that humans are very familiar with and altering reality to make it very dreamlike.
What first attracted you to work for CA?
I found the job and something clicked with it, and thought it would be really interesting. The connection I made with Kaitlyn [Vicars] in our interview was super, super great and really made me want to work for the company because it was one of those situations where you just felt so included and it felt like a really productive, real conversation.
What three words best describe you (inside or outside of work)?
Creative, open-minded, and kind.
What is one of your favorite moments at CA so far?I had a really good experience with a resident at one of our properties.
It was my moment where I was like, "I love my job and I am so happy with what I get to do." This resident was going through a really hard time with cancer, and her mom was scared because she never had an experience like this before. Long story short, her mom needed a document and was kind of flustered, but I was able to find everything for her. I also gave her a lot of resources that she could use if she needed other assistance. Hearing her on the phone say I made her life so much easier really set in my heart that I'm doing really good work, and I feel very proud of what I get to do.
What do you enjoy most about the work environment at CA?
The MOJO aspect of the company. Obviously, we take our jobs very seriously, but at the same time, we can still be lighthearted with each other. I really, really love this just because I like to be myself in work environments, and for a long time in my prior industries, you couldn't really be self-expressive in the way that you dressed, or the way you spoke, or how you could act in the office. Everybody here is just super fun and loves what they do, but doesn't take it entirely too seriously all the time. You get your work done and you get that prioritized, but at the same time, everybody can laugh and have fun and be themselves truly, which is something that I really appreciate about the company.
Do you have a favorite quote?
It's a quote from David Bowie: "I don't know where I'm going from here, but I promise it won't be boring." That's something I always live by because I'm a very go-with-the-flow kind of person and like to see where life takes me, but I never want my life to be boring — I want it to be interesting and adventurous.
If your life had a soundtrack, name some songs that would be on it?
"Mistaken for Strangers" by The National and "Tearing Me Up" by Bob Moses.