Denise Robles Is a Girl on Fire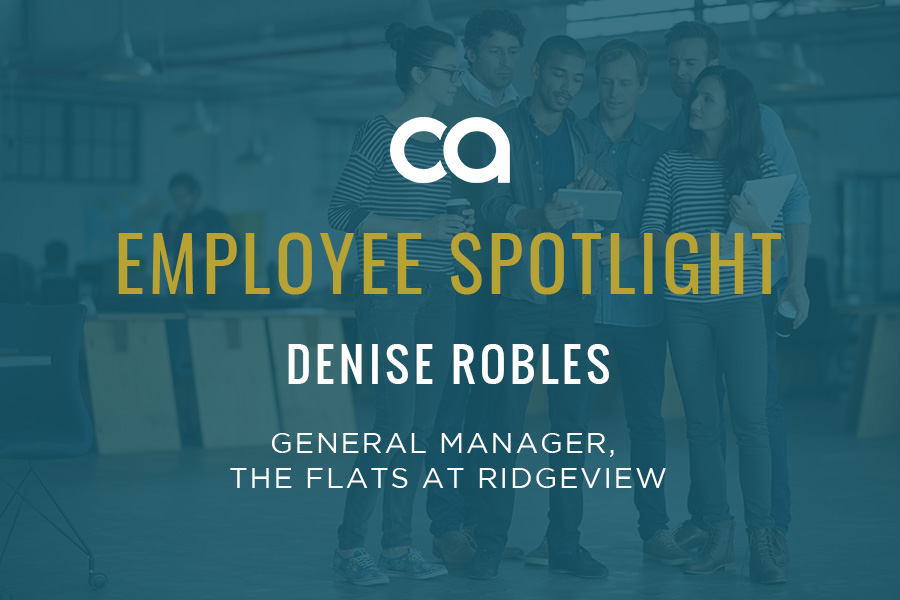 Denise Robles has been with Campus Advantage for more than three years, and during that time she has been an essential part of the team. As the Property Manager and General Manager at The Flats at Ridgeview in Las Cruces, New Mexico, she is instrumental in helping her team put Campus Advantage's four core values – integrity, intelligence, passion and MOJO – into action, on a daily basis. Denise has risen through the ranks with Campus Advantage, starting out as a Leasing Manager before earning her spot as General Manager thanks to her hard work and dedication to her team. She discusses with us what first brought her to Campus Advantage, what motivates her and what she admires most about her team.
What first attracted you to working for Campus Advantage?
I wanted to come to Campus Advantage because it was something new. I've always worked with kids and worked at daycares. I went to school and thought I would want to get into law enforcement, but then the leasing manager position sort of fell into my life. I was doing security for the medical school that Campus Advantage was working out of while they were doing this new build. The opportunity just fell into my life and I took advantage of it.
What are three words you would use to describe our culture, and why?
• Motivating – We have a Microsoft Teams channel, and everyone is constantly on that. I think that's great for motivation and continuing to push people to reach their goals. It's helpful when you see your boss or peers cheering you on.
• Diverse and inclusive – I am part of the DEI community. I think that's super important always, but especially now, given last year.
• Growth-minded: There are always new opportunities to grow, both as individuals and as a team, every day.
What are you doing to ensure that Campus Advantage remains a leader in the student housing market?
I think one thing for sure is customer service. We are always putting that extra effort into helping make sure that people have what they need. Also retention. This last year, we had half of our bed spaces renewed. We're also always pushing to make sure we are staying active and keeping up with diversity and inclusion.
What motivates you to get up and come to work every day?
Goal-setting and accomplishing those goals is what motivates me. Every day in student housing is so different, and I look forward to that. I enjoy that each day has something new, and it makes my days and weeks go by super fast.
If you had to choose one company value that best represents you, what would it be and why?
I think integrity. I always try to do the right thing, even when no one is watching, and I like to make my mom proud!
What are the three best words to describe you?
• Go-getter
• Loyal
• Compassionate
If your life had a soundtrack, name one song that would be on it.
"Girl on Fire" by Alicia Keys. I just think it's a very empowering song and every time I hear it, it makes me want to accomplish my personal and work-related goals. It just describes me.
Thinking of your most successful peers or teammates, what characteristics do they share?
I would say work ethic, integrity and MOJO! For work ethic, they are always there to help get the job done, and to keep me motivated. With integrity, I always see people doing the right thing, and always helping one another. And for MOJO (what we call our secret sauce of fun, charm and charisma), having that enthusiasm and go-getter attitude. I'm not a very loud person; I'm pretty shy. Sometimes it helps me when we have the Teams channel and there is always someone on there cheering and supporting you.
How do you empower your team to go the extra mile?
Setting goals is a big tool for the theme. I like to bring competition into it when I can. I think that pushes the team a little harder, and gives us something to work toward.