EMPLOYEE SPOTLIGHT: GINO BLANCO'S PASSION FOR PEOPLE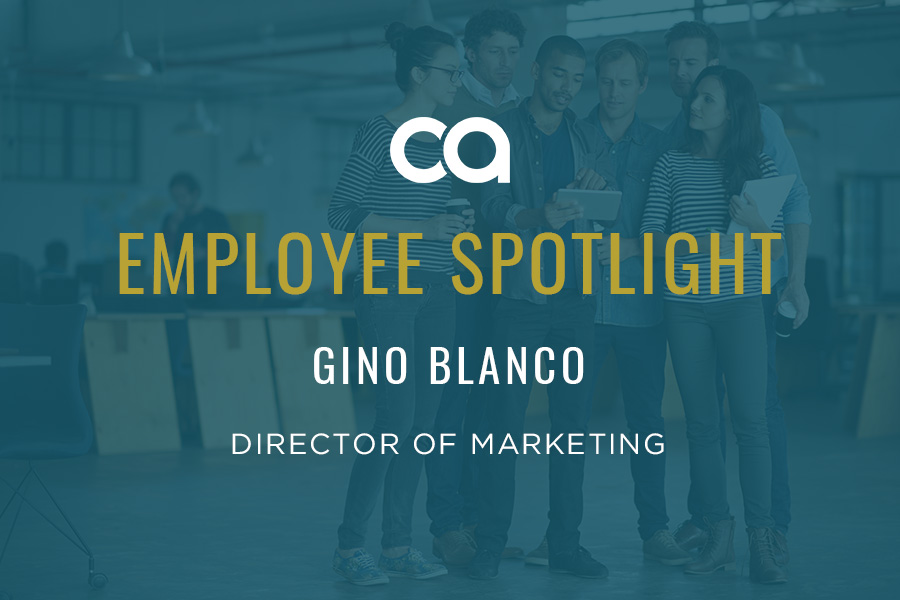 Gino was in college when he first fell in love with Campus Advantage as a resident at one of our properties. It wasn't long after that he joined our team and began working as a Resident Director in Gainesville, Florida. After serving as Resident Director, he moved up to work as a Corporate Leasing Specialist, then a Regional Leasing Specialist, then Director of Leasing. Seven years later, Gino now serves as the Director of Marketing across all Campus Advantage properties. Even now, he fondly recalls the relationships he formed while working with students on-campus. Through understanding students' needs, he developed a passion for marketing and leasing, and gained a deeper understanding of the larger market that has served him well in his corporate roles.
WHAT FIRST ATTRACTED YOU TO WORKING FOR CAMPUS ADVANTAGE?
The people! I lived at a Campus Advantage property during college and fell in love with the environment that the resident events staff created. I really wanted to be part of that process.
WHAT THREE WORDS BEST DESCRIBE YOU (INSIDE OR OUTSIDE OF WORK)?
Enthusiastic — Life is short, so I aim to do everything with pazazz.
Courageous — The unknown doesn't scare me; in fact, I thrive on the thrill of an adventure. I'm fearless.
Pioneer — I am always competing with myself and cultivating new ideas.
IF YOUR LIFE HAD A SOUNDTRACK, NAME ONE SONG THAT WOULD BE ON IT?
Human by The Killers. The song compares the experience of being human with being a puppet.   Puppets dance only when they are controlled by strings, but humans can live with free will. I think the message of going after what you want and making the most of your human experience is relevant not just today, but for every generation.
WHAT ARE THREE WORDS YOU WOULD USE TO DESCRIBE OUR CULTURE AND WHY?
Honest — We are a very genuine, straightforward group of people. We gain nothing by not being truthful with each other, our clients, our students, and our prospects.
Familial — We are not afraid to connect outside of work and we pride ourselves in being close-knit.
Resilient — We are not afraid to learn from our mistakes. When we do make them, we dust ourselves off and try harder.
WHAT IS ONE OF YOUR FAVORITE MOMENTS AT CAMPUS ADVANTAGE THUS FAR?
I think everyone always says the CAmmy's, but that's because it truly is the most special time of year for us. We get to celebrate all of the hard work and sacrifices we have made throughout the year. It's also the one opportunity we have to see everybody all cleaned up and pretty — you don't see that in the trenches.
WHAT ARE YOU DOING TO ENSURE THAT CAMPUS ADVANTAGE REMAINS A LEADER IN THE STUDENT HOUSING MARKET?
I take pride in showing up to my job and giving it my all so that we are hitting numbers and students are having a great experience living at our properties. I don't see it as a "job" — it's something I love to do.
IF YOU HAD TO CHOOSE  ONE COMPANY VALUE THAT BEST REPRESENTS YOU, WHAT WOULD IT BE AND WHY?
I  would say MOJO (what we call our secret sauce of fun, charisma, and charm). I take our company seriously, but I don't take myself too seriously and I especially don't place myself above doing tasks like answering calls, delivering packages, etc.
THINKING OF YOUR MOST SUCCESSFUL PEERS OR TEAMMATES, WHAT CHARACTERISTICS DO THEY SHARE?
I would say intelligence. I see it displayed by our senior leadership, more specifically our Chief Operating Officer, Jenn Cassidy. If you approach senior leadership with a question, they always have the resources to answer it. They have a huge database and they know exactly what is going on at every single property. They care so much about their job and they are always ahead of the curve.
HOW DO YOU EMPOWER YOUR TEAM TO GO THE EXTRA MILE?
I empower my team through showing them that I am willing to do whatever they ask me to do. When they see the work that I am putting in, they are inspired to do the same.