EMPLOYEE SPOTLIGHT: KATIE DEGUTIS HAS IT UNDER CONTROL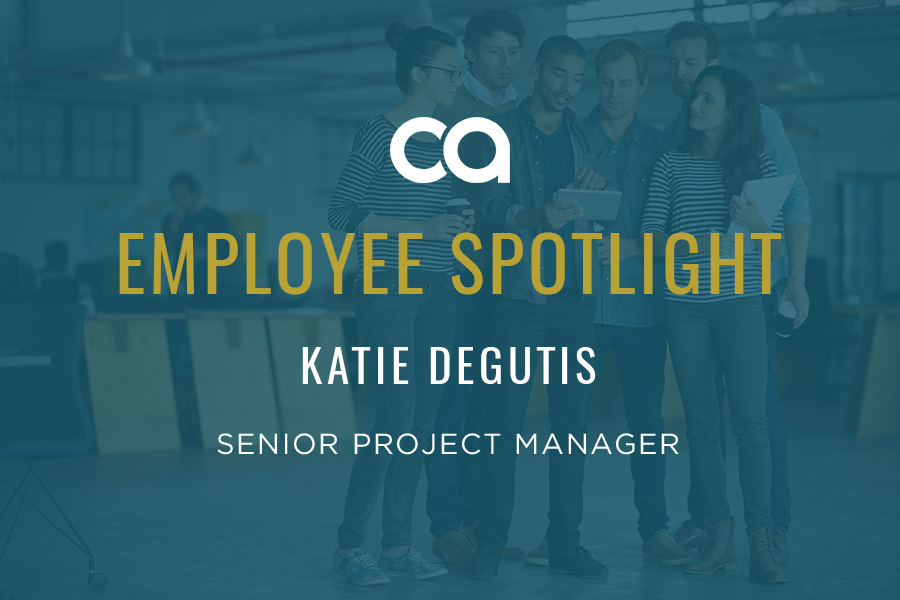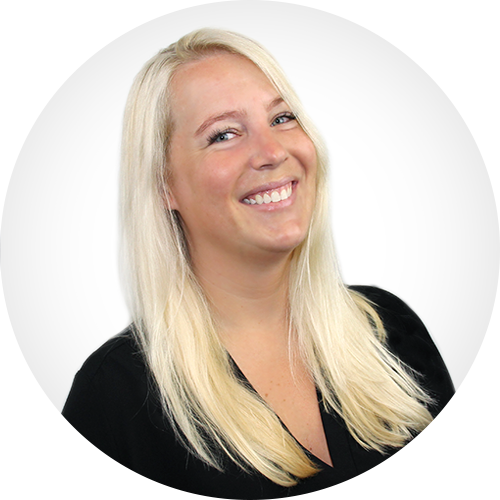 Everyone, meet Katie Degutis! Katie is a Senior Project Manager at Catalyst, Campus Advantage's strategic marketing partner, and has been with the marketing agency for five years. She is an integral member of the Catalyst team, passionate about getting the job done, no matter what it takes — but also a firm believer in a good laugh. It's not an understatement to say that her drive, work ethic and determination keep all of Catalyst's accounts moving. We had the opportunity to sit down with Katie and learn more about what makes her tick and how she juggles her responsibilities with a smile.
IN A FEW WORDS, DESCRIBE WHAT CATALYST DOES FOR CAMPUS ADVANTAGE.
We handle marketing for Campus Advantage at the corporate and property level and also serve third-party Catalyst clients in the multifamily and senior housing industries.
HAVE YOU HELD ANY PREVIOUS ROLES AT CATALYST? IF SO, WHAT WERE THEY AND HOW DID THEY HELP YOU GET TO YOUR CURRENT ROLE?
I was originally a copywriter. I worked in property management before joining Catalyst, but purpose-built student housing was new to me. My role as a copywriter helped me learn the ins and outs of the industry.
WHAT THREE WORDS BEST DESCRIBE YOU (INSIDE OR OUTSIDE OF WORK)?
Dedicated – Inside and outside of work, I really give it my all, whether that means working 9-5 during the week or on a Saturday. Whatever it takes to get the job done.
Funny – I think a sense of humor is really important, and it's useful for lightening the mood in a room.
Sarcastic – My team gives me a hard time about how sarcastic I am. Que sera, sera.
IF YOUR LIFE HAD A SOUNDTRACK, NAME ONE SONG THAT WOULD BE ON IT.
Queen's "Don't Stop Me Now." I like this song because it's about having a good time while forging through whatever life brings your way.
WHAT MOTIVATES YOU TO GO THE EXTRA MILE?
I feel very personally about the work I do, so if it's a matter of working late or digging into something that's not necessarily in my wheelhouse, I feel accomplished as long as the job gets done.
WHAT IS ONE OF YOUR FAVORITE MOMENTS AT CATALYST THUS FAR?
The 2018 CAmmy Awards, Campus Advantage's annual employee awards event. That year, we had the awards at the University of Texas' football stadium in an exclusive section, the Touchdown Club, and it was cool because we had the whole stadium all to ourselves. Catalyst won the "Intelligence" award, which is given to the team that embodies Campus Advantage's core value of intelligence. It was a really fun night.
FROM A MARKETING PERSPECTIVE, WHAT ARE YOU DOING TO ENSURE CAMPUS ADVANTAGE REMAINS A LEADER IN THE STUDENT HOUSING MARKET?
We're always looking for innovative techniques to attract new residents and stand out from the crowd while creating incredible brands for the sites. We do this by staying current with how college-aged people are tuned in. What are they reading? How do they interact with social media? We're not afraid to try anything, which keeps us fresh and relevant.
THINKING OF YOUR MOST SUCCESSFUL PEERS OR TEAMMATES, WHAT CHARACTERISTICS DO THEY SHARE?
No one wants to let another team member down. Even if it means working late or shifting priorities at the last minute, everyone is willing to do whatever it takes to get the job done.
WHAT MOTIVATES YOU TO GET UP AND COME TO WORK EVERY DAY?
My team, without a doubt. My job requires a lot of scheduling and management, and it's definitely high stress with a lot going on at the same time. Knowing that my team has my back and will go out of their way to help if something falls through the cracks means the world to me. It really takes away the stress that would otherwise be daunting.