EMPLOYEE SPOTLIGHT: KATY SMERKO IS DEDICATED TO HER TEAM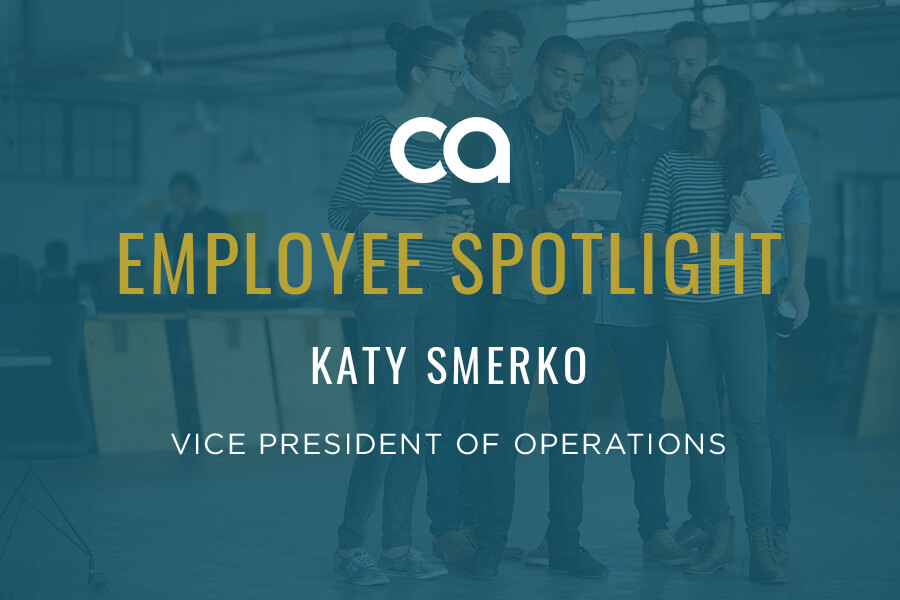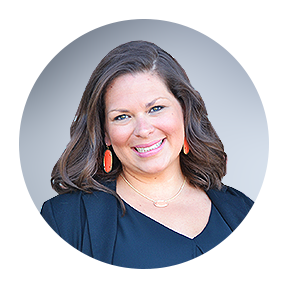 Katy Smerko is far from new to Campus Advantage — in fact, she's been here for 11 years! She started out as a regional manager and worked her way up to her current role as VicePresident of Operations, and she plays an instrumental role on the Campus
Advantage team. Not only is she passionate about and dedicated to her work, but
she's committed to the people around her. We got the chance to sit down with
Katy to learn more about the personal motivators that drive her success and
what's kept her hooked on Campus Advantage all these years.
WHAT FIRST ATTRACTED YOU TO WORKING FOR CAMPUS ADVANTAGE?
Before coming to CampusAdvantage, I worked for a company that I believed held certain values, only to find out that what I had pictured in my head and what they actually stood for didn't align. After that experience, I made it my goal to find a company that practiced what they preached. I had heard from past coworkers who went to Campus Advantage about how great it was, which sparked my interest. When it came time for my interview, I met Mike Peter and Scott Duckett at a pizza place and I was struck by how down-to-earth they
both were. We were all on the same page, which was exactly what I was looking for.
IN A FEW WORDS,
DESCRIBE WHAT YOU/YOUR TEAM DOES FOR CAMPUS ADVANTAGE.
I think a better question would be what doesn't my team do! We do a little bit of everything from accounting, leasing and marketing to HR and residence life; we are kind of the lifeblood of the company.
WHAT THREE WORDS BEST
DESCRIBE YOU (INSIDE OR OUTSIDE OF WORK)?
Determined – I am willing to do
whatever it takes to get the job done at work or at home with my family. I will
do what needs to be done to make sure everyone is successful.
Loyal – I think I am a loyal
person; I've been at Campus Advantage for a long time. Once I've decided what my
track is, at home or at work, I'm very loyal.
Loving – I think my capacity to
be loving applies to loving what I do and loving my family.
IF YOUR LIFE HAD A
SOUNDTRACK, NAME ONE SONG THAT WOULD BE ON IT.
I would pick "Rise Up" by Andra Day. Everyone has situations in their life that they have to overcome and the anthem of "I'm going to rise up no matter what comes my way," whether professional or personal, is applicable to everyone. It encourages me to rise up to whatever is put in front of me.
WHAT ARE THREE WORDS
YOU WOULD USE TO DESCRIBE OUR CULTURE AND WHY?
Hardworking
– I see the hardworking element in how far we've come as a company. We started
from the ground up, and in the 11 years that I've been here, I've watched us
grow a ton. We started as a very small company where everyone did not only
their own jobs but the jobs of others as well, and even though we're a much
larger company now, we've maintained that spirit.
Honest
– We are honest people because at the end of the day, we're going to tell our
clients, residents, and employees the truth. Whether good, bad or ugly, we're
willing to be transparent for people. Honesty is the best policy whether
working with employees or on-site.
Fun
– We are also fun. I don't think anyone would be able to do the work we do
without the people we work with and the fun we have. Whether it's cleaning
toilets or doing file audits, we make sure to have fun while we do it.
WHAT IS ONE OF YOUR
FAVORITE MOMENTS AT CAMPUS ADVANTAGE THUS FAR?
The CAMmy's and going to our General Manager conference are always the highlights of my year. Being able to work with the managers and see them rewarded for all the things they have done throughout the year is always something I look forward to. I enjoy the opportunity to celebrate everyone's hard work.
WHAT ARE YOU DOING TO
ENSURE THAT CAMPUS ADVANTAGE REMAINS A LEADER IN THE STUDENT HOUSING MARKET?
I think that one of the things we do as a company is thinking outside of the box and seeing where we can take things that are relevant in other industries — whether that's multi-family, retail or something else — and implement them in student housing. We have seen a tremendous amount of success with our revenue management and resident life platforms/programs. These differentiate us from our competitors.
When it comes to what I do personally, so much of what we do at Campus Advantage is leasing-related and from the leasing position I've learned so much about other facets of what we do and how we work really closely with clients. These experiences have formed my desire to go into operations and be client-facing and work on things other than leasing and marketing. Realizing how much leasing and marketing plays into every other part of the job is key to ensuring that Campus Advantage remains a leader in the student housing market.
THINKING OF YOUR MOST
SUCCESSFUL PEERS OR TEAMMATES, WHAT CHARACTERISTICS DO THEY SHARE?
They are all dedicated. They are dedicated to making our company a better place and helping to create a culture that we are looking to bring employees into.
HOW DO YOU EMPOWER YOUR
TEAM TO GO THE EXTRA MILE?
I empower my team by offering them the freedom to make their own decisions, whether they are right or wrong. Giving them the opportunity to make a decision themselves and face the consequences that come along with it allows them to take ownership so that they can learn. And if it does end up being the wrong decision, I and the rest of my team will be there to help them out.