Employee Spotlight: Kayla Coluci: The Fun Accountant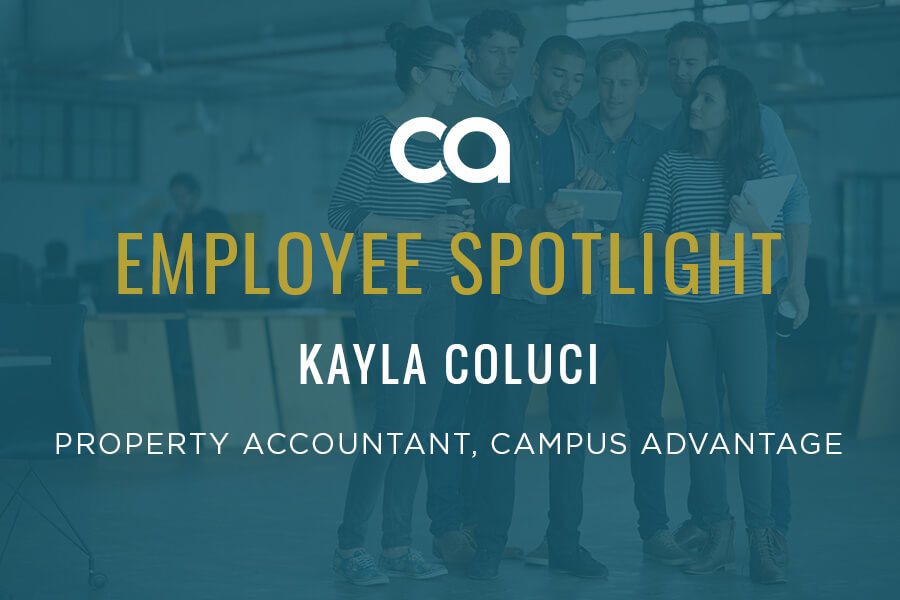 As a property accountant for Campus Advantage, Kayla Coluci balances staying on task and on deadline with her personal principle of having fun and achieving work / life balance — a balance that includes keeping investors and residents happy, while also being a part of a local basketball league. Kayla shares with us her favorite part about working at Campus Advantage, how she ensures the company remains a leader in the student housing industry, and how the Campus Advantage culture inspires her to be her best.
How long have you worked at Campus Advantage?
10 months.
What is your current role at Campus Advantage?
I am a property accountant. I manage six properties in one of our portfolios, Saban Real Estate, and one third party property. My team acts as liaison between the owners of the property and the property management / operations team — we're the middle men between those two parties.
What first attracted you to working for Campus Advantage?
I had just moved to Austin, Texas. When I was looking for a new job, two things were very important to me: a positive company culture and an interesting industry. Campus Advantage hit on both of those requirements. I found Campus Advantage's core values very attractive — they really invest in their employees because they believe successful people make successful student communities. Additionally, I had done real estate accounting previously and had worked in the dean's office while I was in college, so the student housing industry appealed to me as a fresh, exciting field.
What three words best describe you (inside or outside of work)?
Diligent – I am conscientious and take pride in my work and the end product.
Genuine – I try to be a sincere and trustworthy colleague and friend.
Fun – Similar to the Campus advantage value of MOJO, I try to stand by a healthy work / life balance, making work fun and exciting but also having a fulfilling life outside of it. I travel a lot, and I joined the Austin Women's Basketball League when I first moved to Austin. I have fun being a part of social sports leagues and doing things with my friends — just enjoying life.
If your life had a soundtrack, name one song that would be on it.
Love Like Crazy by Lee Brice. The chorus to that song is a good representation of how I try to live my life and what's important to me.
What are three words you would use to describe our culture and why?
Innovative – This is encompassed by one of our core values, intelligence. Being intelligent, to me, means that Campus Advantage encourages exploring innovative, new and efficient methods of doing work. Regardless of employee position, the company is open to people presenting their ideas. Campus Advantage wants to remain progressive, as opposed to some companies that are stuck in their ways.
Community – Campus Advantage is a friendly and collaborative culture. One thing I think is very unique about Campus Advantage is that the President wants to know the intern. Every single employee is truly valued and considered an essential part of the team, which is not true of many companies.
Passionate – People here really do love what they do and are motivated to be their best.
What is one of your favorite moments at Campus Advantage thus far?
The 2018 CAmmy awards [Campus Advantage's annual employee awards event]. As a property accountant, most of the people I work with everyday are spread across the country, working onsite at various properties. At the awards, I got to meet the people I work with remotely day after day face-to-face for the first time. It was great to be able to talk to these teammates outside of work and get to know them better. Also, the awards were hosted at the UT football stadium, which was so cool to me, being new to Austin and also being a huge sports fan.
At the end of the day, I try to make sure that residents and investors are happy, because that's what will keep our company at the top. Having a punctual, quality work product is also important, so I measure success partly in my ability to do that. That's the accountant in me.