How Kyle Way Embodies Our Company Value of Intelligence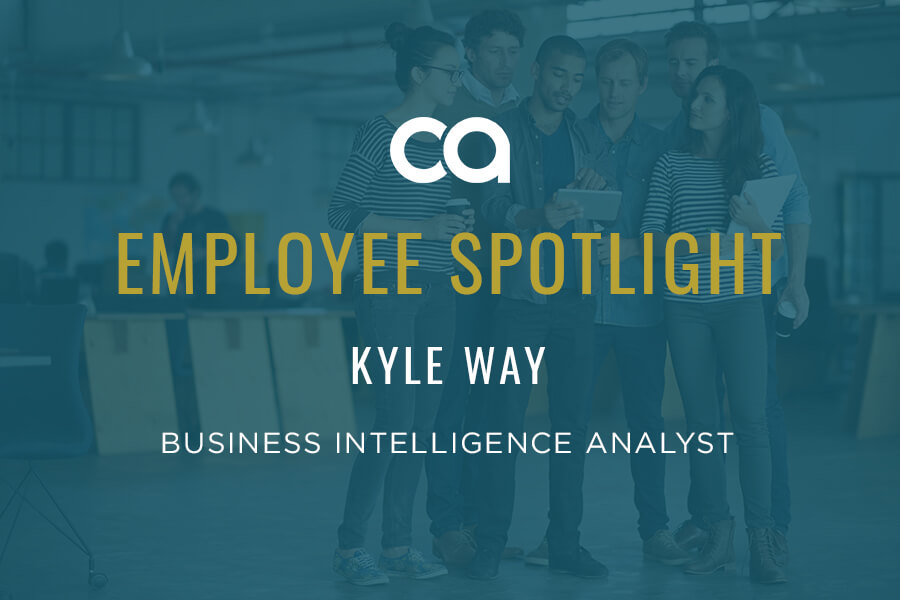 Kyle Way is a Business Intelligence Analyst at Campus Advantage, and he perfectly embodies the role, citing the company value of Intelligence as the one that most accurately represents him. His job entails providing IT support for the entire company as well as creating databases, reports and dashboards that each team relies on to measure success, making his role critical in ensuring that the company stays at the forefront of the industry. He shares more of his personality with us and what he likes most about working at Campus Advantage.
How long have you worked at Campus Advantage?
A little over 1.5 years.
Have you held any previous roles at Campus Advantage? If so, what were they and how did they help you get to your current role?
I was promoted recently. I used to be a Junior Business Intelligence Analyst. Now, I have more responsibilities including more frequent creation of data, processes and reports. My first role provided me with the tools I need now in order to assist and support people. Having that year and a half of previous experience really helped in terms of assessing needs and being able to communicate well with our team.
What first attracted you to work for Campus Advantage?
Definitely the "tight-knit community" feel. Previously, I worked for a big Corporate America-type company, and I didn't see any value in my work or how I was impacting the company at all. Campus Advantage checked all the boxes for me because they had a good, welcoming work community and I could see how my work would be making an impact every day.
What three words best describe you (inside or outside of work)?
Family Man – I have two kids, so they are my primary full-time job.
Organized
Passionate
If your life had a soundtrack, name one song that would be on it.
"Carry On" by Pat Green. The song is about rolling with the punches and not letting things get you down. It's a good lesson for everyone.
What are three words you would use to describe our culture and why?
Charismatic – When you are hired here, the charismatic nature everyone has is hard not to mimic. It's just in the culture. We all care about each other, about what we're doing and making sure everything turns out right. It's contagious, that charismatic nature.
Innovative – There is always something new that someone is trying to push. It feels like every week there's a new project coming out. It's why we are at the top of the industry every year.
Passionate – There is a lot of passion displayed by everyone here for making sure things get done the right way.
What motivates you to get up and come to work every day?
I'm motivated by the thought of learning something new every day. There is always something more to know, whether it's about student housing, technology or a formula or report I didn't know existed before.
If you had to choose one company value that best represents you, what would it be and why?
Intelligence, because it's part of my job to make sure we have intelligent analytics, and it's also in my job title.
How do you empower your team to go the extra mile?
I try to be a voice of positivity. In any job, there will be a challenge every day, but I try to be positive and think of the bright side when we're discussing issues, and I hope it helps them.