How to Increase Leasing Performance – Investing in the 3 P's of Your Customer's Journey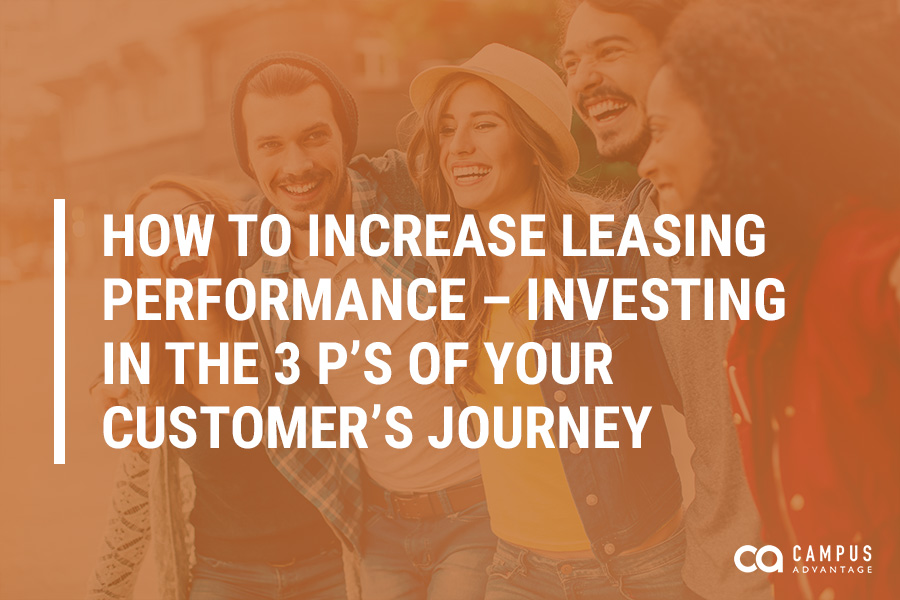 Written by Matthew Keller, Corporate Leasing and Marketing Coordinator
Leasing is the lifeline of any student housing business. Due to its immense importance to the overall success of a community, many managers and investors have the question "How can we increase leasing performance?" top of mind at all times. This major question often translates to very tangible, smaller questions such as: "What incentives should we offer?" "Should we invest in more staff?" "Should we spend more on advertising?" The answer to these questions becomes a slippery slope that may increase certain leasing metrics but not overall performance. Backed by years of experience, Campus Advantage has found that the best way to increase a communities' leasing performance is to invest in the 3 P's of the customer journey: people, product, and process.
PEOPLE
Investing in your people is the cornerstone of many invaluable business decisions. Your people are the face and intellectual power of your business as well as the builders and servicers of customer relationships. When it comes to housing and looking through the lens of a potential resident's journey, investing in your team's success is a very small outlay that reaps massive results. Here are a few team-oriented best practices that Campus Advantage has built into our rock-solid leasing foundation:
Communicate, collaborate, concentrate. This is done through weekly staff meetings, weekly management meetings, "same-page" emails, leasing goal boards, and 1:1 performance meetings. If your team doesn't know what their goal is, they simply cannot achieve it.
Create training for all types of learners. In the current time-sensitive environment, with large opportunity costs associated with training, the housing industry has gravitated towards a practice of "talking-at-training", the practice of verbalizing our expectations without supplementary training, materials or context. Campus Advantage teams are verbally instructed on how to improve metrics that are important to stakeholders and held accountable for those metrics. Investing in hands-on training, verbal training, visual training, trial-and-error training, feedback-based training and other mediums will exponentially improve your team's overall performance.
Get back to basics. In an industry faced with higher than average turnover, each year your team may have dozens of new faces that are being introduced to sales and leasing, all experiencing expectations and tasks for the very first time. If you're not regularly investing in your employees' mastery of the basics, they will never reach their full potential.
PRODUCT
Unfortunately, within the housing world, "increasing the quality of your product" is often immediately met with the fear of laying out millions of dollars in down to the stud renovations, and many managers/operators/owners forget the impact that even small updates can have on the appearance of a property. Increasing the quality of your product can be done in many inexpensive yet game-changing ways. Here are just a few examples:
Remember curb appeal. Treat curb appeal as everyone's job. Instill in your team that picking up trash off the grounds and reporting issues on the property such as poor landscaping or vandalism is everyone's job. Our team's main goal is to provide the best possible experience to every resident, which includes what the resident sees on an everyday basis.
Start with a fresh coat of paint. Painting your amenities, office space, parking spots, curbs etc. is a cheap outlay that can usually be done in-house and will result in massive improvements to the appearance of a property.
Pressure wash! This is another small investment that goes a long way. It's important to remember that unappealing sidewalks, sides of buildings and trim can seriously damage the aesthetic of a community.
Get smart – go smart. For a maximum of $1,000 (and usually much less) you can turn your office space and model "smart". This includes a smart personal assistant and smart lights. With many options such as Alexa, Google, Bixby and much more, there should be no reason you're not "staying with the times" and going smart.
PROCESS
This is the most crucial of the 3 P's. Your process is your customer's journey. At Campus Advantage, we have mastered the art of looking through the prospect's eyes and traveling along the customer's journey. The previous 2 P's lead into this pathway to residence. Here are a few tips and tricks to master your process, which will lead the prospect to your people, which will sell your product – giving you performance.
Start where your consumers start – online. You'd be amazed at how many community managers, corporate employees or even owners and investors have never Googled their community just to see what their prospects see. Start here. If you feel like you're not showing up on the pages and in the searches you would like to, it might be time to start an SEM/SEO campaign with the help of marketing experts such as our integrated marketing partner, Catalyst Marketing.
Analyze your advertising. Are your marketing dollars being spent in the right places? If you don't have a tracking system to find where your leads are coming from, how are you supposed to know if you're investing in the right advertising platforms? Take the time to find out where your leads are coming from through Google Analytics or a similar source, and hone in on the most effective platforms.
Take a close look at the sales process. Ask yourself, are we mastering this? Does my team understand the art of the sale? Are they effectively closing and overcoming objections? When was the last time I took a mock tour? What does our tour path look like? Would I rent an apartment after this pitch? These are all questions you and your team leaders need to be regularly evaluating.
Understand the logistics that your residents are dealing with. The best way to get a grasp on what your process looks like for the resident is to sign a lease. If you find yourself frustrated with resetting passwords on a platform where you have to reload a page five times, switch browsers, or deal with a confusing interface, your prospects are also likely frustrated by the same hurdles. Eliminate as many barriers as possible between your prospect and residency.
Focusing on the 3 P's is a great place to start when looking to increase your leasing performance. Unfortunately, due to high-performance demand and the overall importance of lease-up volume, a lot of decision makers treat leasing like a sprint when it is, in fact, a marathon. You need to master the basics of the 3 P's to be able to last long-term in the student housing industry. If you'd like to learn more about the 3 P's of leasing and how to increase your overall performance, please feel free to reach out to Campus Advantage's consulting team.