How to Market to Gen Z: Q&A with LIndsay Brown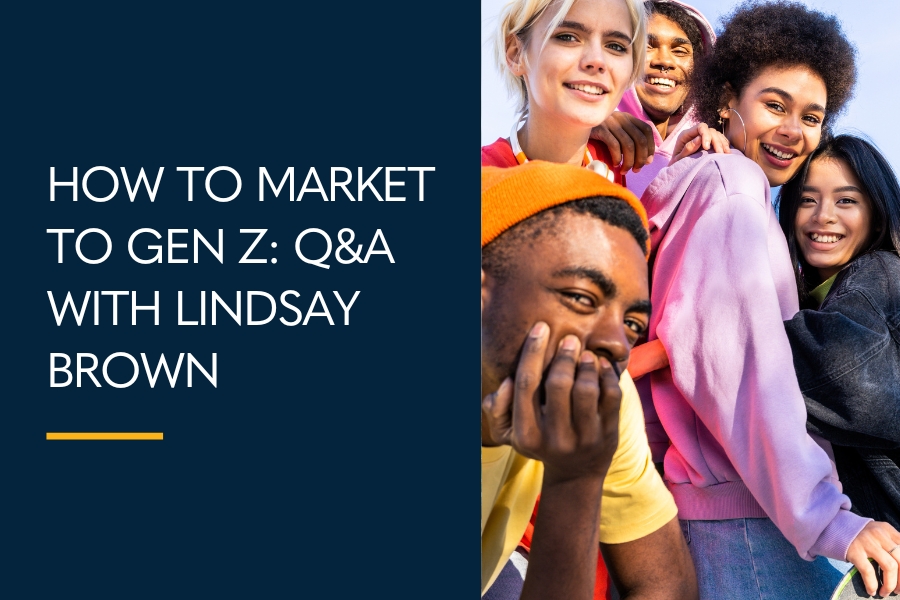 Lindsay Brown joined Campus Advantage in 2017 as Vice President of Leasing and Marketing, where she oversees the Leasing department as well as all leasing and marketing activity across the Campus Advantage property portfolio. She brings more than 20 years of marketing and leasing experience in the student housing industry. Her experience includes large-scale implementation of marketing campaigns across a portfolio of properties; developing training in customer service, reputation management, sales skills, and resident retention; and implementing guerrilla and digital marketing solutions to increase traffic to communities. In this article, she shares her insights on how Gen Z has shifted marketers' approach to student housing, and provides advice for staying in front of this rapidly changing audience.
Give us a brief summary of your professional background and career experience. How did you end up in the student housing industry?
I attended the University of Florida in Gainesville. I originally planned to major in advertising but quickly pivoted to public relations — although I still had a huge passion for visual marketing. While I was a sophomore, I got a flyer on the door of my apartment; at the time, I was living in one of probably three or four student housing communities in Gainesville. It was still a fairly new concept at the time. It said something along the lines of, "Are you creative? Do you love talking to people?" And I was like, "Yes, that's me!" And so I interviewed, got the job, and immediately fell in love with it.
I loved interacting with residents, taking tours, and selling people their new homes. I quickly became the top salesperson for my company, and that's when I knew this was something I needed to pursue. My senior year, I was given the opportunity to stay on and move into a Leasing Manager position at another one of their properties down the street, then was quickly recruited by another company for the biggest student housing property in Gainesville. We were able to successfully lease that up, which got the attention of their COO. Shortly after, I was offered a position as a Regional Leasing Specialist, which began my career on the corporate side. Since then, I've held titles as Regional Marketing Director, Senior Regional Marketing Director, Director of Marketing, and finally, VP and SVP of Leasing and Marketing here at Campus Advantage.
Gen Z (individuals born between 1997 and 2012) now make up the majority of student housing residents. What are some traits that stand out to you about this generation specifically?
They are authentic, quick to call out injustice, and more financially conscious. Gen Z is also considered to be "digital natives" — they truly live their lives online. They're extremely independent and also very, very well informed.
When it comes to choosing off-campus housing, what factors have you found that Gen Z cares about the most?
With this generation, price hasn't been as much of a barrier as it has in previous years. The major trends we're seeing is in regard to location. The communities farther out from campus are not as popular. Gen Z wants a place that's close to campus. They want to walk. We're noticing they don't have cars as much because delivery services — you know, getting food and groceries brought to their door, having an Uber pick them up for a night out — are integrated into the way they live. And a lot of times, they can afford to live closer because they don't have that additional car payment.
How has knowing that affected your leasing approach?
The majority of our leasing is done online. Truly, very few people — especially Gen Z — come in to sign a lease anymore. A lot of our touring is still done in person, and then they choose to go home and complete the leasing process online. However, being able to offer virtual tours is also a huge plus, whether it be a live virtual tour via FaceTime or IG Live, or just prospects using our Matterport tours online. We're even seeing a lot of people signing sight unseen because they are used to that buying process now. They trust it way more than older generations do.
Gen Z spends a lot of time online — everything from remote classes to social media to online shopping. With that in mind, how do you decide which marketing services and platforms to focus on, specifically in the digital space?
I think that right now in our industry, proptech is running at 110%. Everyone's trying to get into that space and offer some kind of digital solution. We're being inundated on the corporate side with options, and our prospects are being inundated on their side as well. Some student housing websites I visit have three or four widgets on the home page!
It's tough these days to decide what options will be the most fruitful for us in our marketing strategy. We sit down at the beginning of the year and say, "OK, what's going to bring us the most traffic? What's going to work in this market? How do we stand out in a digital environment?" There's a few that are proven — you have to have Google, you have to have your social strategy. But there are some really good additional platforms out there that people are developing, if you have the ability to pilot them or use some marketing dollars to do A/B testing. It's important to stay up to date and keep an open mind because otherwise people can get stuck just using the same platforms year after year and miss out on some really fruitful, effective strategies.
What are some mistakes you see older generations make when trying to market to Gen Z?
Having the mindset of, "Well, I've always done it this way" — that's a big one. I also often see people being too aggressive with Gen Z. They're extremely independent and think of themselves as adults. They've had the internet at their fingertips since they were born and have been making decisions on behalf of their family or themselves since they were born.
So when decision time comes around for renewals, and the management company or leasing team goes to their parent first, they feel very slighted. The resident should always know first. If you want to follow up with a parent or guarantor letter, I always recommend making it more of a passive update to them. The days of aggressive guarantor letters are few and far between now — it just doesn't work like that anymore. The guarantors will even say, "Why are you calling me? My daughter lives there. Call her. It's her decision."
Gen Z still has several more years in student housing. However, trends and interests can still rapidly change, even within this generation. What advice would you have for someone who feels like they can't keep up?
If you're in student housing and you're reading this, then you obviously have students that work for you. They are going to be your biggest resources. Turn to those community assistants, those student employees, even residents. If you are on-site staff, poll your residents — that's a wealth of knowledge right there. They'll tell you everything you need to know.
In addition, if you don't have surveys going on at your sites on a pretty frequent basis, I'd recommend implementing a process for that. Ask anything from what type of events they want to have on site to what attracted them to living here? Don't struggle to figure it out on your own because your focus group is right there at your fingertips.