International Day of Yoga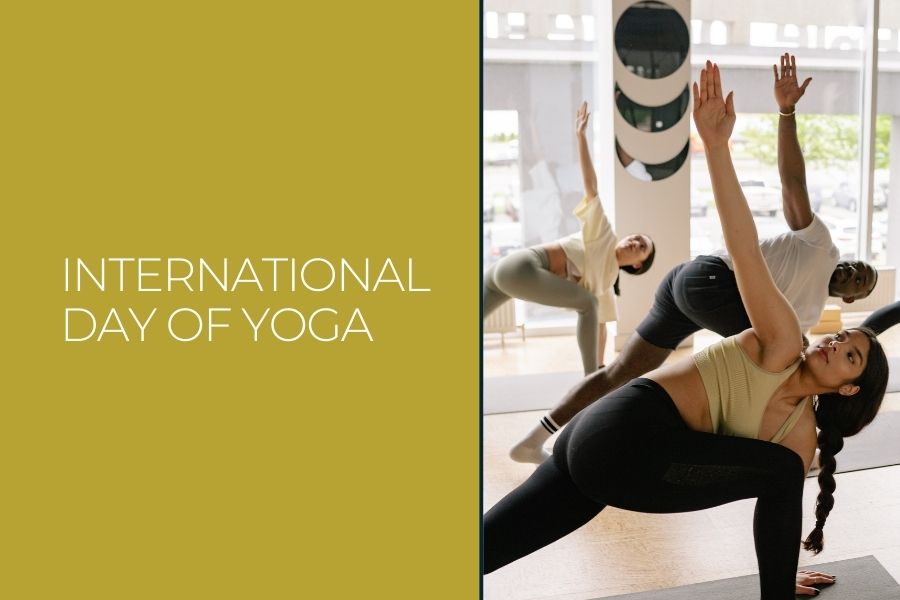 As we wrapped up May and our monthlong spotlight on mental health, our Campus Advantage team wasn't ready to end the conversation on the importance of wellness. Luckily, we are a company full of individuals who support open dialogue to help eliminate the negative stigma of mental health in the workplace and increase conversations on healthy ways to deal with stress. To celebrate this, we're kicking off a series of wellness articles featuring employees' and professionals' viewpoints that will highlight resources, expand mindsets, and provide feedback.
The first topic we'll be exploring is in honor of the upcoming International Day of Yoga, observed worldwide on Tuesday, June 21, by the United Nations.[1] This year's theme is Yoga for Humanity, and the benefits of yoga and meditation are worth exploring. Engaging in the practice of yoga can aid in better sleep, more energy, brighter moods, and stress management.[2] Meditation can reduce anxiety, including social anxiety, and also lead to changes in brain activity, including a decrease in the amygdala, which is the area responsible for fear, anxiety, and stress. A study from the University of California, Los Angeles even showed that "long-term meditators had better-preserved brains than non-meditators as they aged."[3]
We asked a couple of Campus Advantage and Catalyst employees to take a break from their poses and deep breathing to share how yoga and/or meditation helped their mindset and mental health.
Jennifer Putis, Senior Account Manager at Catalyst
When did you start practicing yoga, and what advice would you give to someone who wants to start practicing?
"I first started yoga at 19 as a way to relieve stress in college and for exercise. I started doing the same weekly class at CorePower Yoga. I recommend finding a studio close to your house and recruiting a friend to go with you! That can help shake any nerves your first few classes. I also recommend signing up ahead of time to keep you accountable to attend, and picking the same class/time and going once a week. You will start to notice many others do the same, and you'll begin to see the same people weekly. I've made a lot of friends this way, as well! The key with yoga and any new activities or hobbies is to just show up. Consistency is key, and you will become more motivated and do it more and more once you start to see your growth with varying poses and physical strength. If in-studio yoga isn't your thing, there are many great resources online. I personally love and have used Yoga with Adriene. Search that in YouTube and her channel will pop up with a plethora of different yoga flows to choose from. I like that she has yoga for specific needs (i.e., yoga for runners, yoga for neck pain, etc.), and they range in time from 20–30 minutes to an hour. Really flexible if you want to hop on your mat during a lunch break. I also keep my mat out where I can always see it to encourage me to grab it and do a few stretches or poses throughout the day or week."
Gino Blanco, Group Account Director at Catalyst
How has yoga and/or meditation helped you with living overall and/or your mental health?
"Yoga/meditation has been an extremely beneficial practice to help slow my brain down. I've been living with ADHD my entire life, and I find myself being less impulsive when I've meditated or have done yoga that morning. It's definitely some of the best ways to practice mindfulness."
Matt Keller, Director of Marketing for Campus Advantage
How do you practice meditation/yoga?
"My meditation practice is daily, normally 10–15 minutes in the morning before work (and before coffee) and 10–15 minutes after work. It's my way of resetting my mind so I'm entering and exiting parts of my day with a clear mind and, just as importantly, emotionally reset. Yoga is usually 2–3 times a week for a full dedicated session, but I have a movement chain I do every morning to start my day. It's a full body practice that takes 3–5 minutes. Longer sessions are more workout focused."
Ways you can observe International Day of Yoga
Take a free yoga class online. Yoga with Adriene has several free 30-day journeys that you can follow. Power Yoga offers short meditations as well as longer, expert-level yoga — something for everyone. DoYogaWithMe offers almost half of its content for free, and you don't need to create an account — just select the "free classes only" box and you can view multiple classes at multiple levels.
Start with meditation. For Campus Advantage employees, log in to ADP, click Myself, click Discounts (LifeMart), and you can get Calm for $29.99 a year or get 30% off Meditatehere.
Please share your best practices of yoga and meditation in the Health, Fitness, and Wellness Team chat. Share a photo for a chance to be highlighted on Campus Advantage's Instagram story.
International Yoga Day Giveaway! One lucky winner will get a 3-month subscription to @yogawakeup, an acupressure pillow from @yogawakeup, a yoga mat, and some Campus Advantage merch items. Here's how to enter:

Follow @campusadvantage on Instagram
Like our #internationalyogaday post on Tuesday, June 21
Tag two friends in the comments