Jamir Card Is Adaptable in All Situations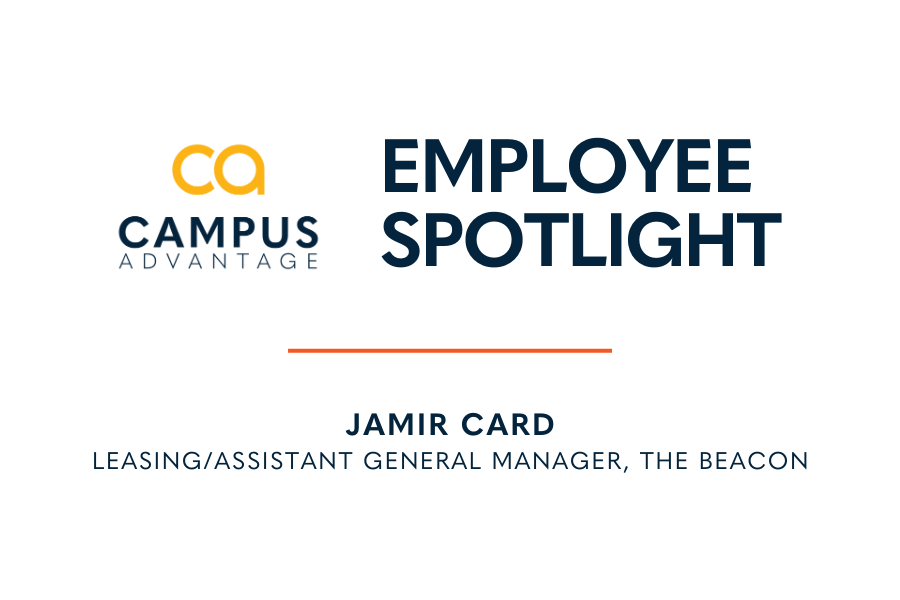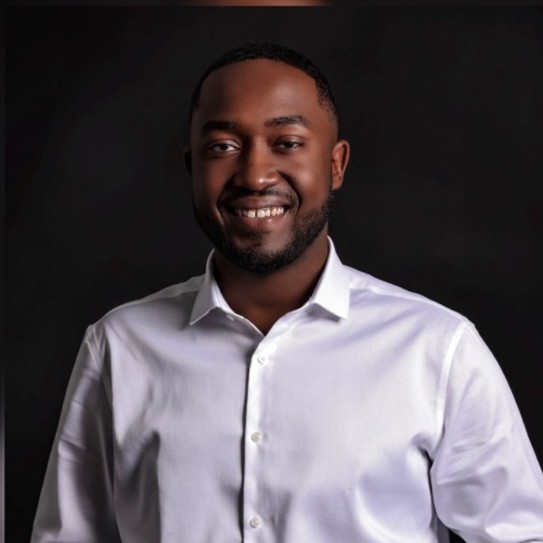 After his tenure as Leasing Manager at Arcadia on the River for two and a half years, Jamir Card now serves as both Leasing Manager and Assistant Property Manager of The Beacon in Auburn, Alabama. His unique dual role allows him to oversee a lot of different responsibilities, from resident engagement to social media and marketing. Hardworking and passionate, Jamir is always asking himself and his team what needs to be done to make this situation right — and then not stopping until he achieves that goal. Read on to learn more about Jamir's time at Campus Advantage, a memorable CAmmy Awards night for his team, and what motivates him to get up for work every day.
Tell us a little bit about your current role.
I currently serve a dual role. I am the Assistant General Manager [of The Beacon], which is more geared around property management, but I also serve as the Leasing Manager, as well. In any given day, I oversee things like overall leasing, resident engagement, social media and marketing, community event planning, and helping residents through any issues they may have.
What first attracted you to work for Campus Advantage?
I've been in housing for nearly 10 years now, beginning back in 2014 while I was in college. I started more on the student staff side of things as a Resident Assistant, then over time transitioned into a full-time staff member. I decided to take a break for somewhat over a year and realized that my heart was still in student housing, so I decided to start looking for jobs and came across Campus Advantage. I read the reviews, did my research, and it seemed to be a great company from what I read and saw online. When I had the actual interview with CA, it just felt like a welcoming environment. I just remember everyone being so happy and they seemed so excited for me to be there. And now, here I am almost four years later!
What does a typical day in life look like for you?
Every morning begins typically with sending our daily leasing reports to our corporate team. I always aim to meet with my leasing agent about what today should look like — what social media needs to look like for that day, our plans for upcoming marketing and events, what the specific leasing goal is for the week and how we are going to meet that, things like that. We have four CAs on our staff, but not all of them are here at the same time, and I'm not always able to communicate with them at the same time. So, I try to always make sure I communicate with [my leasing agent] daily, just to make sure we're all on one accord.
And then of course, when residents come in, we assist with whatever it is that needs to be taken care of. Every day is truly different, really!
What three words best describe you (inside or outside of work)?
Loyal — I've got your back from any aspect! I'm constantly trying to help and support others to push them to wherever they're trying to go. Harder than I push myself at times. Not just at work, but in real life with my friends, too. I'm always the one that's to lend a helping hand or offer support for others.
Open — I try to be as transparent as possible because I feel like without transparency, there's no fate of communication. Even with my staff members, I make sure there's no walls between us, and make sure no one feels inferior just because they're student staff.
Hardworking — Anyone who knows me knows that if I have a job or a task that needs to get done, I'm not stopping until it's complete. I'm always driven by my goals, and it's not over until I get it done!
If you had to choose one core value that best represents you, what would it be and why?
I would say Integrity. I feel like I exude a little bit of the other ones, but overall, Integrity for sure. One of my main objectives is to make sure that whatever I'm doing is the right thing for everyone. Whether it's my team or the residents, I probably ask at least three times a week: "What do we have to do to make this [situation] right?"
How would you describe the Campus Advantage culture?
Welcoming — The first day I walked through the doors of Arcadia, everyone there was very welcoming. It felt like I was already a part of the staff. Honestly, I have felt like that in every community that I've gone to. Back in 2021, I had the opportunity to travel to a few other CA communities — and I have to say, every community I visited, all had very similar atmospheres. Campus Advantage really aims to ensure that each property we have has a comfortable environment for not only their employees, but the residents as well.
Dependable — A lot of times, we're afraid to ask for help or support. But I can honestly say since I've been with Campus Advantage, there hasn't been a time where I felt afraid to ask for or say that I needed help. Everyone is always there to lend their hand or pour their knowledge into you. And if they don't know the answer, they'll be open enough to say, "I don't know for sure, but I'll point you in the right direction!" You don't receive that just anywhere.
Motivating – Not every day is easy, but there's always someone there to push you along with positivity! Whether it's a simple "good job team!" or a surprise package or gift from the home team, there's always someone cheering you on in your corner.
Thinking about your most successful peers and teammates, what characteristics do they share?
I would say supportive, respectful, and engaged. Our energies just seem to mesh well with each other. As I said, I've been in housing for almost 10 years, so I've worked with a lot of different teams — and this is probably one of my favorites just because everyone is always happy and supporting each other. I've never had a moment where I felt alone or deserted, because management is always checking in to ensure you're okay.
What is one of your favorite moments with Campus Advantage so far?
Hands down, it would be last year's CAmmy Awards. During my time at Arcadia, we each won the Manager of the Year Award for each manager's role in our community. Awesome! Our regional manager won as well, so I guess you can call that a full sweep! It felt like such a huge accomplishment because it shows that everyone was truly working as a team, and that we were doing something right. Every day is not easy, but it's worth it. And to be completely frank, I remember that day as one of the most stressful days I had experienced in a while. I'm often my biggest critic and super hard on myself, but to be awarded that day, felt like a huge weight lifted, and couldn't have been prouder of the team! I even got a little emotional.
What motivates you to get up for work every day?
I'm not from Auburn, and most of my friends and family are out of state. So, what motivates me to get up most days is coming to work and seeing my team and the residents that I have built connections with. We have a close bond here — we're almost like a little family. I look forward to getting up and coming to work with them every day. They make it fun and worth it!
What do you like to do when you're not working?
I really love to cook! I need to get back into it because I've taken a break for a while, but that's one of my favorite things. And this might sound cliché, but I love self-care, too. As I said previously, every day is different, and this job isn't always easy — at times, it can come with a lot of stress. So sometimes you must take time to unplug, and recenter yourself.
I would consider myself a bit of a homebody. Though, I do love meeting up with my friends on the weekends — they're a form of therapy for me as well, I really enjoy time with them, and one thing about it, we love a good brunch! But otherwise, I'm usually at home, cooking, and chilling with my dog Poochie.
If your life had a soundtrack, name some songs that would be on it?
I would say a song by DJ Khaled called "God Did." It's really just about celebration of life, success, and believing in yourself. I've seen a lot in my life, I'll say, and I've overcome a lot of odds that were against me. That song pretty much speaks to who I am, essentially. I'm one of my biggest motivators — I push myself probably harder than anybody. And at the end of the day, if you don't believe in yourself, you can't really expect anybody else to believe in you, you know?