Jasmine Rivera Serves and Inspires Organization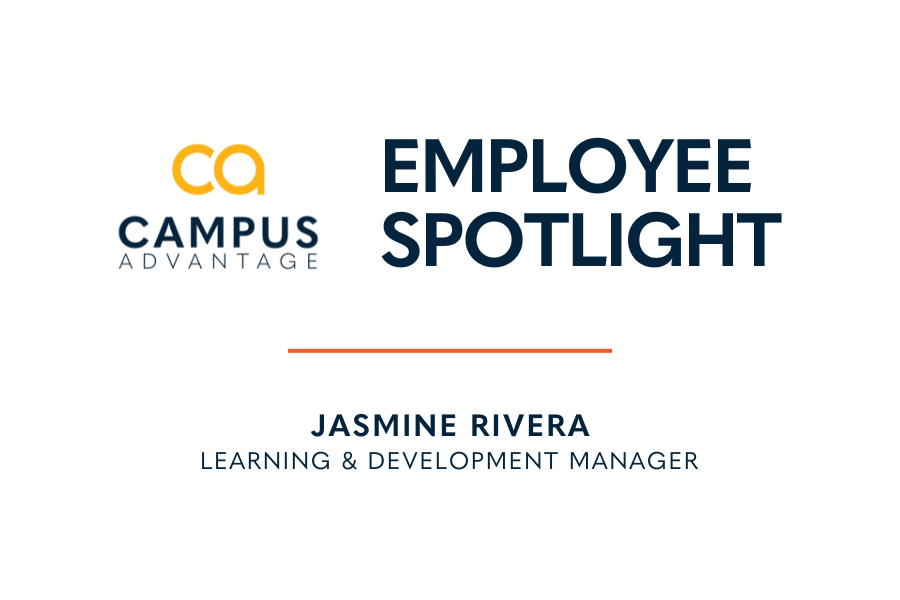 Jasmine Rivera's professional background has been anchored in the housing industry for 14 years. Working at her first community by 19 as a leasing agent, she gradually advanced to a property manager rotating among four communities. When Jasmine joined the Campus Advantage team nearly 10 years ago as a bookkeeper, the same signature of promotion marked her career as she now currently serves as the Learning and Development Manager.
Her role of many hats includes overseeing the strategic direction of Campus Advantage's L&D initiatives, conducting regular training, developing resources and training content, planning conferences, and administrating the learning management system — just to name a few. Learn more about why Jasmine is passionate about helping employees and residents achieve their full potential.
Can you please describe your current role at Campus Advantage?
I do the job of many, but my current role as the Learning and Development Manager is to really focus on training individuals in different positions, as well as create training for everyone. So, I take on that role of talking to people, talking to them through their initial trainings, and all of that for platforms, but also developing all of the training. I also work really closely with departments for a variety of things, such as onboarding, petty cash cards, all things operations. And then I help leasing and marketing, and accounting, and all of that good stuff.
What my goals are in learning and development is cultivating people, making sure that they feel supported, providing them with all of the resources, trainings, modules, policies, procedures, and everything that they can think of. Just being that person that they can come to with the smallest or the biggest question.
What are some of the promotion highlights from your career with Campus Advantage?
I think everything has been a highlight — every promotion was really exciting for me. I started as a bookkeeper in College Station, Texas, and then got promoted to Assistant General Manager. Then I got promoted to General Manager at Republic at Sam Houston, which is in Huntsville, Texas. From there, I got promoted to Regional Manager in Training and then got moved up to Regional Manager. And then I got promoted to the Learning and Development Manager.
What first attracted you to work for Campus Advantage?
Honestly, it was a weird thing. I was a manager at Woodway Apartments in Manhattan, Kansas, while I was in school, and that community sat right in front of University Crossing, which was Campus Advantage's first student housing community. That was 14 years ago. My former manager actually went to University Crossing and was telling me all the amazing things about Campus Advantage, all the benefits, and the growth that she was experiencing. I applied to Campus Advantage after I graduated from college for a role in Pennsylvania, but I got a job in College Station as a bookkeeper. I was super excited to just join the Campus Advantage team because of the excitement from my former manager.
What three words best describe you inside or outside of work?
I'll say passionate because I just won the CAmmy for passion, hardworking, and innovative.
What three words would you use to describe our Campus Advantage culture and why?
I would say fun, ever-changing, and rewarding. I think that we are a very laid-back company — it's just the definition of one of our core values, MOJO. We know how to have fun, and we know how to not take ourselves too seriously. And then ever-changing — I think that while we do have our core values and we have all of these things we're aiming for, we're the kind of company that is very open to change. If we want our culture to be a certain way or we want to change it to be a certain way, that is something that all of us will try to achieve, and we'll all work toward that goal. For me, personally, it's rewarding because I get to work with a bunch of amazing people. Teamwork makes the dream work!
What is one of your favorite moments at Campus Advantage so far?
Winning Regional Manager of the Year was epic. I came off a really tough year of being a Regional Manager for 10 difficult properties, and I was at that point where I was thinking maybe I can't do this, maybe I'm not built for it. Anna Flores was like, actually you are. She picked me up by my bootstraps and she gave me a little bit of tough love. She led me to being a better Regional Manager — being a better me. And then at the end of it all, they called me up on the stage and said Regional Manager of the Year. It was one of those moments where I was like, OK, maybe I can do this, maybe I'm doing OK.
If you had to choose one company value that best represents you, what would it be and why?
Passion. This company value is 100 percent me. I'm the one that my light's always on, my light is always green. I'm always available for a call — I'll go anywhere, I'll do anything. I like to build that with other people because if they see you do it, then they'll do it. And I love seeing that Campus Advantage cultivates that with people.
What did winning the Passion Award at the 2023 CAmmys mean to you?
It was important because I feel passionate about it, I feel passionate about what I do, I feel passionate about my people, and I feel passionate about the company. I have actually been nominated for that award for 10 years now, and I didn't win until my 10th year. I wasn't expecting to win anything, and I didn't even know I was nominated for anything. To win that award was really exciting, and I was so happy.
What motivates you to get up and come to work every day?
My people, as in, my core group. I don't have a team — it's just me, myself, and I — but I have a core group. All of us together, we get it done! I'm a to-do list person, so I make my to-do list and every day I get to go through it and check things off for stuff that I do, but also stuff that my core group does. So, it's really exciting and very motivating to me to be able to come to work and do that.
Thinking of your most successful peers or teammates, what characteristics do they have?
Hardworking and unflinching.
What do you like to do for fun when not working?
Read! I'm a huge book reader.
What is the most inspirational book you've ever read?
Pride and Prejudice. I feel like even though it's very 18th century and women didn't have much say or anything like that, the character in there — Elizabeth — has so much grit when it comes to a woman back in those days. She wants what she wants, she believes in herself, and she doesn't let anyone get in the way of that. She likes what she likes, she loves what she loves, and she's not afraid to admit it, and she's not afraid to feel that way. It's my favorite book of all time.
If your life had a soundtrack, name one song that would be on it.
Sticking with the book thing, "Turning Page" by Sleeping at Last. It's one of my favorite songs and has stuck with me for years.
Is there anything else that you want people to know about you?
I want people to know that I'm always here. I'm down for teaching, I'm down for listening, I'm down for learning. No one's ever a bother. I thrive on people coming to me and giving me their ideas, and I try to make their ideas come to fruition. If people would know that I'm 100 percent here for them, that would be amazing. My life would be complete!