Jenna Foster Is All About Liv+ Leases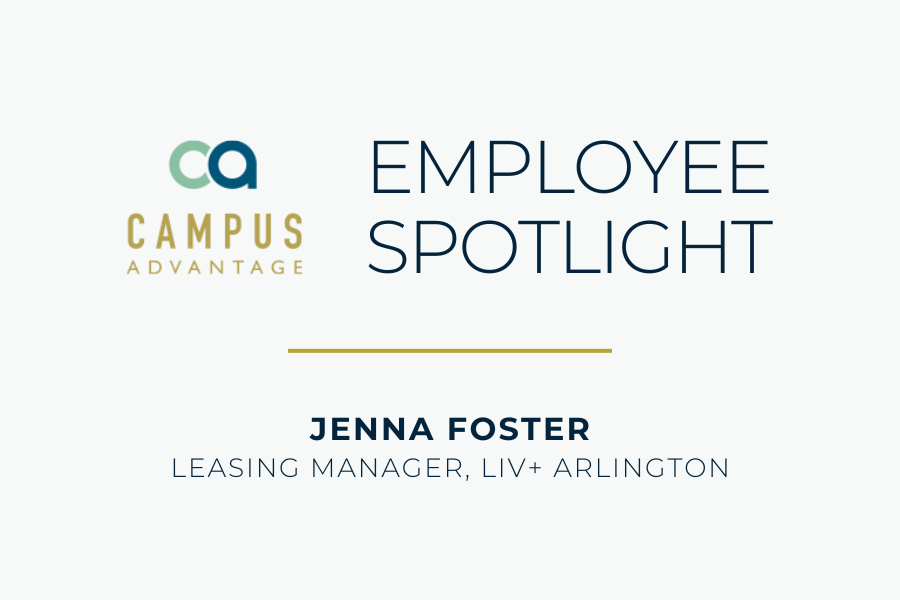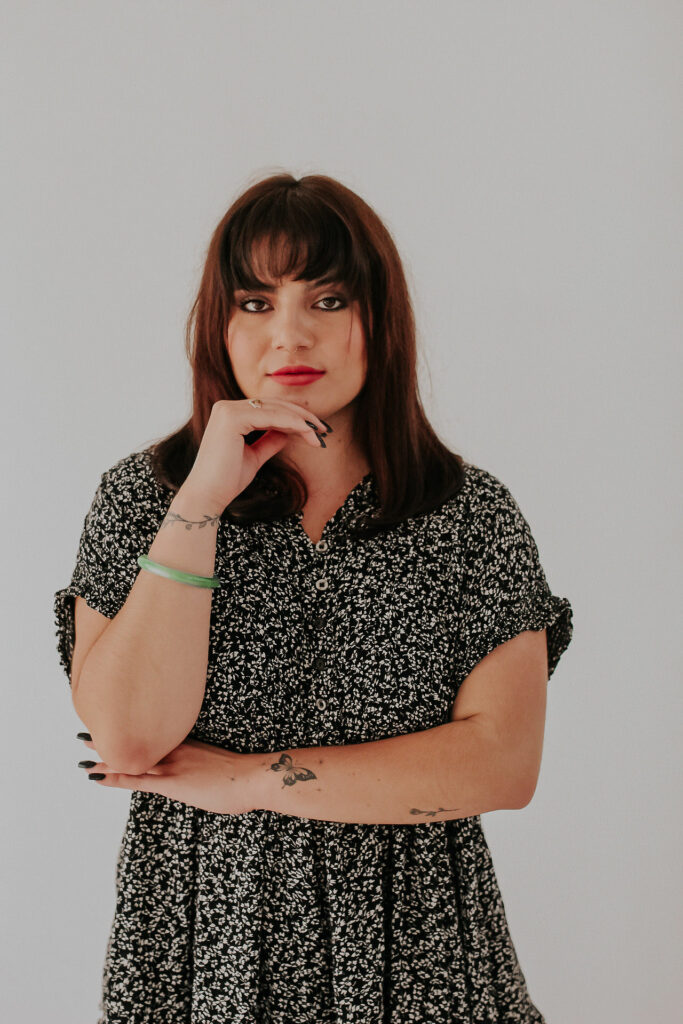 Since joining Campus Advantage three years ago as a Community Assistant, Jenna Foster has served at a handful of communities within the CA portfolio, but she wouldn't have it any other way as it's contributed to her leadership pathway in management. In August 2022, she transitioned to Liv+ Arlington in Texas as Leasing Manager. In this role, Jenna is responsible for monitoring staff, overseeing leasing and marketing performance, fostering university relationships, implementing policy and procedures, and more.
Ultimately, it's all about building and training a strong leasing team, which Jenna calls her "ride-or-dies" — a team she would do anything for. In addition to her full-time job with CA, Jenna also is a full-time student and will graduate in May with a degree in rehabilitation studies from the University of North Texas. Learn more about what motivates her and what company value represents her best.
What first attracted you to work for Campus Advantage?
I was a student and the first CA community I worked at was Midtown Sam Houston. I just loved the apartment complex before I started working there, and I remember I went and toured like 10 different times. Everyone in the office was so nice; they were so cool. I could go in and just have a simple conversation with them. It was like they were my best friends, which really meant a lot to me because at the time I knew no one at Sam Houston State University — it's a super-small school. So one time, I was touring my parents and the manager said I should apply to be a Community Assistant. I had no idea what that meant; I just knew that the energy they were putting out was something I wanted to be a part of.
In a few words, describe what your team does at Liv+ Arlington.
Every day is pretty different, but the main thing is really being focused on helping the residents, making sure they have whatever they need, and also helping prospects. Of course, we want to get leases and that's my whole job at the end of the day, but you can't expect a lease without making sure the ones you have are taken care of and the ones that you want to have are taken care of. At the end of the day, it's really just assisting the needs of the community and the needs of those coming through our door.
How have you helped Liv+ Arlington through a number of changes?
When I got here, the General Manager had just left, and they also had just lost a Leasing Manager — it was a team that had lost their main people. For me, it was all about coming in and hearing what the team needed, and that was my biggest priority. I wanted to hear from the team who had been here, who knows the community, and getting their input on everything. Once I came in, I really just made sure that we were all on the same track as a team. Before even diving into numbers and all of the business aspects, I just wanted to make sure that the team felt taken care of and that they knew that I was here to support them.
Why are Community Assistants important to each community?
Community Assistants truly keep everything afloat, and we couldn't do anything without them. They work so hard, and they really are able to dive into everything. They're the first face you see when you walk in and usually the last person you talk to, as well. They're the first people who answer the phone calls, they engage with the community, and much more. They really do just about everything, and I always say we could not do our job as managers without our Community Assistants.
What three words best describe you inside or outside of work?
I would say dedicated, passionate, and loyal. I'm very, very loyal to my team or anyone that's helped me along the way. They're my ride-or-dies, and I would do anything for them.
What are three words you would use to describe our Campus Advantage culture and why?
Fun for sure, bubbly, and I can't think of one word for this, but always willing to lend a helping hand. Campus Advantage doesn't feel like a big corporate machine. You really feel at home with everyone, and I think that's a big part of why everyone here feels like a big family just because of the culture and the fun everyone brings.
What is one of your favorite moments at Campus Advantage so far?
I would say one of my favorite moments has been when I was at Forum at Denton Station. I was at that community for about two years as a leasing agent first and then marketing manager. I was able to see a full leasing season and turn, and to see it go from just about no team to new managers, and now it's like the No. 1 hot spot in the market — everyone wants to be there. It's really rewarding to see that when you leave a place or even when you're there and all the hard work that went into it. I can't wait to be able to sit back and see the same exact thing with Liv+ Arlington.
If you had to choose one company value that best represents you, what would it be and why?
I would definitely say passion. You always want to have fun, but at the end of the day, I'm super, super passionate about what I do, and I feel like without having that passion, it's easy to just get into a day-to-day routine. When you have passion, you always want to tackle the new thing, the next thing, and ask what more can I do? What more can I bring?
What motivates you to get up and come to work every day?
I would definitely say my team and my goals for the community. I think it's very important to have goals when you go to a community, whether you've been there for six months or four years. It's super easy to get in the day-to-day routine, but having those constant goals — daily goals, monthly goals, yearly goals — helps you to always tackle the next thing. And then, of course, your team is right there by your side. If you weren't connected strongly to your team, that could be hard.
Thinking of your most successful peers or teammates, what characteristics do they share?
They definitely share passion and mojo for sure! The job isn't always easy, but as long as you have people who love what they're doing and are passionate about it and they're also having a good time, it makes it so much easier. It makes it that much more fun, and you remember why you're there and why you want to do it.
What do you like to do for fun when not working?
When I'm not working, I really like to wind down for fun. I feel like our job is very fast-paced and we're always on our toes. I love to road trip with friends and family, and I love hiking with my fiancé and going to our local trails. And then I also just love reading — I'm a pretty big bookworm.
If your life had a soundtrack, name one song that would be on it?
I can't pick just one song, so it would definitely be a Bad Bunny album. I'm always playing it and it just really lifts my spirits — it's so fun. I think when you put it on, you can't not have a good time. Everyone knows if they hear Bad Bunny, Jenna's in the building.