Joseph Garza Is on the Front Lines of Leasing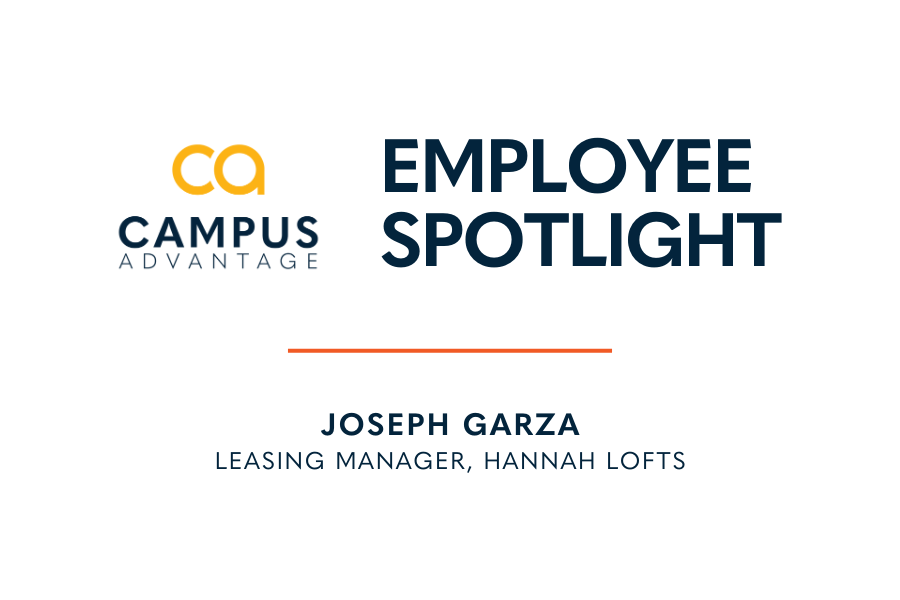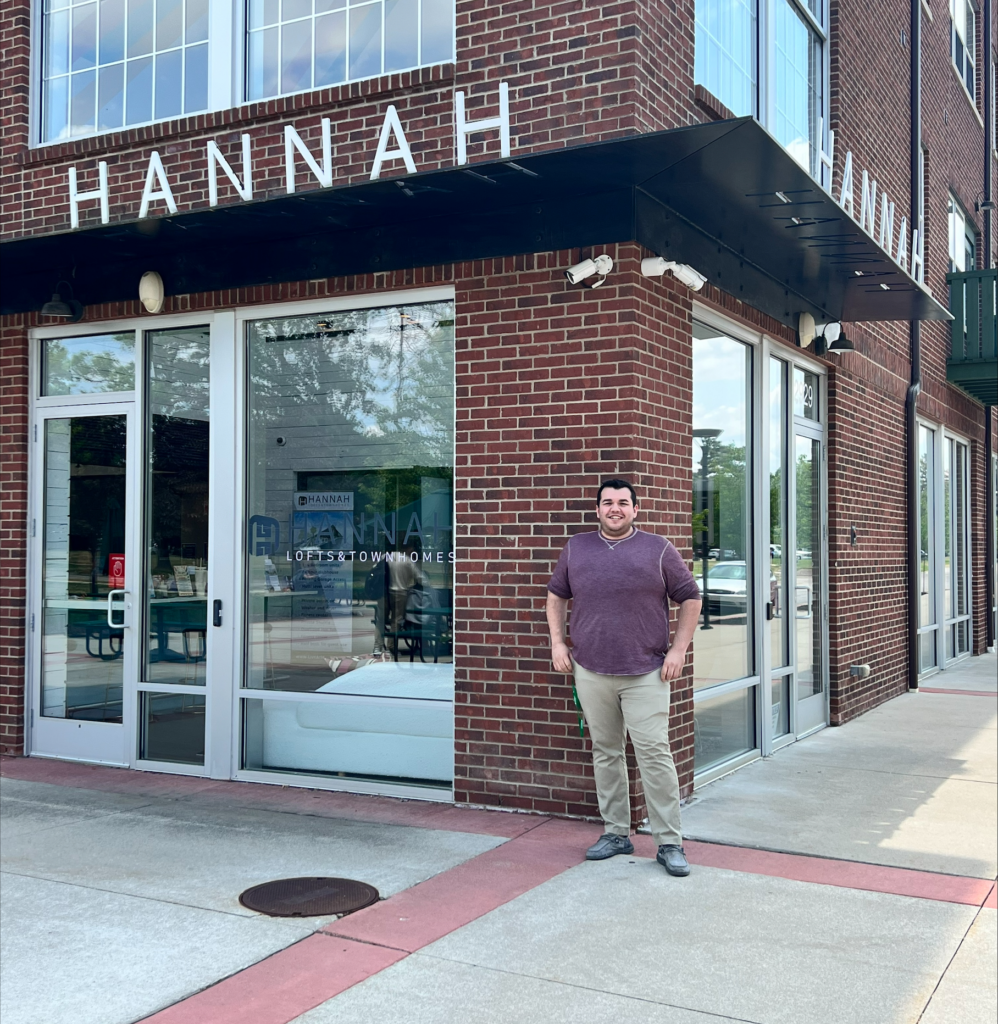 As Leasing Manager at Hannah Lofts in East Lansing, Michigan, Joseph Garza is committed to helping his community — and his team — reach its full potential. He's known by others for his passion and dedication to his job, often working late or coming in on days off to help with leasing, resident outreach, community cleanup, and more. After a tragic incident at Michigan State University (MSU) earlier this year, Joseph found strength in his corporate support team, fellow staff members, and love for what he does. Read on to learn more about Joseph's day-to-day responsibilities, the core value that represents him best, and what he loves to do outside of work.
Tell us a little bit about your current role.
As Leasing Manager, I handle a lot of the marketing here at Hannah Lofts. I start each day by sending out our update for leasing the day before. Then I help the Community Assistants (CAs) get the office ready and prepare for a day of working the desk and getting leases signed. We're a luxury community, so we like to make sure our model looks gorgeous, and that our office is nice and clean. Just overall making sure our community looks beautiful. Other than that, most of my time — much like any other Leasing Manager — is spent in the office meeting with residents when needed, working with our property manager on different tasks, coaching my team, and, of course, working events and helping get leases signed.
I am behind the front desk about 80% of the day, working with my CAs and Leasing Agents, and talking to prospects and residents when they come in. We're generating leases, doing renewal calls and renewal walks, stuff like that — and I am sitting right next to them. And that's what I pride myself on as their Leasing Manager; I am on the front lines with my CAs. I don't want to be known as that leasing manager they have to search for in my office. I want them to be able to turn and look at me and get an answer within seconds. I want them to always know I am right there for them. I'm doing the same things they're doing and just being a support for them however I can.
What is your professional background?
Before this, I was a leasing manager with another student housing company here in East Lansing as well as a regional leasing manager for conventional manufactured homes. I began my career as a district manager for 21 T-Mobile stores. So, I went from selling phones to selling mobile homes, to leasing to students at MSU. Some drastic career changes, but I wouldn't change it for the world!
What first attracted you to work for Campus Advantage?
When I learned the role was open here at Hannah lofts, I thought about it for quite a while. I've known Sydney, the Property Manager here, for a while. We went to school together, and I have been able to kind of keep an eye on the communities she's worked at in East Lansing, including Block 36. When I saw her come to Hannah Lofts, I had already heard a lot about this community and how much potential it had. I thought, "You know what? This is my next move. I want to work next to my property manager and be able to really turn this community around and let it reach its full potential." We are on that path and working hard to get there.
What three words best describe you (inside or outside of work)?
Passionate — I'm very passionate about my job here, and I think my staff would say the same thing. I try to show passion every day in all the things I do.
Caring — I think I'm an extremely caring individual. I always tell my property manager that I care about everything here. So, when a resident's having a rough time or when MSU went through the tragedy earlier this year, and we lost one of our residents, that was hard. I haven't been through that situation before, and it really tested the entire community at MSU. I put a lot of my emotions into this job and make sure I am as caring and passionate as I can possibly be.
Dedicated — I dedicate a lot of my time to this job. Family is obviously huge to me, but I have a really hard time getting off my laptop at night. Our team is on our laptops at 9:30, 10:00 at night checking leases to see if there's any ready to be countersigned. We're chatting with each other, making sure we're keeping each other updated on stuff we might've missed throughout the day. If it's a weekend and there's stuff going on at the community — because they're students and they're having fun — I'm walking around the community just to make sure I know everyone's safe. And if we need to step in and let them know it's getting a little bit too loud, then I'm able to be there and do that.
If you had to choose one core value that best represents you, what would it be and why?
Honestly, passion. I don't know how many times I can talk about how passionate I am about this job, but when it comes down to it, this job is a career for me. This isn't something I'm using as a stepping stone. This is something I truly love doing, and I have a blast doing it. I love the marketing side of things. I love being out there and leasing, talking to prospects, talking to renewals, and just getting to be around everybody. If we have a pending list of 40 people, I print that off first thing in the morning and I'm like, "All right, who's calling? Let's get these done. If you get these calls done by a certain time, I will pick up whatever anybody wants from Starbucks."
I am constantly here in the office. As managers, we typically work Monday through Friday, 9 to 6. On Saturdays and Sundays, though, my staff knows it's completely possible for me to pop into the office to check on them for a few minutes. And it could turn into two hours that I sit there at the counter with them. Do they need help with something? Can I support them in some way? I care a lot about my job. I care a lot about this community, and it means a lot to be able to work for a company that allows me to care the way that I do.
How would you describe the Campus Advantage culture?
Compassionate — There's been many times that we'll be doing really well on something and all of a sudden, we'd have cupcakes there because [our support team] just wanted to tell us congrats.
Open — This company has been so accessible to everybody. For example, if I need my regional manager, I send them a message and I will have a response about 10 minutes later at the max. I messaged Marianne (my regional manager at the time) one night thinking I'd get a message the next day, and I had a response five minutes later. I was like, "Oh my gosh, I'm sorry. I didn't mean to message you so late!" But she responded right then and there. As a leasing manager, I go to my property manager for most things, but its nice to know I can go to higher-ups when I need them.
Growing — They encourage such growth within this company. Just in the nine months that I've been here, I've heard about promotions and different programs for people to be able to grow within this company. It's just phenomenal. I mean, there's not a lot of companies out there willing to invest that kind of money and their internal people being able to grow as quickly as they want to.
Thinking about your most successful peers and teammates, what characteristics do they share?
We're all so passionate. Every single one of us really cares about this community, our jobs, and our residents. The past few months, we've been dealing with a tough situation on the mental health side of things with one of our residents. And every time I would bring it up, it was, "What's going on? Are they OK? Are there updates?" It wasn't, "Oh no, we have to listen to this now."
We all come to work because we know these residents need our support. There's a fantastic team here between the other managers, the Community Assistants, our Leasing Agents, our Resident Director, and our Maintenance team. We're all very close, and we made sure any new hires vibe well together, too. We care about each other, the community, and our residents a lot. We make sure everybody feels welcome and pride ourselves on that.
What is one of your favorite moments with Campus Advantage so far?
As terrible of a situation as it was, when the tragedy happened in February at MSU and we were dealing with that crisis, it really put into my mind how much this company cares. The very next day, the managers came into the office just to check on everyone. I was getting messages from Catalyst, one of our partner companies. I was getting messages from my regional manager, from my regional leasing specialist. Everybody was reaching out to make sure we were OK. And I was so fresh with this company that it was a terrifying experience to go through, but to see the amount of people that were checking in on us and making sure we were OK was amazing. Just to see the support we got in a time when we really needed that support.
Shortly after that, Sydney got an award on one of the calls for everything she handled during that situation. That was hard for the managers here to handle, and it was not something that obviously any of us wanted to deal with. But we had such a support team behind us. So, it's not a memory I would want to relive, but just knowing that when it comes down to it and you're in a really tough situation, that we work for a company that isn't worried about getting you back to work the next day, but is worried about your mental health, your well-being, and to make sure you're OK.
What motivates you to get up for work every day?
A lot of things. Honestly, I think the biggest thing is just my team. They need someone behind them. They need me next to them throughout the day. I hang out with my family often, but I spend significantly more time here at the community and with my team. It helps me get up in the morning to know I'm coming down here and I'm working with at least a couple of them each day. Like, yeah, we are aggressive with our leasing, but we also like to sit in the office and laugh and talk with each other. And they know we are here to get work done and have fun while doing it.
What do you like to do when you're not working?
Well, more work! Outside of my job at Hannah Lofts, I bartend at an LGBT bar here in Lansing, and it is a blast. I got into bartending about six years ago, and being able to go and have fun and make drinks that put smiles on people's faces is the most fun part of my weekends when I'm not here working. I get to go and obviously make money, of course, but also listen to music and see people out there having fun and dancing around.
If your life had a soundtrack, what song would be on it?
"Swingin' With My Eyes Closed" by Shania Twain — my favorite singer in the world. The music video to that song is her just out on a beach swinging around with her eyes closed and just smiling. My family owns property down in Tennessee, and when I go down there, it's like getting to go to the beach and just laying back, closing your eyes, and just enjoying life. I don't have to be doing anything specific to have that positive vibe going and just keep a smile on my face.