Lo Robinson's Positive Energy Is Infectious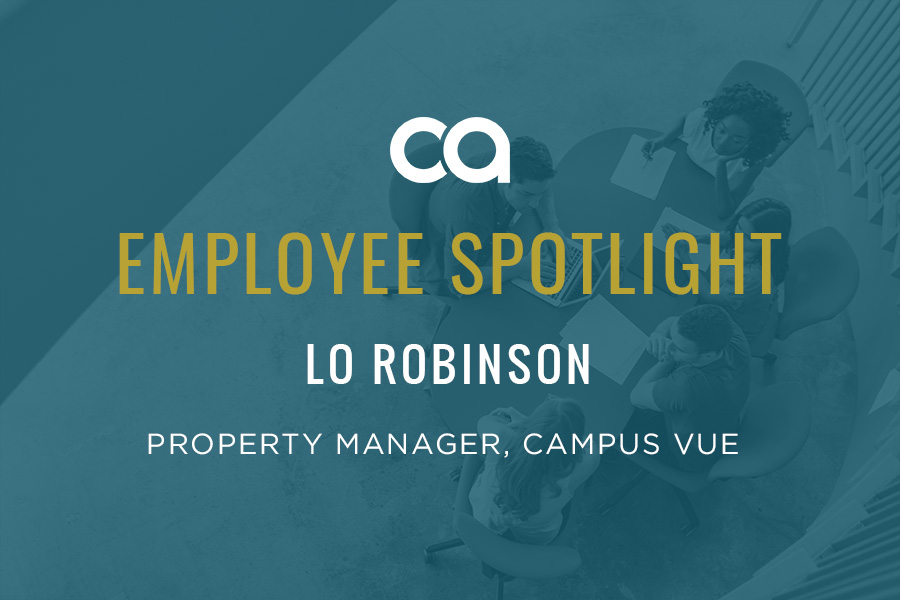 Lo Robinson, the Property Manager at Campus Vue in Houston, Texas, celebrated her first work anniversary in late May of this year. With 10 years of industry experience under her belt, Lo can say with certainty that Campus Advantage truly feels like home to her. Her positive energy and team spirit fit right in with the motivated, successful and kind peers that she admires most at Campus Advantage. In her interview, Lo shares her passion for Campus Advantage and admiration of her teammates and showcases her ability to find the light in the darkest of situations.
In a few words, describe what you/your team does for Campus Advantage.
To put a not-so-simple task simply, at Campus Vue, my team leads by example. My team is WE, and what I mean by that is that I couldn't accomplish anything without their help. If I receive accolades, they receive accolades. Our team also aims to lift others – if someone is having a bad day, or needs to brainstorm, the #VueCrew is here for them. We build camaraderie at Campus Advantage by posting fun pictures on the Microsoft Teams board and celebrating each other's wins.
What three words best describe you (inside or outside of work)?
I chose these adjectives because they exemplify the core of who I am both inside and out, personally and professionally. I'm these characteristics at my core.
If your life had a soundtrack, name one song that would be on it.
I have to go with "I Was Here" by Beyonce. It's not what people who know me best would expect, because it's not very danceable, but this one is about the lyrics for me. It's more on the emotional side and definitely on my soundtrack.  I hope that I leave my mark on everyone I meet.
What are three words you would use to describe our culture and why?
We're better together because we're present.
Better: We're better in every aspect of the student housing Industry. Not just the product; the people are better, relationships with our residents are better, and so is the culture. Everything is simply better here.
Together: The team at Campus Advantage exemplifies a united front. I've never felt alone or out of place. You can reach out to anyone on the team, no matter what their title, and they'll provide you with the support you need – even if it's just a smile!
Present: As the world has taken this crazy turn, Campus Advantage staff and Senior Leadership continue to show up. We're all always present, and ready to make the most of each day.
What are you doing to ensure that Campus Advantage remains a leader in the student housing market?
I show up. I don't just mean physically, but mentally and emotionally as well. I think that's important, especially during such unprecedented times. I don't have all of the answers when it comes to student housing during a global pandemic, or really in general.  However, I keep showing up and every day I strive to be better than I was yesterday. I'm here, my team is here, and we're not ones to give up. I think this mentality helps Campus Advantage stay ahead of the curve. Our team is motivated to do our best no matter what curve ball comes our way, and that sets us apart.
What is one of your favorite moments at Campus Advantage thus far?
As cliché as this sounds, so many moments come to mind! I think of our annual General Manager conference, FOCUS.  I think of our Experience Conference when I got to go to Denver, Colorado to become better equipped and focused on elevating how we deliver resident experiences.  I got to give my first ever conference presentation in Colorado! I think of our leasing team, and all the Sell & Deliver calls I've gotten to be part of already. I think about the first summer boot camp I attended.  I think about how one of my teams signed 62 renewals on Renewal Kick-Off day. I think of the people who have reached out asking me to mentor them.  There are so many memories that I couldn't ever forget or choose just one to reminisce on.
What motivates you to get up and come to work every day?
The people. It's very important to me that everyone I come into contact with feels like "a somebody." I keep my energy positive because great energy helps people perform their best. The people at Campus Advantage mean so much to me, and I want to be better than I was the day before for them.
If you had to choose one company value that best represents you, what would it be and why?
This may come as a surprise to my teammates because even though at our annual awards event I won the "CAmmy Award" for MOJO (what we call our secret sauce of fun, charm and charisma) after one year of working at Campus Advantage, I have to go with Passion. The greatest things happen when a person is passionate.
How do you empower your team to go the extra mile?
I paint a picture for our team of our end goals. I think explaining the "why" behind the "what" empowers staff to do their best because they know exactly what they're working towards. It allows me to be the leader I need to be because I can rely on my team to be self-sufficient. I show up and always strive to be better for my team, the people, and all of the #CAFam.