Making the Most Out of Move-In and the First Six Weeks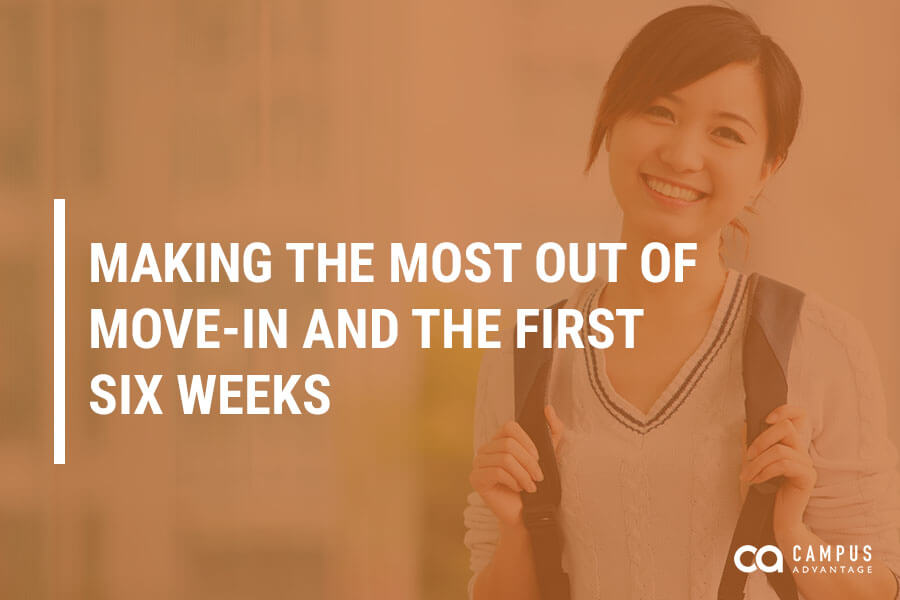 It's said that a good first impression is essential to relationships. And we agree. In student housing property management, the first six weeks after a resident moves in is the most critical time to start building relationships that will lead to long-term goodwill in the minds of students — ultimately resulting in higher intent-to-renews. If those initial weeks don't go well, it can negatively impact a resident's experience for the entire year, creating low satisfaction and poor renewal rates.
The goal during the first six weeks should be to help students develop meaningful connections with the university, their property community, community assistants and the team on-site — connections that are beneficial for students and beneficial for bottom line.
Here are a few tips to make sure that the first six weeks of move-in are intentional, creating a great resident experience as well as great results for any property.
Build excitement early.
We work closely with our strategic marketing partner, Catalyst, to create campaigns that get students excited about their upcoming Campus Advantage living experience. We know that high-quality integrated marketing is essential to building relationships with students and, ultimately, the success of a property. Once a student signs their lease, we implement campaigns to get them excited for all of the fun that will happen during the first six weeks. This ensures good turnout, setting the stage for genuine connections that will lead to positive resident sentiment.
Create quality experiences from the start.
The first six weeks are the prime time for student housing property management companies to set an expectation of authentic, memorable experiences that will carry on throughout the year. Connections formed between residents and on-site staff early on will create a precedent for trustworthy, friendly communication. Our first-six-week events include standard community-building activities such as pool parties and pizza nights as well as innovative experiences like "grocery bingo," where residents play a competitive game of bingo to win groceries from local stores. Throughout the year, we keep the fun coming with haunted houses in the fall, holiday get-togethers  in the winter, and so on, as well as learning and career experiences to elevate each student's personal and professional success.
Make sure residents have everything they need to get settled.
In the student housing community, "renewal walks" are common practice, where site staff knock on the doors of residents to gauge their intent to renew at the end of their lease. Our site staff takes it a step further at the beginning of each student's stay by doing "relationship walks," which is a check-in to see how residents are doing and to make sure they are comfortable. Staff even take along fun treats like cookies or balloons as well as small maintenance items such as toilet paper, batteries, and light bulbs, to set the expectation upfront that we are there to help.
Observe and customize each community.
During the first six weeks of move-in, residents will get to know others in their student housing community and creating living experiences that are all their own. Watch how they engage with each other and meet them where they are. Based on student interests in our own communities, we've created everything from cosplay proms to nerf gun wars to cricket tournaments. Developing custom experiences shows residents that we care about what is important to them and are willing to go the extra mile to ensure that their time at our property is an excellent one. This builds trust and, bonus point: it encourages students to invite their friends over!
Our philosophy is that, ultimately, putting students first in the student housing equation is always the right (and smart) thing to do. Prioritizing the first six weeks is just one way to accomplish this and it's part of what contributes to our 48% returning resident ratio. Never underestimate the value of a good first impression.