Melissa Hinton Creates a Culture of Support and Inclusion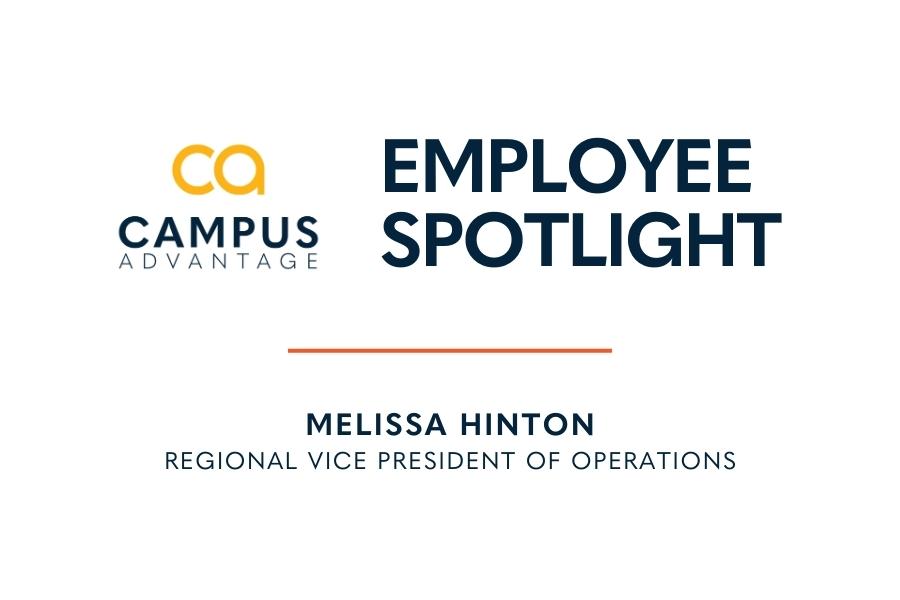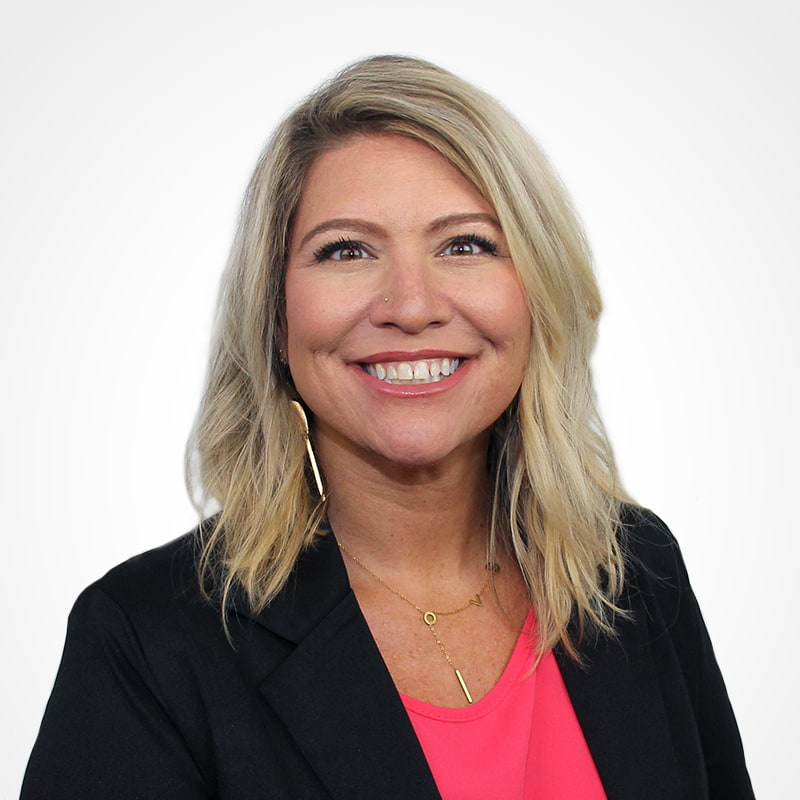 As Regional Vice President of Operations, Melissa Hinton oversees all aspects of her portfolio of properties and their on-site teams, including managing hiring and training, meeting financial targets, and maintaining a high level of resident satisfaction. Leveraging her tenured operations experience with Campus Advantage and passion for guiding and creating future leaders, Melissa's influence can be felt in her communities, the corporate office, and beyond. We sat down to chat with Melissa about her favorite moment at Campus Advantage, her recent work as an ambassador for the Diversity, Equity, and Inclusion (DEI) Committee, what motivates her to come to work every day, and more.
What first attracted you to work for Campus Advantage?
I think for me it was the people. I had a wonderful interview process. It was very difficult for me to make the decision to leave my previous position as I'm someone who tends to stay in companies or roles for a very long time. I'm very loyal. It was a difficult decision, but at every point of the interview process [with CA], I felt so comfortable interacting with our recruiting team and with my future leaders. My first day with the company, I arrived at the FOCUS Conference in Austin, Texas, and I was so anxious because I was walking into this room full of people I'd never met, but it felt like I walked into a room full of family. Everyone was so welcoming, and I've just always felt I belonged here. I felt that from the very beginning, and I feel like that still much today. This company has always made me feel like I have a place here.
What is your professional background?
Prior to Campus Advantage, I was a student housing property manager. And before that, before getting into student housing, I worked in sales for a newspaper as well as in conventional and affordable housing. So, my background was a little bit different, but I did start very early in property management. I became a property manager when I was just 21 years old. When I had my kids, I needed a little bit of a less demanding schedule, so I stepped away for a while. But it was around 2011 when I entered the world of student housing, and I've never looked back since. Student housing never has a dull moment, and no two days are the same. And that's what I love about it. I crave that constant engagement.
I came to Campus Advantage in January 2016 as a general manager for a new development at the time, Arcadia on the River. I was on site through development and the first few years of operations, then decided I was ready for the next step. I became an area manager in early 2018 and started overseeing Timbercrest at Carrollton. Later that year, I took on the role of regional manager, and senior regional manager shortly thereafter, before my most recent promotion to Regional Vice President of Operations.
Tell us a little bit about your current role.
As Regional Vice President of Operations, my role is to be the line of support for my site teams. So, I currently have eight communities across the United States, and at each of those locations, I oversee property managers that are in charge of operating their communities on the day-to-day basis. In addition to provisioning support and guidance to them in their roles, and ensuring they're properly trained, I also oversee the financial management of the communities, the human resources aspect of leadership and coaching, as well as ensuring that my communities meet all the objectives needed.
What three words best describe you (inside or outside of work)?
Dedicated — When I am passionate about something, I will dedicate myself fully to it and just go all in on it.
Supportive — I love supporting my managers as well as people around me in my life. I love to be that supportive and encouraging friend and convey that in all my relationships.
Caring — I am an incredibly caring person. When I believe in something, I will give it 100 percent. I care about not only outcomes and expectations, but about the people as well. It's so important to be caring and kind when you're dealing with housing or people's careers. I'm very passionate about building up and equipping my managers; if they want to grow through the ranks, I am always thinking about how to get them ready when that opportunity comes to them.
If you had to choose one core value that best represents you, what would it be and why?
I love all of them — they all are my mottos in life as well and values that I align with. But if I had to pick just one, I think I would have to go with Passion. I am such a passionate person. I believe in what I do. I believe in the work that I do. I'm passionate about guiding and creating future leaders. I feel like Campus Advantage has always celebrated and encouraged that passion, as well. It can be easy to end up in environments where we feel like we can't be as excited about something as we are. But I love that Campus Advantage lets me be passionate and embrace the things I want to be part of and encourages and celebrates that.
How would you describe the Campus Advantage culture?
Engaging — There are a lot of opportunities for engagement within the company, which is important for someone like me who works in a remote capacity.
People-oriented — It's definitely about the people. If you take care of people, the rest of the things take care of themselves. That's my motto in life. And I've always felt like Campus Advantage places the people above the profits. So aligning myself with a company that I feel operates that way is very important to me.
Authentic — I love the idea of authenticity and being our true selves. One of the things I love most about Campus Advantage is feeling like I can bring my true whole self to the table. There is a very welcoming, inclusive atmosphere here. It makes me really proud to work for a company that creates that in their culture.
What is one of your favorite moments with Campus Advantage so far?
One of the best moments was during our Experience Conference a few years ago. Due to some turnover, I got the opportunity to attend the conference in beautiful Estes, Colorado. Not only did I have a great time and get an opportunity to mentor some of the younger leaders within our company, which I love, but I also got the chance to meet Tionna, who is now the property manager at Arcadia on the River. When she approached me that week, I happened to have a position open at my community. Tionna ended up taking the job and moving to Milledgeville, and both of our lives changed, all because we met across the country at this conference. Today, she is working as an area manager under my leadership.
Some of my best moments have also been my work on the Campus Advantage DEI Committee. I became an ambassador this year and absolutely love being a part of it. It is something that I feel has truly grown me as a person and filled my cup tremendously. We launched our first DEI Media Club where we get to listen to podcasts or watch a movie and immerse ourselves in other cultures. It allows us to grow so much as people and then use that to create better, even more inclusive environments. Being part of that committee, which Brian Hunt and Sarah Slife have headed up, has been just an incredible opportunity; I feel like it's truly enriched my life a lot this year.
What motivates you to get up for work every day?
Oh, it's definitely the people — the ones I work with as well as those I interact with on a daily basis. I think serving and supporting is just so much at the core of who I am as a person. I feel the weight and the responsibility of that. If my managers or communities are reaching out to me, or if they have a need, I want to always make sure I'm supporting and pointing them in the right direction. It brings me a lot of joy to do that.
What do you like to do when you're not working?
I'm a very avid reader. I love to read, whether it's a paperback, a Kindle book, an audio book, or all three. It's a little bit of a problem because there's so many books and so little time. I love to recommend books to people, too. Also, I'm a huge Atlanta Braves fan — hoping we can go all the way this year! And then, of course, spending time with my family brings me tremendous joy. I love living life, taking on DIY projects, and making a home for my family.
If your life had a soundtrack, name some songs that would be on it?
I think I would say the song "Ends of the Earth" by Lord Huron, which is a song that is relatable to me. If I believe in something and I'm passionate about it, I won't let anything get in my way. I'll go to the ends of the earth to get it done and see it to the finish line.