Employee Spotlight: Miguel Gonzalez & His High-Fiving, Caramel Coffee-Loving Energy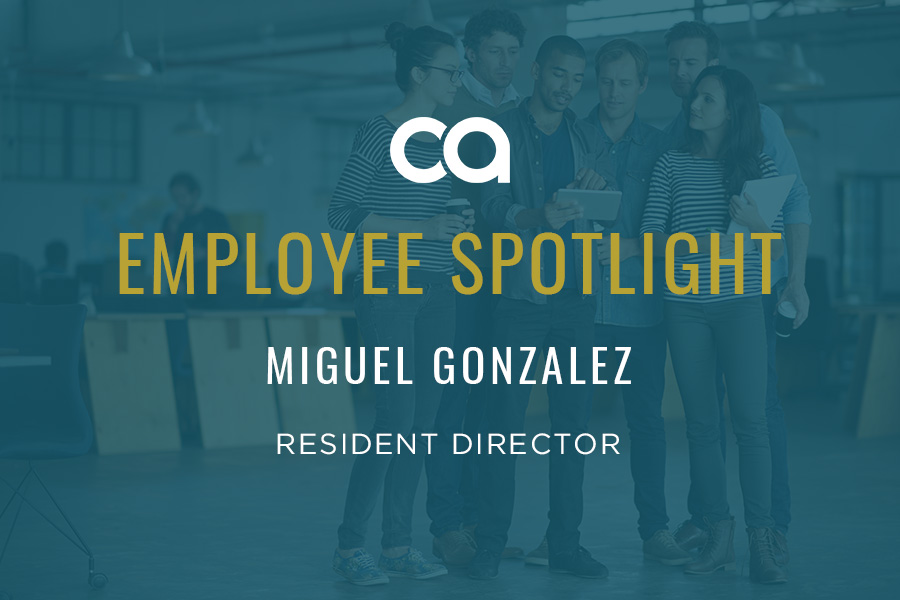 This month, we're pleased to highlight Miguel Gonzalez,  a resident director at Prado Student Living, who joined the company seven months ago. In that short time, he's quickly become recognized for his high energy and magnetism. We had the opportunity to interview Miguel and learn more about the high-octane, personable approach he brings to Campus Advantage every day.
Describe your role at Campus Advantage.
I am currently a resident director (RD) with aspirations to continue to grow in my career to one day become a Leasing Manager or Assistant General Manager.
In a few words, describe what you/your team does for Campus Advantage.
We help run the office and bring people in. We're not just a property where people live, we are a community. We really work to invoke a community-minded atmosphere in the office, addressing people by their first name and making an effort to have personal conversations with people when they stop in. It really makes a difference for residents. As an RD, I'm always inviting our residents to events and addressing them by their first names. I take it upon myself to know everyone's name. There's a book I read called, "How to Win Friends and Influence People," and some of the advice it offers is about how small touches like addressing people by their first name, can make a big difference. Names are so important; it's part of being human, and people often light up when they hear their name.
What three words best describe you (inside or outside of work)?
Personable – People describe me as personable.
Genuine – I have a genuine approach to my interactions with people.
Honest – Honesty and transparency are so important and goes miles to winning people over and building trust.
If your life had a soundtrack, name one song that would be on it.
"The Good Life" – by T. Payne and Kanye West.  I aim to live the good life – to be happy, to always try my best. My mom always taught me to strive to be my best, and that's really an important part of how I pursue my studies and how I'm generally moving forward into my senior year.
What are three words you think best describe our culture?
Personal, genuine and joyous. Our culture is genuine and approachable and that's just so important in the office.
What are you doing to ensure that residents have a great experience living at Prado?
Being a residence director, I like to engage in a variety of ways to put my best foot forward. I get to know and interact with residents by joining in games, eating with them and trying to add a personable approach whenever possible because I know it makes a difference in how people feel about their community, ultimately influencing their choice to continue to stay with us.
If you had to choose one company value that best represents you, what would it be and why?
MOJO (our secret sauce of fun, charm, and charisma) is my emphasis. I try to be charismatic to the best of my abilities and not take myself too seriously. I have a more relaxed approach to my job and try to keep in mind that I am in control of how I react to things.
Thinking of your most successful peers or teammates, what characteristics do they share?
My teammates have a great energetic approach. If you were to walk into our office, you'd see us high five each other. We're all united and working towards one goal. That synergy between all of us motivates me more than anyone individual.  Our personalities click really well, and that kind of shared motivation is like whip cream on the coffee.
What motivates you to get up and come to work every day?
Coffee! I am excited to go to work after I have my coffee. Ten ounces gives me a little pep in my step. I'm cool with caramel but I don't limit myself to one flavor; I like to dabble. As an RD, I love that my days are never really monotonous or boring, and as a people person, I love that there are challenges I can help overcome.