National Minority Mental Health Awareness Month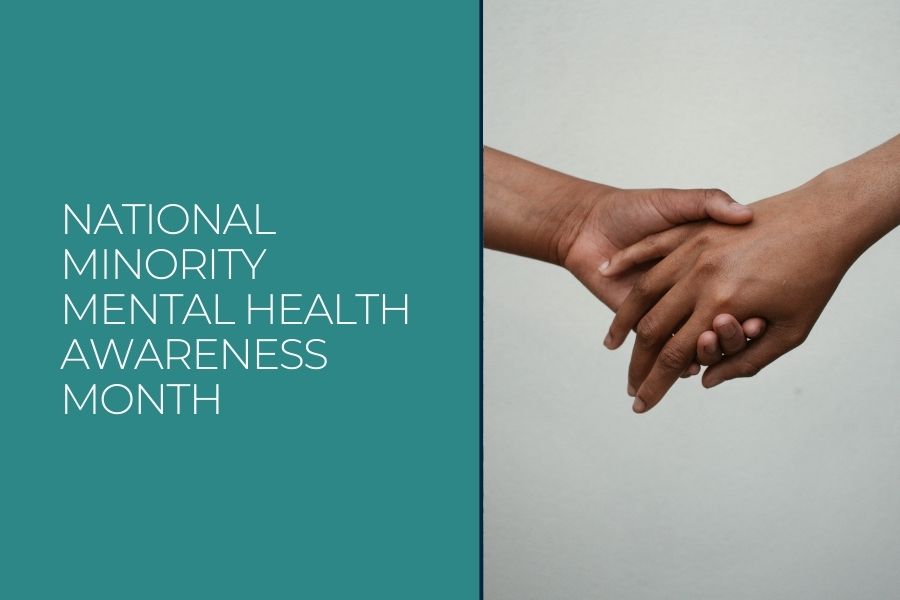 By Kaitlyn Vicars
"Once my loved ones accepted the diagnosis, healing began for the entire family, but it took too long. It took years. Can't we, as a nation, begin to speed up that process? We need a national campaign to destigmatize mental illness, especially one targeted toward African Americans…It's not shameful to have a mental illness. Get treatment. Recovery is possible." — Bebe Moore Campbell
The focus for July's wellness article is National Minority Mental Health Awareness Month. To honor this critically important observation for July, I'll be sharing information from experts who specialize in this area, such as Campus Advantage's valuable relationship with the National Alliance on Mental Illness (NAMI).
Established by NAMI in 2008, the Bebe Moore Campbell National Minority Mental Health Awareness Month aims to change the obstacles minorities face when receiving access to mental health services. Addressing obstacles is crucial to recognize, understand, and change because this impacts so many around us — our co-workers, our friends, our families, our residents, and for minorities, their everyday living.
"Each year millions of Americans face the reality of living with a mental health condition. Taking on the challenges of mental health conditions, health coverage and the stigma of mental illness requires all of us. In many communities, these problems are increased by less access to care, cultural stigma and lower quality care. … Together, we can realize our shared vision of a nation where anyone affected by mental illness — no matter their background, culture, ethnicity or identity — can get the appropriate support and quality of care to live healthy, fulfilling lives." 1
NAMI provides more detail about Bebe Moore Campbell and why she helped inspire National Minority Mental Health Awareness Month:
Bebe Moore Campbell was an author, advocate, co-founder of NAMI Urban Los Angeles and national spokesperson, who passed away in November 2006. … Campbell advocated for mental health education and support among individuals of diverse communities. In 2005, inspired by Campbell's charge to end stigma and provide mental health information, longtime friend Linda Wharton-Boyd suggested dedicating a month to the effort. The duo got to work, outlining the concept of National Minority Mental Health Awareness Month and what it would entail. With the support of the D.C. Department of Mental Health and then-mayor Anthony Williams, they held a news conference in Southeast D.C., where they encouraged residents to get mental health checkups. … When Campbell lost her battle to cancer, Wharton-Boyd, friends, family and allied advocates reignited their cause, inspired by the passion of the life of an extraordinary woman. The group researched and obtained the support of Representatives Albert Wynn [D-MD] and Diane Watson [D-CA], who co-signed legislation to create an official minority mental health awareness month. 2
The U.S. Department of Health and Human Services (HHS) Office of Minority Health (OMH) also uses this month to "bring awareness to the unique struggles that racial and ethnic minority communities face regarding mental illness in the United States. The COVID-19 pandemic has made it harder for racial and ethnic minority groups to get access to mental health and substance-use treatment services. … OMH encourages state, tribal, and local leaders, community-based organizations, faith leaders, healthcare providers and individuals to educate your communities regarding mental health stigma." 3
In the spirit of how to make a difference, NAMI created the Getting Involved with Minority Mental Health resource page to provide some amazing ways to create solutions to roadblocks minorities face, including:
Language barriers
A culturally insensitive system
Racism, bias, and discrimination in treatment settings
Lower quality care
A lower chance of healthcare coverage
Stigma from several angles (for being a minority and for having mental illness)
All the usual mental health roadblocks
Together, we can all help ignite change against these disparities and fight stigmas as we learn more about National Minority Mental Health Awareness Month. It simply starts with taking the time to educate ourselves about mental health, informing your community, and taking the following needed steps suggested by NAMI.
Give a Presentation
NAMI recently presented to Campus Advantage (presentation available on the DEI Teams channel) where Kate Hicks, Executive Director of NAMI of Central Texas, shed light on some eye-opening statistics, such as white individuals are twice as likely to receive mental health treatment than Black or Hispanic adults. Knowledge is power, and by knowing stats like this, we can know where to start.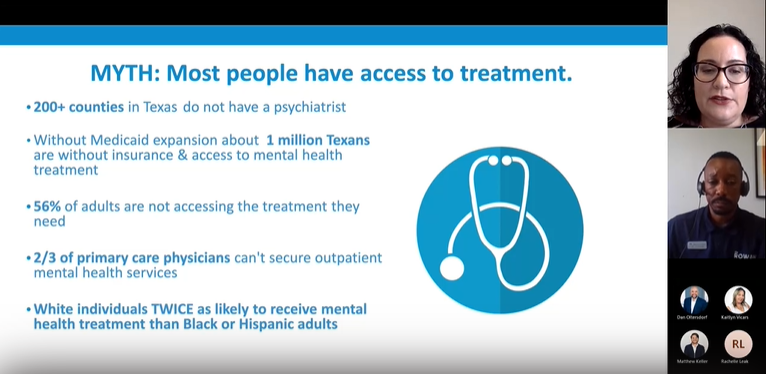 Emphasize Treatment
NAMI also offers some excellent resources, including culturally competent providers.
"Make sure to stress the importance of a culturally competent provider. These mental health professionals integrate your beliefs and values into treatment. To find a provider that does this, you may have to do a significant amount of research. In addition to searching online, you can also ask trusted friends and family for recommendations or ask for referrals from cultural organizations in your community (like your local AKA Chapter). … Be confident when disclosing relevant information about your beliefs, culture, sexual orientation and/or gender identity that could potentially affect your care. Your provider will play a vital role in your treatment, so make sure you feel comfortable and can communicate well with them before committing to them. Remember: If you feel like your provider doesn't understand you, it's okay to leave. Cultural competency is very beneficial to effective treatment. It might take a bit of effort to find the right fit, but recovery is worth it." 4
Share Your Story
It's so important to share your story, especially if you are a minority. Letting others know they are not alone is a way to spread awareness, and encourage them on how and why to get help if they need it. "When a person experiences symptoms of mental illness, one of the most helpful and comforting feelings is knowing that they're not alone. It can be incredibly reassuring to know in this moment right now, someone else is going through similar struggles as you are —regardless of where they are, who they are, or how they identify." 5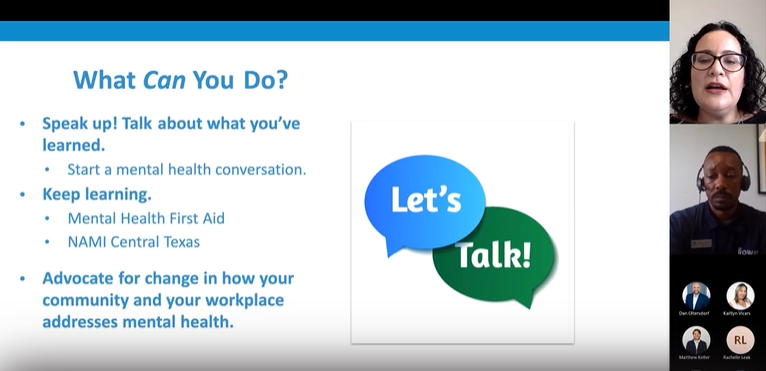 Let's take this July to focus on National Minority Mental Health Awareness Month with the awareness, education, and resources that can help break down the stigma minority communities can encounter when it comes to mental illness and recovery. Promote your story, learning, or resources that worked best for you by using #MMHAM #Together4MH.
———————
July Giveaway
In honor of National Minority Mental Health Awareness Month, we have a very special giveaway happening! One lucky winner will receive a 1-month subscription to @thecalmaap, and a copy of This Woman's Work: The Writing and Activism of Bebe Moore Campbell by Osizwe Raena Jamila Harwell — the inspiring force behind the creation of National Minority Mental Health Awareness Month.
Here's how to enter:
Follow @campusadvantage
Like CA's post about National Minority Mental Health Awareness Month
Tag two friends in the comments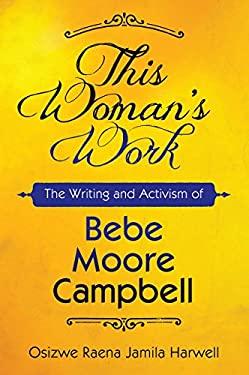 Dropbox NAMI logos
https://www.dropbox.com/sh/4kayfla35wcs3p7/AAAqT8TJMjcJQcUbmE-omA3Ta?dl=0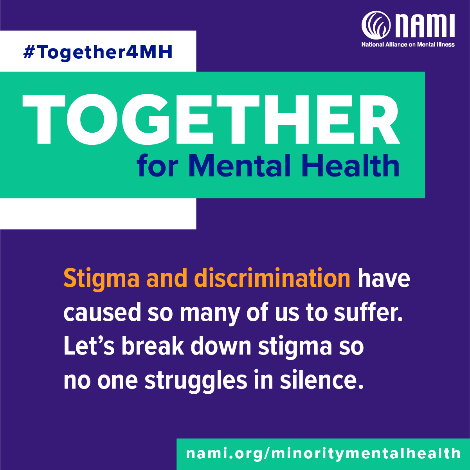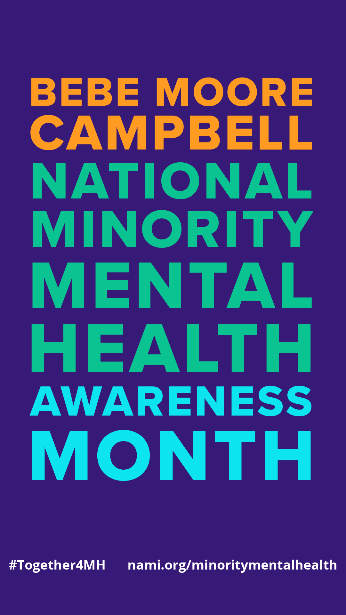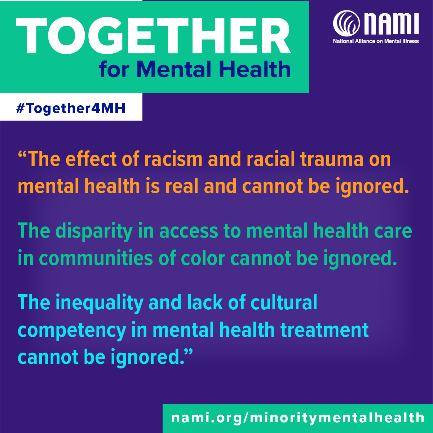 HHS Office of Minority Health (OMH)
https://minorityhealth.hhs.gov/minority-mental-health/shareable-graphics/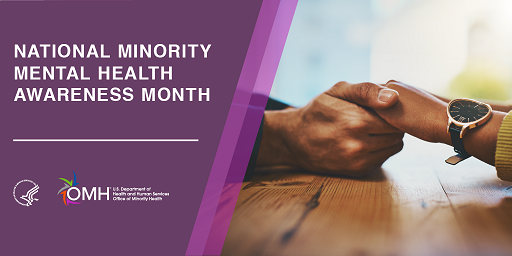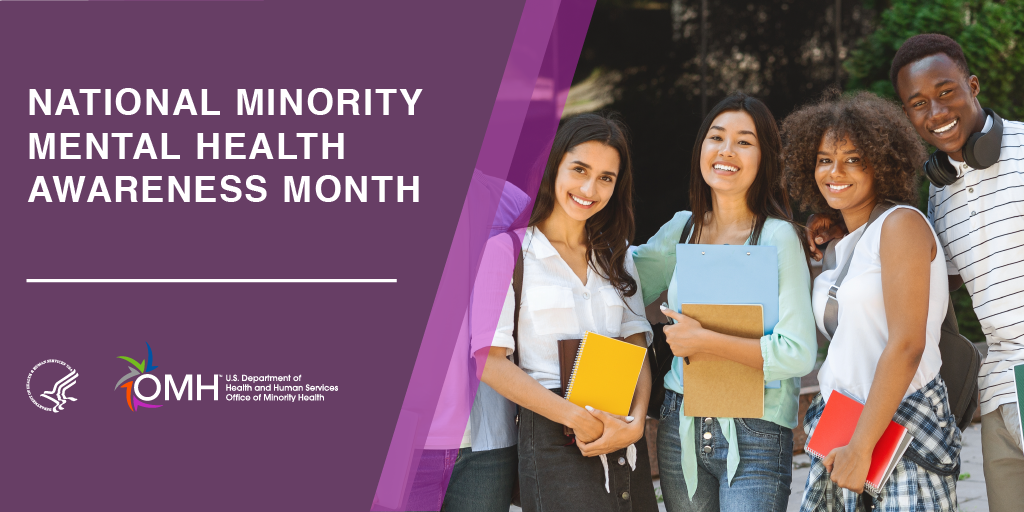 ---
1 https://www.nami.org/Get-Involved/Awareness-Events/Bebe-Moore-Campbell-National-Minority-Mental-Health-Awareness-Month
2 https://www.nami.org/Get-Involved/Awareness-Events/Bebe-Moore-Campbell-National-Minority-Mental-Health-Awareness-Month/Learn-About-Bebe-Moore-Campbell-National-Minority-Mental-Health-Awareness-Month
3 https://minorityhealth.hhs.gov/minority-mental-health/
4 https://www.nami.org/Blogs/NAMI-Blog/July-2018/Getting-Involved-with-Minority-Mental-Health
5 https://www.nami.org/Blogs/NAMI-Blog/July-2018/Getting-Involved-with-Minority-Mental-Health