No Day is the Same at Campus Advantage for Nick Mobilia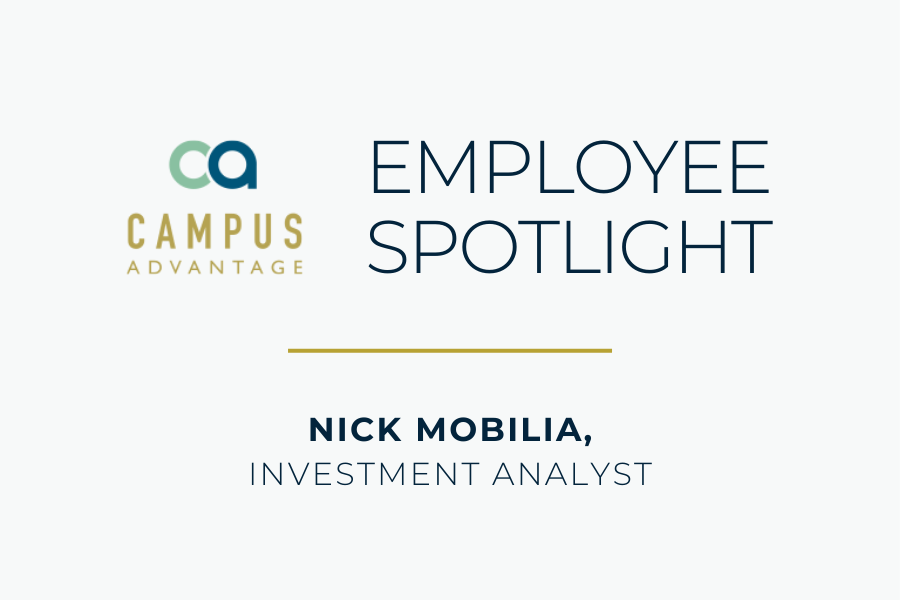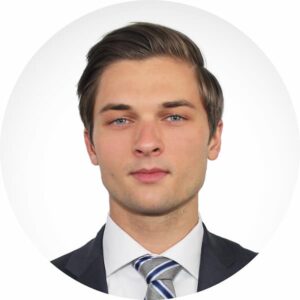 Starting with Campus Advantage in March 2021, Nick Mobilia plays an important role on Campus Advantage's Investments team. Nick strives to empower his team by excelling in his own work, leading by example, and showing up each day with a positive attitude. He shares what first drew him to Campus Advantage, his favorite thing about the workplace culture, and what motivates him to get up every morning and problem-solve in the world of student housing.
Describe your current role at Campus Advantage.

I'm an analyst on Campus Advantage's Investments team, supporting our acquisition and asset management activities in the owned asset portfolio.

What first attracted you to work for Campus Advantage?

I was attracted to Campus Advantage's track record of success in the student housing industry. Additionally, Campus Advantage presented many opportunities for growth, both professionally and personally, which has been beneficial to me as a young professional.

In a few words, describe what you/your team does for Campus Advantage.

The Investments team supports all capital raising initiatives and the entire life cycle of Campus Advantage's owned assets, from acquisition to disposition and everything in between.

What three words best describe you (inside or outside of work)?

Curious, passionate, and ambitious. All of these align well with the opportunities provided to me at Campus Advantage. I'm early in my career and I'm constantly trying to learn and better myself, taking advantage of learning experiences from the peers and leaders surrounding me.

What are three words you would use to describe our culture and why?

Progressive: At Campus Advantage collaboration is encouraged, team members are valued, and we adapt quickly to changing trends in the workplace.
Innovative: The company is always thinking of new ways to approach difficult problems with innovative solutions. From embracing new technology, to rethinking the new normal in a post COVID world, Campus Advantage strives to find creative ways to solve problems.
Motivating: Everyone at Campus Advantage strives to do their best and brings the rest of the team with them. We're very motivated by each other to make sure the company is successful.

What is one of your favorite moments at Campus Advantage thus far?

There have been many great experiences since I started working for the company, so I have a hard time pointing to just one! I really enjoy the camaraderie and events that the MOJO team puts together for the office. It creates a strong culture at Campus Advantage, and differentiates us from our peers in the industry.

If you had to choose one company value that best represents you, what would it be and why?

Integrity. I think integrity is an important virtue in providing a successful experience for our customers and investment partners. I'm very intentional and honest about how I approach my work.

What motivates you to get up and come to work every day?

Every day is a new day at Campus Advantage. With the student housing space evolving so quickly, each day presents us with a new challenge to solve with a creative and innovative solution.

Thinking of your most successful peers or teammates, what characteristics do they share?

My peers and teammates are all very passionate about what they do. There are always some that are harder than others, but what keeps people going is that work isn't just work. People are passionate about the experience we provide and truly want to create successful outcomes for our residents and investment partners.