November Wellness Focus: Veterans Support and Appreciation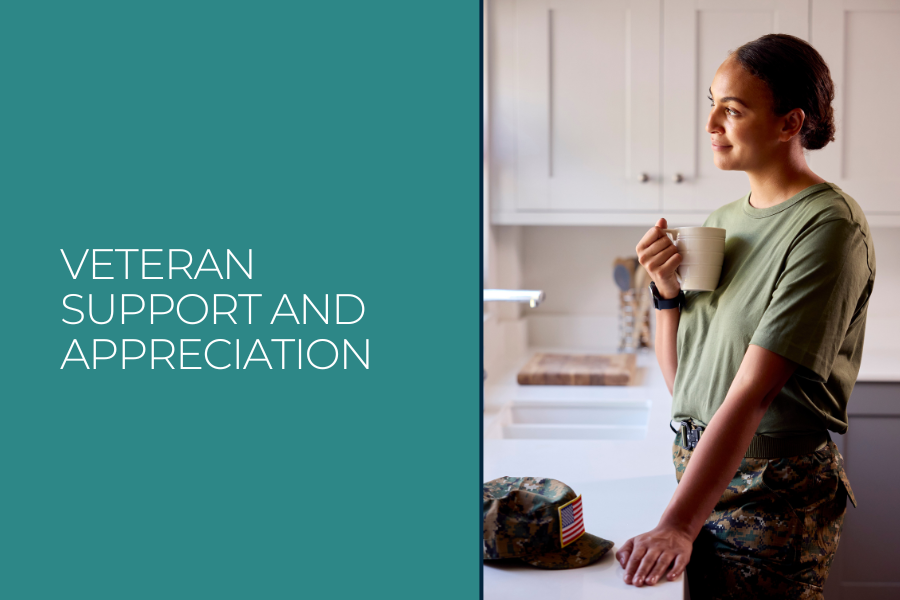 By Kaitlyn Vicars
On November 11, the nation honored Veterans Day — an annual holiday dedicated to acknowledging and thanking military veterans of the United States Armed Forces. This month also is dedicated to other observances that affect veterans, men and women currently enlisted, and loved ones in military families, including Military Family Month, International Stress Awareness Day and Week, and International Survivors of Suicide Loss Day. Though these observances are only acknowledged in November, the significance is something that should be top of mind year-round. Keep reading to learn more, as well as how you can help.
Military Family Month
Military Family Month also is observed in November. Families of service members make sacrifices, as well, which is why they are appreciated and acknowledged. There's a level of support needed for those who support a service member.
Military.com says it well: "Military families know what it means to serve. Every day, you get up and support your service member, standing by during long trainings and deployments. You know the risks, but you accept this life of service anyway. You know service is an honor."
International Stress Awareness Day and International Stress Awareness Week
November 2 observes International Stress Awareness Day, and November 7–11 observes International Stress Awareness Week. One risk of serving in the military is the possibility of various experiences that may lead to post-traumatic stress disorder (PTSD) due to various types of trauma: war zone deployment, training accidents, military sexual trauma (MST), life-threatening situations, and more.
And according to a Statista survey from 2020, "83 percent of U.S. veterans and active service respondents have experienced PTSD as a result of military service after 9/11. Furthermore, the survey found that PTSD was the second-most reported severe mental injury sustained during service among these veterans and active service respondents, behind sleep problems."
International Survivors of Suicide Loss Day
November 19 is dedicated as International Survivors of Suicide Loss Day. Unfortunately, suicide impacts many and is a horrible epidemic in our country that also affects veterans and active-duty service members, as well as their loved ones. According to the Stop Solider Suicide, "Veterans are at 57% higher risk of suicide than those who haven't served" and "suicide is the second-leading cause of death for post-9/11 veterans, accounting for 22.3% of all deaths."
When looking at the month of November and how we appreciate and honor veterans on Veterans Day, I think it's important to look at how we honor and support veterans overall. Often, it can be easy to identify an issue but not as easy to identify ways to help or provide solutions.
Fundraisers and Challenges
Whether you're creating a fundraiser for a specific event (in honor of, birthday, etc.) or you don't know where to start, Stop Soldier Suicide has recommendations. Additionally, they also have Facebook challenges you can join if you aren't able to start your own fundraiser. Examples of events include the National 50 Mile Ruck March Challenge and the Weekend Warrior 20 Mile Challenge. These events raise funds for impact as well as create awareness, especially by sharing information.
Awareness and Acknowledgement
Looking for ways on how to thank a veteran? Combat Veterans to Careers compiled a great list of ways you can show your support. In addition, they provide ways to include talking to young ones about Veterans Day, awareness of issues, knowing the difference between Veterans Day and Memorial Day, and supporting veteran-owned businesses.
Resources
The National Alliance on Mental Illness (NAMI) has a list of resources for those impacted in the military, as well as those families and friends that support service members. This list also includes confidential counselors to ensure active military or veterans are able to talk to someone without fear of recourse.
During November and beyond, I hope that we each take a moment to acknowledge veterans for their service and show appreciation for current service members. As part of that, I also hope we take the time to support the mental health of those who have served our country.
Giveaway
While Veterans Day may have passed, November paves a way for us to honor those who have served or are currently serving in our nation's armed forces. We're giving away $25 to Dope Coffee — a Black veteran-owned coffee roasting company based in Decatur, Georgia! Here's how to enter:
Follow @campusadvantage
Like this post
Tag two friends in the comments
If you're in emotional distress or suicidal crisis, please call or text 988. If you believe that someone else is in danger of suicide and you have their contact information, contact your local law enforcement for immediate help.