Our Favorite Leasing Campaigns from 2019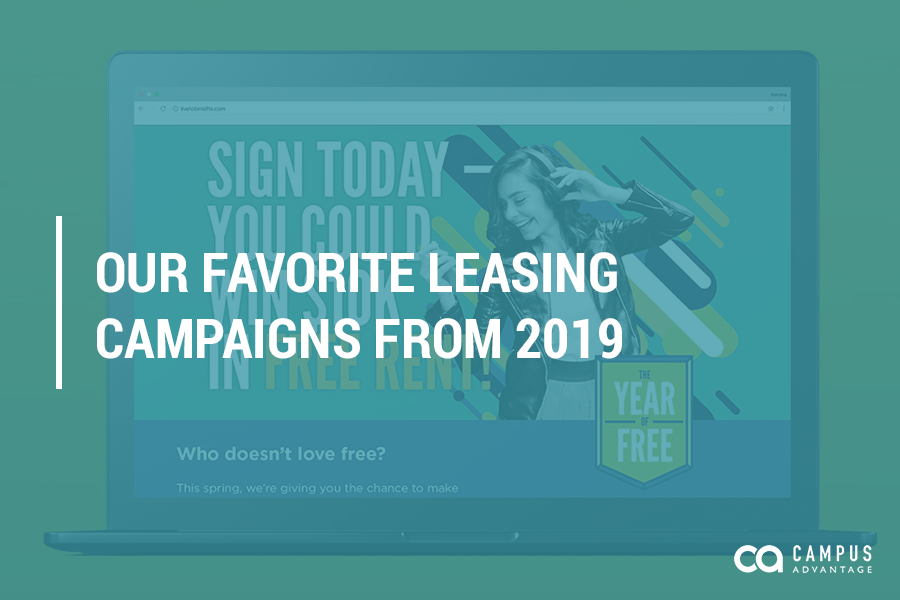 Throughout various times of the year, Campus Advantage teams up with our marketing partner, Catalyst, to create a variety of innovative student housing campaigns designed to drive renewals and/or encourage leases at our properties. Whether created for an individual property or a portfolio-wide audience, campaigns are geared around a leasing special, a giveaway, an incentive, or general brand awareness and designed to be engaging for today's students. Here are a few of our favorite campaigns from 2019!
Spring Campaign 2019
"Take a Tour and Score a Ton of Tech" was the theme for a March portfolio-wide campaign that gave students an opportunity to be entered to win an ultimate tech giveaway bundle if they renewed their lease or scheduled a tour online. To keep the campaign relevant to all properties and help them stay within their budgets, individual sites could choose their exact prizes within the categories of a smartwatch, wireless headphones, and more.
West & Wright Bye Bye Bills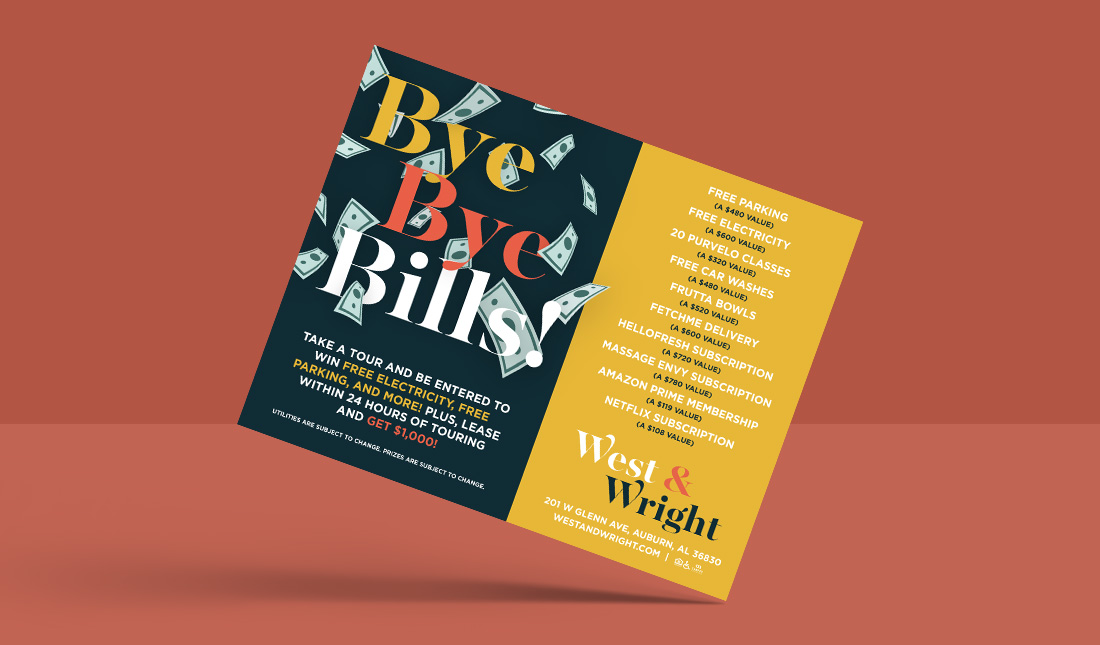 In May, students were encouraged to take a tour and sign at  West & Wright in Auburn, Alabama, for a chance to win one of several great prizes that would help eliminate the pressure of monthly bills. Prizes for the "Bye Bye Bills" campaign included free parking, free electricity, a HelloFresh subscription, an Amazon Prime membership, and more. If a lease was signed within 24 hours of touring, students received an additional $1,000.
Move-In 2019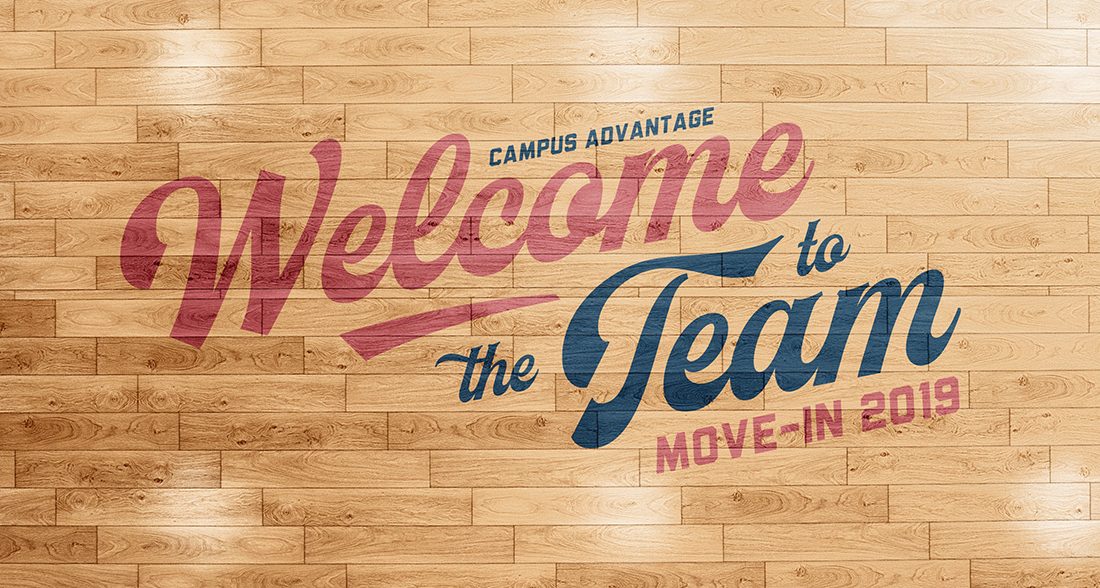 The 2019 portfolio-wide move-in campaign for Campus Advantage was themed "Welcome to the Team" — a play on retro sports design that welcomed students both to their new home and the CA community. The theme was intentionally generic to make it easy to apply to each property when incorporating decor, activities, giveaways, and more. Because it wasn't specifically geared toward a region or school, the universal aspect established a portfolio appeal.
The Rowan Ariana Grande Campaign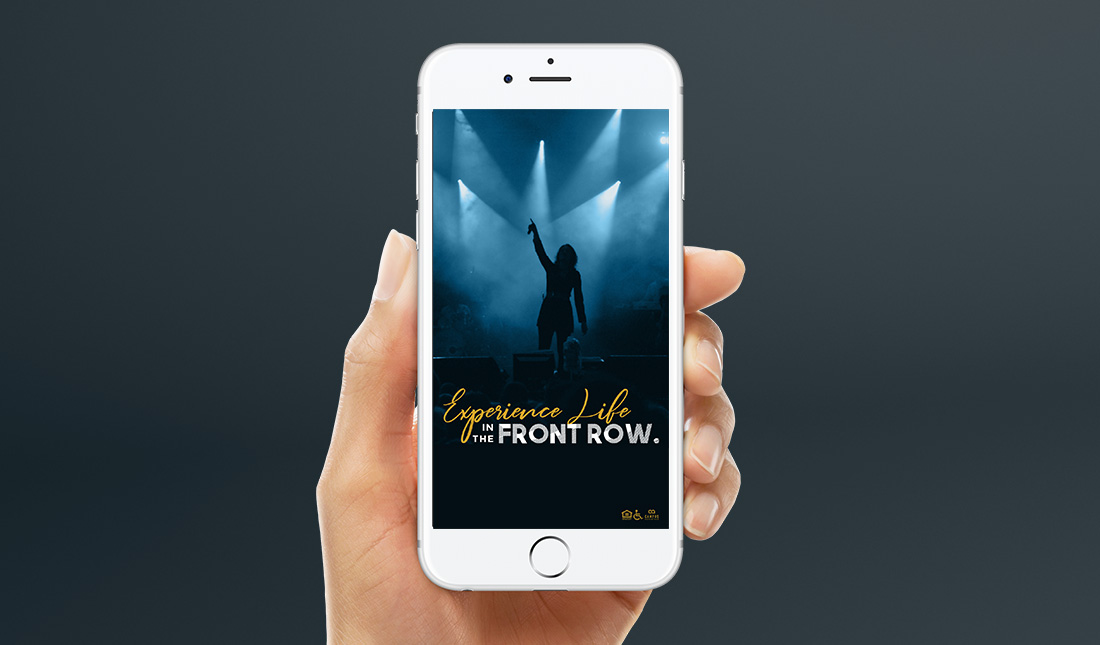 In October, The Rowan ran an individual campaign for students in the Columbia, South Carolina, market to score the ultimate VIP concert experience with two front-row tickets to see Ariana Grande (worth $1,000). Themed "Experience Life in the Front Row" — a nod to the property's recent rebrand and new name — students who RSVP'd for the on-site brand reveal event were entered into the giveaway. Additional tickets could be earned by signing or renewing a lease, or winning a Finish the Lyric, Guess the Album Art, or trivia contests.
Cyber Monday 2019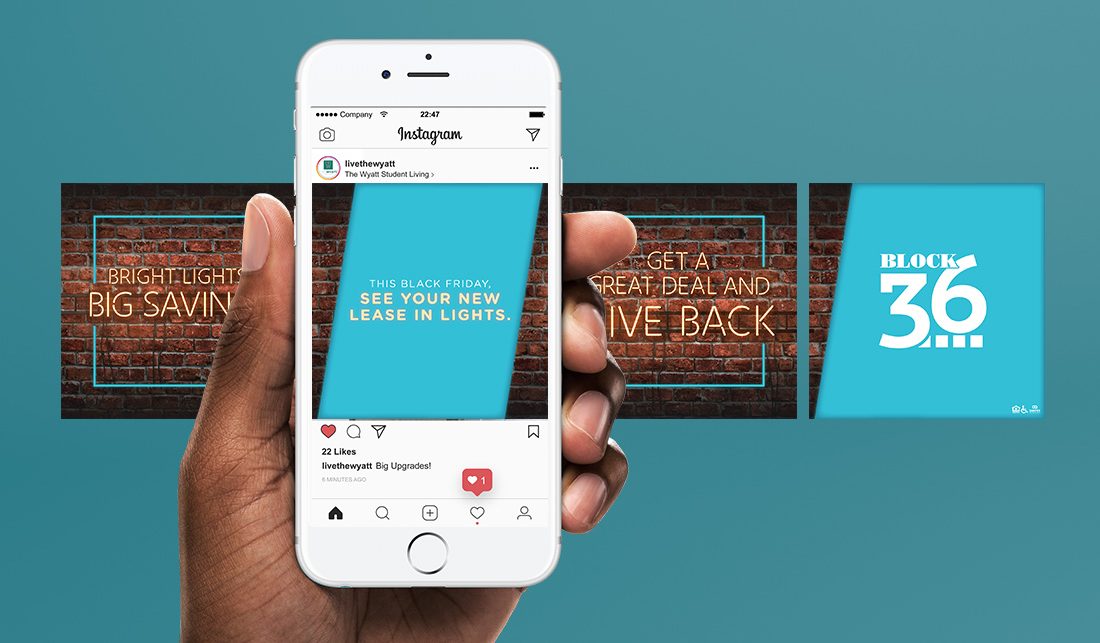 The 2019 portfolio-wide Cyber Monday campaign for Campus Advantage was themed "Bright Lights, Big Savings" — a neon lights–inspired design that promoted a four-day window of exclusive fall savings for students (from Black Friday to Cyber Monday). Properties could develop and promote their own specific leasing specials on their respective landing pages, and by keeping specials vague, campaigns were universal enough to be applicable to any property.
As a way to give back during the season of Thanksgiving, CA also donated $1 to Relay For Life for every lease signed. Additionally, on Giving Tuesday, properties were encouraged to participate in a volunteer activity.
Liv+ Gainesville Year of Free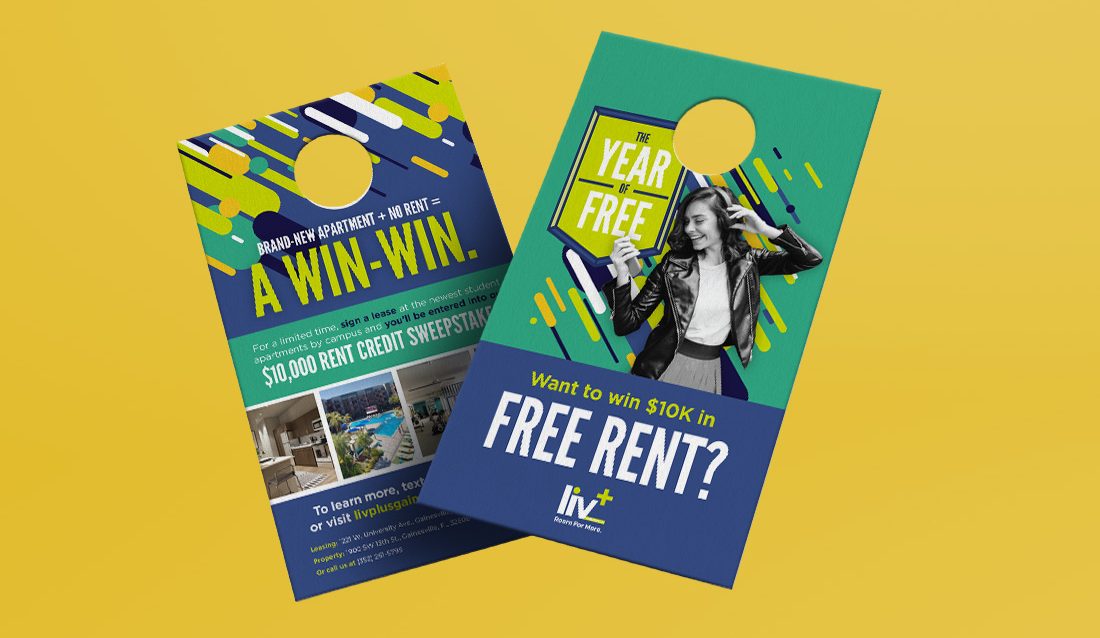 Liv+ Gainesville kicked off a "Year of Free" campaign to increase leases for the brand-new student property opening in fall 2020. Located near the University of Florida, students who sign a lease from December 2019 to March 2020 will be entered into a $10,000 rent credit sweepstakes (one year's worth of savings), with the winner being announced in April.