Paul Wray's Dedication to Everything He Touches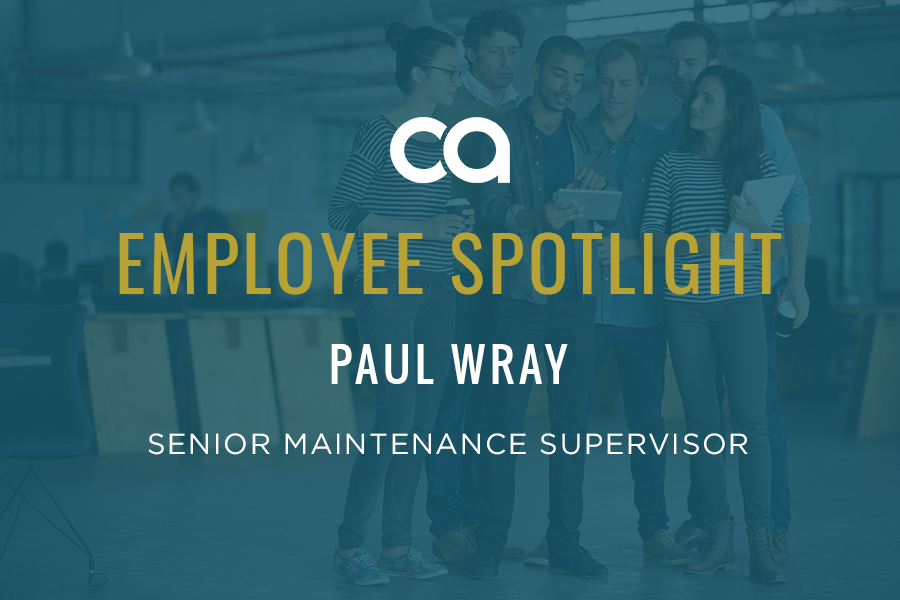 Paul Wray is thoroughly committed to his role as Senior Maintenance Supervisor at Launch Social Living, currently the oldest property in Campus Advantage's portfolio. With the company for four years, Paul takes immense pride in making sure each resident receives timely maintenance with the highest level of customer service. He is a dedicated and passionate team player on all fronts: Paul has also been the top Campus Advantage fundraiser for the American Cancer Society's Relay for Life, with whom Campus Advantage is a proud national partner, for two years in a row. We talked with Paul about how he stewards his team to success, the characteristics of Campus Advantage that he values most, and the importance of perseverance.
In a few words, describe what you/your team does for Campus Advantage.
My team is responsible for the maintenance of 473 apts, 17 buildings, and the property itself. Launch Social Living is the oldest property in Campus Advantage's portfolio, and we work extremely hard to make sure that it is well-maintained.
Have you held any previous roles at Campus Advantage?
Before my current role, I was a maintenance tech at this property. I learned a lot, and after six months was promoted to Senior Maintenance Supervisor.
What first attracted you to work for Campus Advantage?
Honestly, it was the work itself. The property is right on the river, it's a great size, and like I mentioned, the age of it is a novelty. The town that the property is located in, Launch Social Living, is a bigger town but has a small-town feel.
What three words best describe you (inside or outside of work)?
What is one of your favorite moments at Campus Advantage thus far?
In 2018, at our annual employee awards event, the CAmmy's, Launch Social Living won Property of the Year. I have also been the #1 fundraiser for our Relay for Life fundraiser two years in a row now, in 2019 and 2020. I am really proud to be able to say that.
What are three words you would use to describe our culture and why?
MOJO (what we call our secret sauce of fun, charm, and charisma) sticks out to me. I like that the most because I'm really serious about my work but anyone who knows me knows I have an unoffendable sense of humor.
Innovation – Campus Advantage is always adapting and never seems to break a sweat. Everything is cohesive.
Dedication – Everyone is in the business of customer service at Campus Advantage, including my maintenance team, and will go above and beyond to make sure residents, clients and partners are satisfied. Additionally, everyone from the newest employee all the way to the top is very committed to their job and doing their best, which I really admire.
Thinking of your most successful peers or teammates, what characteristics do they share?
Perseverance. Nights during turn (a short period between when current residents leave and the property must be prepared for new residents) can seem never ending at times, but my team and the rest of our Campus Advantage family show up everyday with a good attitude. We all strive to meet the end goal, which is having the property and rooms look their best to make the resident as comfortable as they can be. Having a shared vision makes me get out of bed every day.
What are you doing to ensure that Campus Advantage remains a leader in the student housing market?
Quick turnaround times and high customer satisfaction rates with maintenance requests. When we hit those two objectives, we build a positive relationship that drives renewals. That saves the property money because we don't have to turn apartments, and it also creates a closer community on the property when people live here two to three years.
How do you empower your team to go the extra mile?
Even if we don't know a resident, or have never met them, I tell our team to treat the work order with the same commitment they would have if they were helping a relative or a close friend. Every work order is important, whether it's a lightbulb or a flood. My team endeavors to go the extra mile in every aspect.