The 5-Step Process for Creating Thoughtfully Designed Spaces that Attract Students & Increase Leasing Rates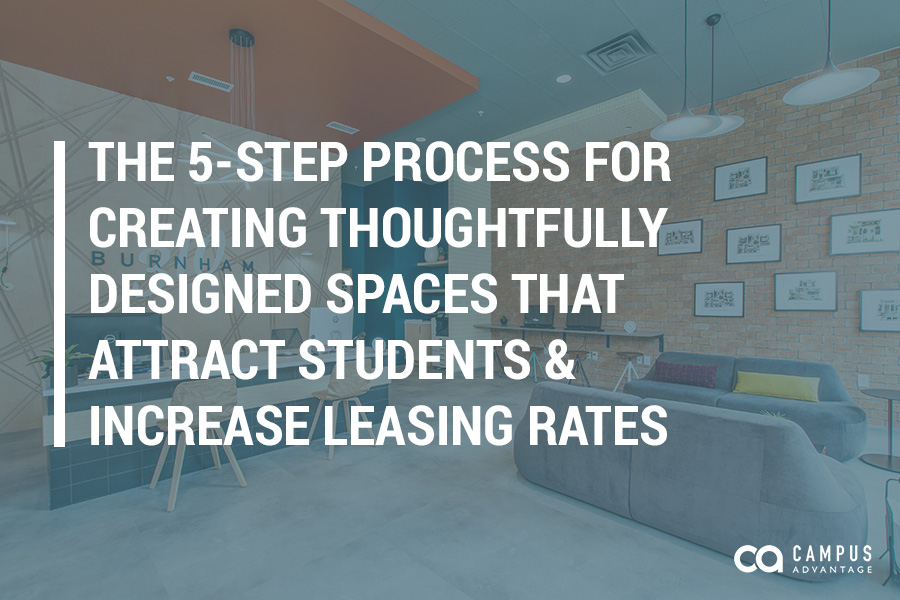 As the student housing industry continues to become more and more competitive, and additional supply is delivered to markets every year, operators are constantly searching for new opportunities to stand out and attract potential student renters. At Campus Advantage, one way we've tackled the ever-present need to bring in a fresh crop of students is by offering unique amenity packages. These packages include spaces such as outdoor fitness facilities and a larger quantity of study rooms to appeal to today's wellness-minded resident, but incorporating these new amenities spaces without the proper professional design would ultimately have an adverse effect on marketing efforts.
Operators cannot simply add a new study room or install sparkling equipment in a fitness center; these spaces must be professionally designed to create a "wow" factor when students view them online or during their property tour. They must reflect the "Instagram aesthetic" that new generations are attracted to, with brightly designed colors, unique artwork, and on-trend furniture pieces that encourage students to snap a photo while hanging out on property – ultimately increasing eyes on the residence.
Through working on 25+ properties with our interior design partner, Kelle Contine Interior Design (KCID), our teams have developed a process to align interests, establish schedules, employ the best contractors, and sell our interior vision to residents and future renters. It's crucial to build spaces that are not only eye-catching, but that will remain relevant for years and withstand near-constant use.
The process outlined below, used for both value-add properties and new developments, has enabled us to marry functionality and sustainability with stunning design to create the ultimate student space.
Our Process for Creating Student Housing Interiors that Resonate
The process starts with a full understanding of the property's architectural bones as well as its current reputation with students and position in the marketplace. To kick off every new design project, we work with KCID to review proformas and business strategies, determining owners' goals for occupancy, rental rate growth, and resident retention in addition to the capital improvement budget and facility needs.
This initial debrief is followed by a trip to the market. Seeing the property firsthand is an important step, but the crucial objective of this market visit is to research and understand the student demographic and university ties. During this market visit, our two teams work together to determine what attracts students to the university, the local hangouts, and current housing options in order to identify distinctive, trend-setting design features that can be used to create an exceptional and memorable space. Through this process, our team can determine if a property should be oozing southern charm, selling the ultimate cosmopolitan living experience, or appealing to urban vibes with clean lines and industrial, masculine finishes – all for the purpose of attracting the maximum number of students to the property.
Following the market research, KCID presents floor plan layouts and mood board options that represent our market findings and the unified vision for the remodel. These mood boards are transformed into finishes and furniture, fixtures and equipment options.
Next, these changes are incorporated into marketing efforts created by our marketing partner, Catalyst, to strategically message the property changes and new atmosphere to residents. Marketing materials that visualize the new spaces are used throughout property tours and on every digital outlet to enable students to imagine themselves enjoying the newly designed amenity space or, if they are a current resident, relaxing in their renovated apartment. Constant communication is maintained with the marketing team, Campus Advantage, contractors, and KCID to ensure the experience we are selling is delivered on time, on budget, and in a manner that minimizes disruption to any current residents.
Every renovation is finalized with an installation performed by KCID, a photo shoot to gather new photos for the property's online presence, and a reveal party to showcase the final results to residents, parents, the university, and the community, so they feel included and can get excited about the updates, too.
The Bottom Line
Performing a value-add renovation is beneficial for curing facility needs as well as attracting new residents, and it's important to work with the right design team to create memorable and distinctive amenity spaces — particularly in  a competitive market where amenity packages are naturally beginning to look cookie-cutter. A well-designed, tailored space can be the differentiator that sets a property apart. Through a set process that identifies the wants and needs of the specific demographic to be served, properties can design renovation plans that not only provide students with the spaces they need functionally, but that encourage them to invite their friends over and share photos of the property on social, positively contributing to business goals.