Residence Life Puts Students First While Driving Occupancy and Retention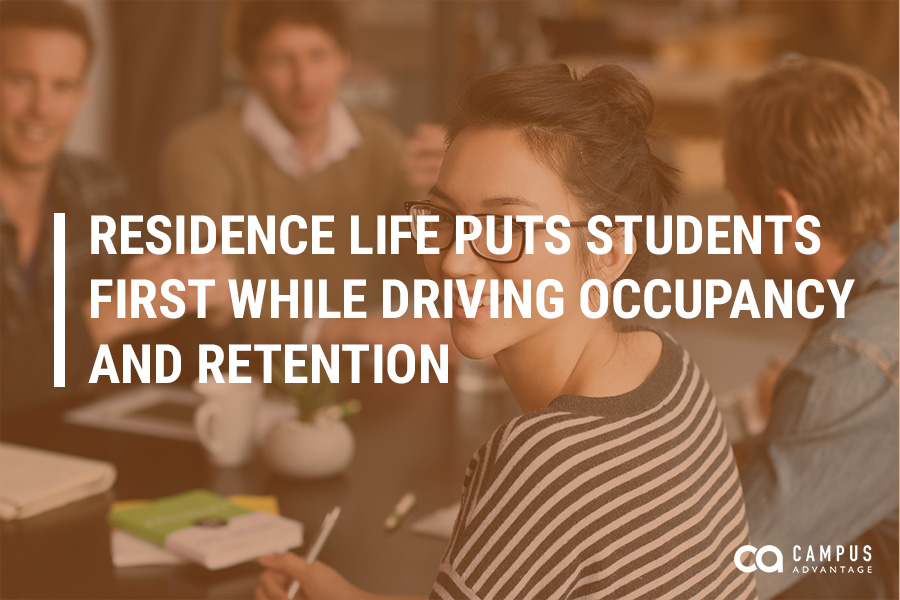 At Campus Advantage, our go-to philosophy is that student housing is not just about housing students. In fact, our mission — to lead the world in creating financially successful communities that excel in providing living, learning and career experiences — clearly articulates our dual aims: to turn a solid profit while supporting residents' success as students and beyond. Within this context, Campus Advantage's residence life program, called Students First® Experience, was designed to do just that — to put students first in the student housing equation, creating a great resident experience as well as great business outcomes.
Today, it's rare to find a purpose-built student housing community that doesn't offer a residence life program. Yet for some, residence life has more to do with checking a box than helping students excel. We've developed a unique, high-touch program that select universities are even proud to offer to their own on-campus residents. What makes our program so unique? Central to the Students First® Experience programmatic approach is providing three types of experiences for residents:
Life experiences – helping residents develop connections and a sense of community with other residents and with property staff
Growth experiences – guiding tenants to foster a fulfilled life and fuel continued personal growth
Success experiences – providing tools that foster professional success
This holistic approach to student living begins at the very start of a resident's stay, with a focus on delivering a seamless move in accompanied by a six-week series of memorable living experiences, including everything from pool parties and barbeques to haunted houses and "grocery bingo," where students are given the opportunity to win groceries from local stores. Continuing throughout the year, monthly living experiences are augmented by learning experiences ranging from philanthropic initiatives like Campus Advantage's partnership with Relay for Life –  a partnership that has so far raised $300,000 – to "Pinterest nights" (crafting meetups). In addition, the Campus Advantage Career Success Portal provides access to millions of job listings including over 500,000 unique jobs and offers students interviewing practice through the portal's mock interview feature, which records the student so that interviews can be watched back in order to improve skills. Communities also offer experiences centered around taking professional headshots for students, or fine-tuning resumes.
While we know these experiences are fun, engaging, and meaningful, we also know they drive business impact for our properties. In surveys distributed on-property every semester, over 80% of residents indicate that community events, as well having a Community Assistant, had a positive impact on their decision to lease or renew. For this reason, we believe residence life goes beyond altruism to also support our bottom line.
Because residence life is important to driving business metrics, it's critical that we're able to make the Students First® Experience program continually successful from property to property across our owned and managed portfolio. Beyond our highly-regarded program design, we've found three elements are key to this success:
Consistent Staff Training – All property level staff receive an orientation to the Students  First® Experience, along with guidelines regarding our approach to residence life. Throughout the year, a variety of trainings are offered to keep programming fresh and enticing. And select staff are nominated to attend the Experience conference, a multi-day summit during which participants create action plans for the continued improvement of their residence life programming.
Encouraging Market-Level Relevance – While our approach to residence life is designed to consistently optimize the resident experience at all Campus Advantage-managed properties, we encourage property-level staff to bring that approach to life in a manner that best fits their market and student population. Staff are encouraged to develop relationships with their Universities, so programming is often collaborative and designed to augment available campus resources. In addition, property residents are surveyed to better understand the programming they feel is most valuable, and programming is implemented accordingly.
Access to Activation Tools – Staff at all properties publish information regarding their residence life experiences to a shared database, which at current count houses execution details and results for over 2,500 different site level experiences. This resource is used by staff to try delivering new events, informed by what has or hasn't worked for other properties serving a similar market. In addition, to best equip site staff for marketing their events, Campus Advantage provides pre-packaged "experience kits." Flyers, email and social media templates are pre-designed so team members can easily customize and promote events.
As a purpose-driven organization, we're proud that supporting students is core to our mission. But we also know that providing excellent residence life programming drives our business, supporting metrics like our 48% returning resident ratio. By providing rewarding living, learning and career experiences that are centered around the individual wants and needs of students at each property, Campus Advantage is able to set itself apart and contribute to the holistic success of residents, ultimately generating industry-leading intent to renew rates and positive word-of-mouth referrals.