Securing Leases During the Holidays and Beyond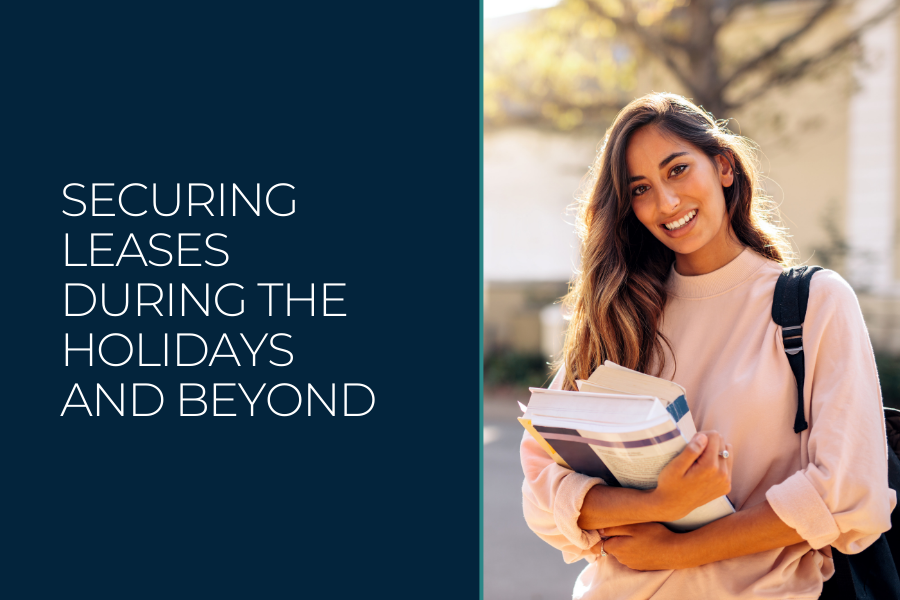 By Lindsay Brown, Senior Vice President of Leasing & Marketing and Matthew Keller, National Director of Leasing & Marketing
What a wild ride this amazing and resilient industry we call student housing management is! Last season started off with everyone taking a step into the unknown. There was an uneasiness about whether velocity would pick up as schools announced fall plans, and some worried there might not even be a fall 2021 school year.
But by mid-spring, velocity did pick up, with things feeling a bit more normal — and by summer, WE WERE BACK! From record enrollment and occupancy numbers to revenue growth in many markets, numbers settled in across portfolios at pre-pandemic levels, and in many cases, outperformed previous years altogether.
Student Housing Leasing, Moving Forward
So, where do we go from here?
The good news is the industry as a whole is incredibly strong right now and there are no signs of a slowdown for 2022. Demand is back up and supply is flat, putting us all in a great position to outperform last year in every aspect. In fact, at Campus Advantage, many of our residents only know a leasing season like the one we just had, and that means increased rates as we progress, limited choices if residents wait, and full communities turning people away. This gives us a great opportunity to finally retrain some of our typically later markets to lease and capture renewals earlier.
We are already seeing about a 3-5% increase in pre-lease averages versus this time last season, and anticipate this increased velocity to continue throughout the season, along with rate increases and reduced need for incentives.
So, how can we get leasing and renewal numbers as high as possible, particularly with the holiday season approaching?
Winter Leasing Campaigns That Resonate
At Campus Advantage, a big part of our DNA is our belief in diversity, equity and inclusion. An easy way to exercise this belief in practice is to make sure people from all walks of life feel represented, seen, heard and valued in their identities. This practice can (and should) be applied organizationally from top to bottom, and for student housing management companies, that includes in communication with residents. And there may be no better opportunity to celebrate different resident cultures than during holiday leasing campaigns.
During this time, many campus managers approach leasing campaigns through general marketing rhetoric. "Happy Holidays!" is the only recognition you'll get from many businesses during this time of cultural and religious celebration. At Campus Advantage, we've challenged ourselves each year to find ways to ensure all holidays are seen and represented through our resident communication — including in sales.
For student housing operators, the holiday season is a fantastic time to start a conversation with prospects who may be looking for housing, as well as with current customers who we want to choose to stay with us for another year. Campus Advantage invests in equitable leasing campaigns in order to connect with our residents, celebrate together, and for those learning about different cultures, educate them on the many different holidays during the season.
In practice, this looks like moving away from the generic "Happy Holidays" mailer and towards sending time-appropriate communication during each cultural celebration — recognizing and celebrating Christmas, Channukah, Kwanza, Fiesta of Our Lady of Guadalupe, Omisoka and many more cultural celebrations. This marketing messaging can be shared through social media, in direct contact with residents, during community events and in guarantor mailers, for example.
Celebrating Other Holidays
Additionally, a large part of our strategy is widening our view on holidays outside November – January. Many cultures have dedicated times throughout the year to celebrate, remember and come together, and our goal as an organization is to recognize these holidays as well, valuing and honoring traditions through resident communication and events.
As an organization, we also have the ability and responsibility to recognize specific individuals, not just the culture as a whole, in this celebratory communication. Giving intentional voice and space that allows residents to celebrate each other's differences is a tangible step towards promoting diversity, equity and inclusion.
To learn more about our commitment to diversity, equity & inclusion, check out our website here.