EMPLOYEE SPOTLIGHT: WHY CAMPUS ADVANTAGE IS AMIE MILLER'S SECOND FAMILY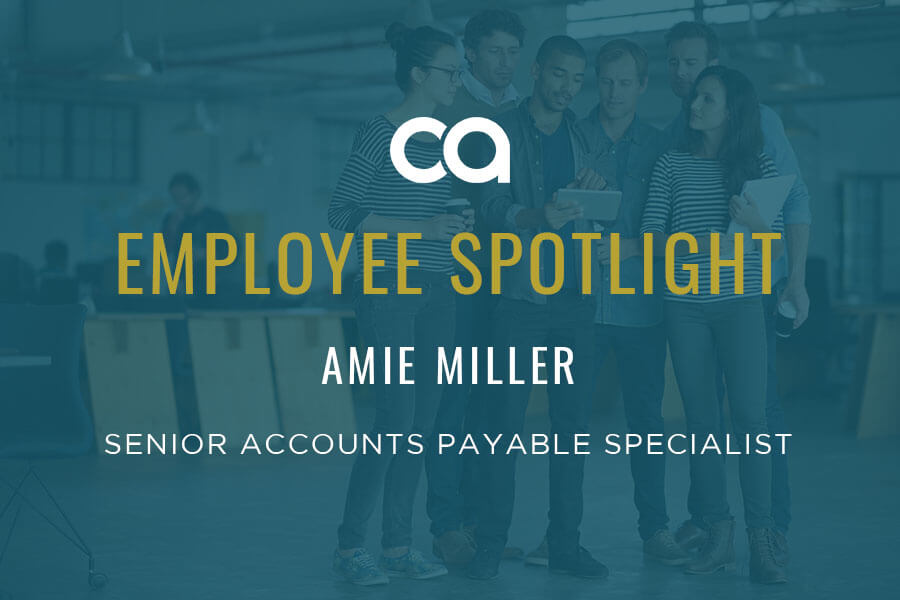 Amie Miller is what you call a Campus Advantage veteran – she's been with the company since 2007! As a Senior Accounts Payable Specialist, you could say she's a numbers pro. But that doesn't stop her from having a creative side, too – we discovered that Amie is an avid gardener and a big-time animal lover. We stole a few minutes of her time to learn more about what drives her and why she's been dedicated to Campus Advantage for twelve years (and counting!)
IN A FEW WORDS, DESCRIBE WHAT YOU/YOUR TEAM DOES FOR CAMPUS ADVANTAGE.
We are responsible for paying the bills for over 60 properties. By making sure that the lights are on and that the internet is working, we help make the residents' experience a seamless one. If we're doing our job right, the students shouldn't even know we're there – we keep things running smoothly so that they feel comfortable and happy living at a Campus Advantage property.
HOW WOULD YOU DESCRIBE YOURSELF (INSIDE OR OUTSIDE OF WORK)?
I'm really family-oriented. I love to take care of other things, whether that's an animal or even a plant. It brings me a lot of joy.
IF YOUR LIFE HAD A SOUNDTRACK, NAME ONE SONG THAT WOULD BE ON IT.
Leann Womack's "I Hope You Dance." I love this song because it reminds me that I only have one life, and I shouldn't let it pass me by.
WHAT'S ONE WORD YOU WOULD USE TO DESCRIBE OUR CULTURE AND WHY?
Definitely a family. We're like a big, happy family, and that definitely wasn't true of previous places I've worked, so it means a lot to me that I have such a great bond with the team. I admire that Campus Advantage actively tries to build a sense of real community.
WHAT IS ONE OF YOUR FAVORITE MOMENTS AT CAMPUS ADVANTAGE THUS FAR?
I won the Customer Service Award at the 2016 CAmmy's, which is our annual employee awards event. I was so happy and proud to receive the award because it was proof that what I'm doing matters and is noticed.
IF YOU HAD TO CHOOSE ONE COMPANY VALUE THAT BEST REPRESENTS YOU, WHAT WOULD IT BE AND WHY?
Passion. I'm passionate about doing my best and about making sure my team succeeds, too.
THINKING OF YOUR MOST SUCCESSFUL PEERS OR TEAMMATES, WHAT CHARACTERISTICS DO THEY SHARE?
They're all friendly and outgoing, and they're also very passionate about what they do.
WHAT MOTIVATES YOU TO GO THE EXTRA MILE?
Honestly, the work itself. I love my job and I love my team, and with that combination – even on hard days – there is never a day where I wake up and am absolutely dragging my feet to go to work. Every day brings something new, and the team's support and encouragement makes it all worth it.