The Importance of Online Reputation at a Student Housing Community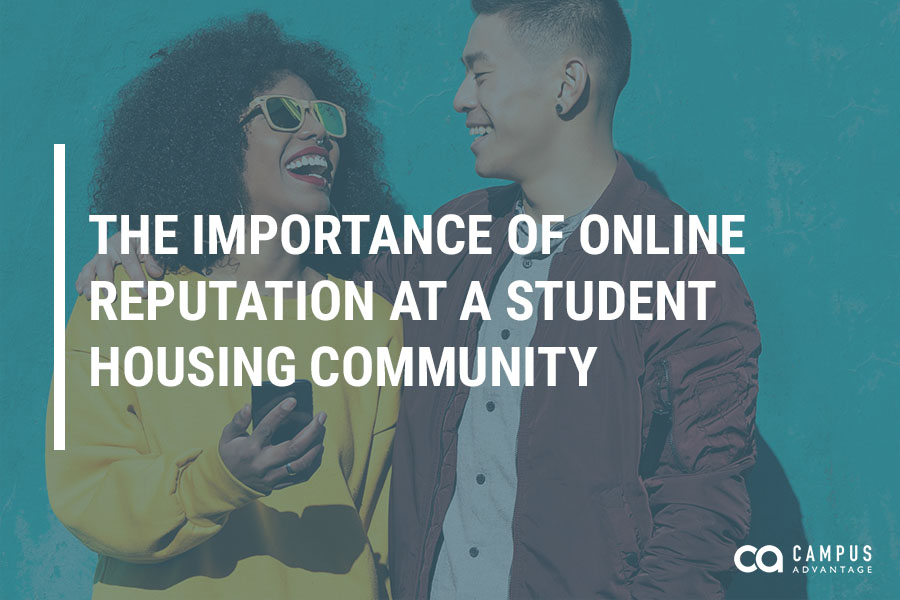 Generation Z is the new generation of college students, and they're a group that is devoted to perusing online reviews before making a decision — 86% of Gen Z reads reviews before making a first-time purchase. This means that now, more than ever, a student housing property's online reputation has a direct impact on the property's leasing velocity, occupancy, and resident retention rate. A student's single experience while touring a community could influence countless other people — and if it's a negative experience, it could mean a detrimental impact on a property's ability to meet occupancy and NOI goals, making reputation management a key focus among management teams.
How can student housing property management companies work to cultivate a positive online reputation? Besides the obvious of offering great service, there are a few specific tips to follow.
Hire strong leaders
It all starts with finding the right people. Hire individuals who own their careers and have a genuine interest in providing a positive experience with people at every interaction. Invest in effective leadership and training to teach these employees how to respond and engage routinely in the best possible manner while also positively promoting the reputation of the community.
Respond to every review
Respond to every positive, neutral, and negative review online. Your response should be genuine and professional — avoid being templated or overly emotional. Show your customers you take feedback seriously and pay attention to improving their experience.
Be both proactive and reactive
Survey residents so problems can be identified and resolved before they need to be escalated. Additionally, quickly remedy issues brought to you before a resident has to turn to a review site to fix what's going on, exasperated that their problem has yet to be solved.
Consider engaging a third-party reputation management firm
If resources are low, a third-party firm who can monitor your property's online reputation and immediately respond to reviews as students post them is worthwhile. Trained reputation management teams can work directly with the site team to resolve issues and customize online responses that mitigate concerns with current and future customers, keeping in mind that everything posted online is a public record and visual representation of your community.
Establish a key performance indicator for reputation management
Many people determine their reputation by what Google tells them, but there are many more review sites to be considered. Research firms like J Turner assign properties an Online Reputation Assessment (ORA) score based on the online reputation found on several review sites, such as Facebook, Yelp, Rent.com, and Mapquest.
Set clear expectations
Whether working with a professional firm or monitoring online reviews in-house, set expectations among all staff members for managing your property's online brand and understand that building a positive reputation takes time.
In Summary
As competition in the student housing sector rapidly increases, customer service and reputation will be the differentiator in many competitive markets. Housing options are abundant, and once opting to live at your community, students and parents expect a heightened level of service. This service must be maintained in order to retain residents and benefit from word-of-mouth referrals. Amenities and rental rates are not the only deciding factors for students. As student housing property management companies continue to lease in competitive markets, a proactive reputation strategy should be at the forefront of any leasing plans.