Trent Poche-Moore Makes Residents Proud to Call Their Community Home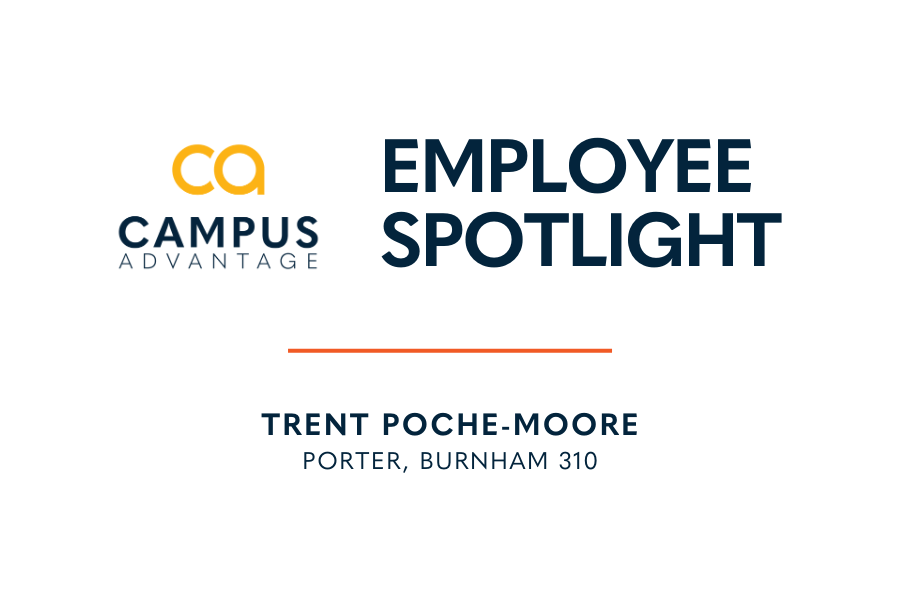 Though new to Campus Advantage, Trent Poche-Moore is already making a name for himself as a porter at Burnham 310 in Champaign, Illinois. From making sure the community looks its best to jumping in to help with whatever his team needs, Trent tackles each day with positivity, initiative, and a hard-working attitude — and leaves a lasting impact for residents and their families. Read on to learn more about a typical day in the life for Trent, all the places he's called home, and his favorite moment with Campus Advantage so far.
What first attracted you to work for Campus Advantage?
My spouse is a Regional Manager, and as a result, he moves all around. So I go where he goes. And so when he took a job in Champaign, Illinois, I did, too. My spouse knew about Campus Advantage from before, when he worked at a community called Millennium in Norman, Oklahoma. And I've been in the business for a while myself — I've done multifamily housing, student housing, on-campus housing. However, I'm still brand new to Campus Advantage — I've been at Burnham 310 for about two months!
Your job has taken you to so many places — what have been some of your favorites?
I've worked in Tallahassee, Arkansas, Arizona, New Mexico, Oklahoma — I've worked all over. I'd have to say one of my most favorites was California, or really anywhere in the West!
What does a typical day look like for you?
Every day is like clockwork. I get here at 8:30, and the first thing I do is make sure trash is taken care of — the garbage chutes, the offices, as well as all around where the trash cans are. After that, I move outside to work on the grounds and make sure those are looking good.
From there, I start with the levels. Burnham is a high-rise, so I start on the 18th floor and work my way down. I go to every trash room, make sure it's clear, and ensure that what's in the recycling containers is exactly what's supposed to be there. Some days — especially after the weekend — are heavier on trash, so I focus on that. On other days, I might spend a good bit of time mopping or vacuuming the floors.
I also take some time to walk stairwell to stairwell on every level to make sure nothing is on the floor, that everything is nice and clean. Other than that, I'm just around to help with whatever the team might need, whether it's picking up, helping with apartments, things like that.
What motivates you to get up for work every day?
I like to do it not just for the students, but for the parents — both our renewals and the people who want to lease here. We get a lot of parents coming here with their students. You know, it's nice when they can see it nice and clean, when they see people working on it that care. It also puts a smile on their faces and makes them proud to live here.
We've got a lot of competition in Champaign — our market is saturated, and students could choose to live anywhere. I want our community to stand out, and that's why I do what I do.
What three words best describe you (inside or outside of work)?
Takes initiative – I love taking initiative, and I don't have to be told what to do at all. I can look at something, know exactly what needs to be done, and take care of it.
Hard worker – I don't mind taking on challenges — whatever needs to be done, I'll get it done.
Follows rules – If there are rules Campus Advantage puts out, I know it's for a reason. I like to follow the guidelines put in place for me, and I tend to expect those around me to do the same.
What is one of your favorite moments with Campus Advantage so far?
There was a girl who came up to me during move-out, and she was so upset because she had lost a piece of luggage. That morning I was here before anyone, so I started taking her information down just to help ease her mind a bit — I know how it feels to lose something, especially something valuable. We never found the luggage, but she was so appreciative of me taking the time to listen to her — her parents even came by, and thanked me as well. I appreciate a "thank you" more than any other compliment — that meant a lot to me.
How would you describe our Campus Advantage culture?
I've worked for a lot of management companies — Scion Group, Greystar, ACC, everybody. But I've found that Campus Advantage is more down to earth and relatable. Compared to other places I've worked at, whether student housing or conventional, everyone I work with here is experienced and very professional.
What do you like to do when you're not working?
When I'm not working, I like shopping, going to thrift shops, and hunting down a good bargain. I also like checking out new restaurants! I move around so much, it's hard to have a set group of friends in one place — but my spouse and I do everything together. If you see one of us, you see the other!
If your life had a soundtrack, name some songs that would be on it?
"I Will Always Love You" by Whitney Houston. There's nothing I wouldn't do — or place I would go — for my spouse. He is the one who got me into this industry, and I've never looked back!