What a New Entrant in Student Housing Needs to Know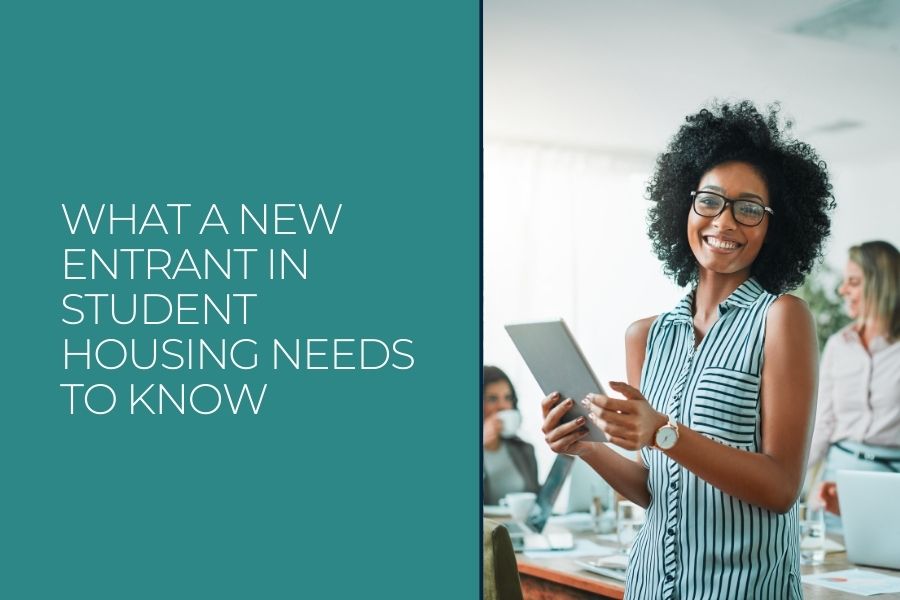 Over the past decade, the student housing market has experienced significant growth with no signs of slowing down any time soon. Coldwell Banker Richard Ellis (CBRE) reported this sector had a "near-record transaction year in 2021, exceeding $10 billion in investment sales volume,"1 while Student Housing News posited the "fourth quarter of 2021 was one of the most active periods for investment sales in the history of the student housing sector."2
"As of early May 2022, according to College House, which reports on over 1.14 million beds across 245 markets, the industry is now ahead of last year in both occupancy and pre-leasing," said Scott Barton, Chief Investment Officer at Campus Advantage. "National occupancy is reported at 90%, or 5% ahead of this time last year, while pre-lease occupancy is reported at 79%, or 9% ahead of last year."
These stand-out stats certainly demand the interest of real estate investors — seasoned and new entrants alike — especially as the first quarter of 2022 showed this industry continues into unprecedented profitability. It also will be interesting to see how the recent news of Blackstone acquiring American Campus Communities (ACC) for $12.8 billion will impact the industry.
But what if you've never ventured into student housing because of the intricacies involved or fear of the unknown? Student housing is very different than conventional housing, and without knowledgeable insight and foresight about the market, demographics, competitors, revenue management, operational efficiencies, and how to bring it all together for resident satisfaction and a winning market offering, your anticipated ROI could take an unfortunate turn you didn't expect.
As a seasoned veteran in the student housing industry for almost 20 years, Campus Advantage has a proven track record of creating successful communities with a specialty in third-party management, investments, and consulting services. We know the ins and outs of this industry well and routinely exceed expectations for our partners and properties. Whether you're interested in a particular off-campus asset or seeking to invest in a nationwide portfolio, there are some key points a new entrant in student housing needs to know.
Consider the scope
Deciding to enter the student housing market requires an evaluation process to ensure this new investment is a sound move, and that you're equipped to handle the ebb and flow of a younger, competitor-conscious demographic. Some things to consider: How are you going to attract and maintain staff? What will training look like? How are you going to make it an attractive place to work and provide opportunities to grow?
Efficiency is a priority
Avoid the square-peg-round-hole approach. If you come from a multifamily background, that doesn't mean the same operating methods will work for a student-focused asset. In this case, familiarity can be a trap where the path of least resistance can often be the most expensive mistake. When taking on a new property, evaluate everything. For example, would the existing multifamily property manager be the right fit, or should you find someone new with student housing management expertise? Exploring alternative options to ensure your investment is being operated as efficiently as possible will save you time, money, and mistakes.
Know the nuances
Student housing affords its own nuances, so due diligence in this area is a must. Maintenance, payroll, and overall expenses will be a lot higher than traditional multifamily housing. Typically, there will also be higher staff turnover with residents graduating and moving away, which has its own expenses. The student housing demographic can be challenging because it includes first-time renters, plus their guarantors, combined with the dynamics of individual leases, roommate matching, and all-inclusive rent.
Supply and demand
University enrollment rates, campus expansions, commuter student trends, international student populations, tuition rates shifting rapidly, and understanding each market's supply and demand is key, especially as this sector continues to experience significant growth. Consider the dynamics of what these numbers look like and be prepared to align your acquisition or development strategy with a comprehensive forecast of the market dynamics.
In the same manner, do your amenities package and services meet the demand of what students are looking for in off-campus housing? Renovating the pool area may be great for one property, whereas a heavier focus on expanding study rooms could be better for residents in another market. Overall, keep in mind that highly amenitized student housing is very appealing to prospects, and key studies are published annually that outline amenity demands.
Do you offer a residence life program with engaging events that foster community and connection for those who call you home? At Campus Advantage, our Students First® Experience provides valuable opportunities for residents that far outlast the life of their lease, including programming that touches on living, learning, and career opportunities.
Managing lease-up
The most important day of the year: Move-in! Missing this crucial date in student housing has consequences that can hinder occupancy and market sentiment about your community for the rest of the year. The biggest differentiator between student housing and multifamily housing is understanding that the flow of new renters is driven by academic calendars and is not steady throughout the year.
Approaching leasing as a season that starts from scratch every year will help you develop the right strategy for your property. It's a bit of an art to get right, and every market has slightly different answers to key questions:
Would a renewal campaign be a strategic approach for this market?
Should you push rates across the board?
Is it best to focus on occupancy or on rates?
Marketing your property
Does your property stand out among competitors with a strong brand and reputation management, an inviting digital presence, and creative leasing strategies that capture your audience from first click to signed lease and into the resident experience? Communities within the Campus Advantage portfolio have direct access to Catalyst, our dedicated marketing firm that specializes in generating the leads, leases, and reputation you want. From creating an online presence for that unforgettable first impression to custom campaigns (portfolio-wide and individual) and more, Catalyst makes our communities shine above the rest.
The value of revenue management
Having the right tools and people in place that provide solutions to effectively balance the dual priorities of rate growth and leasing velocity will be one of the best decisions you ever make for your asset. One of the greatest values in this area is decreasing your concession spend as much as possible while still being able to achieve budgeted occupancy.
Take the time to think deeply about concessions — will it benefit your net operating income (NOI), or will it backfire? Just because a competitor down the road is offering an attractive incentive doesn't mean it's the right time for your property. There are times where good strategy means your property is the first in the market to engage prospects with a unique leasing special, and there are times when it's best to lease a little more slowly so you capture higher rental rates over time.
Sometimes it's necessary to cut rates, and sometimes gift cards will be offered. However, consider other concession approaches that may not be as costly as gift cards, such as a campaign to win a dream vacation or a raffle to win free rent for a year. Depending on your property, it may be more cost effective to get 50 new leases with a contest where they're entered into a great giveaway that helps to drive rates and occupancy at very little cost.
Find a trusted partner
When entering student housing for the first time, it's important to consider working with a seasoned third-party operator that can provide the right team and candid advice from a place of reputable experience — advice that will help you succeed. Avoid partnering with an operator that just tells you what you want to hear for the cheapest price you can find. Instead, partner with a company that does its research on the market, on your asset, and on the specific goals you have for your property. Your investment needs a clear path to success with a partner that involves their operations team and will have their boots on the ground in those early conversations with you.
Bottom line, when you take on a new property, what matters most is growing the NOI, which means growing revenue while mitigating unnecessary expenses at the same time. A key part of this is examining the total revenue at the end of the student housing leasing season in August and asking: Was it managed with momentum in a way where you ended with the successful combination of occupancy and a rate to achieve the highest revenue?
Student housing is an exciting business — it's more chess than checkers, but for those that love the art of strategy, the rewards are worth the risk. To learn more about Campus Advantage and how we can help you enter the student housing market with our experience in property management, investment management, and consulting services, please contact Caitlin Hanks at [email protected] or call (512) 579-5452.