Avoid Common Student Housing Investment Mistakes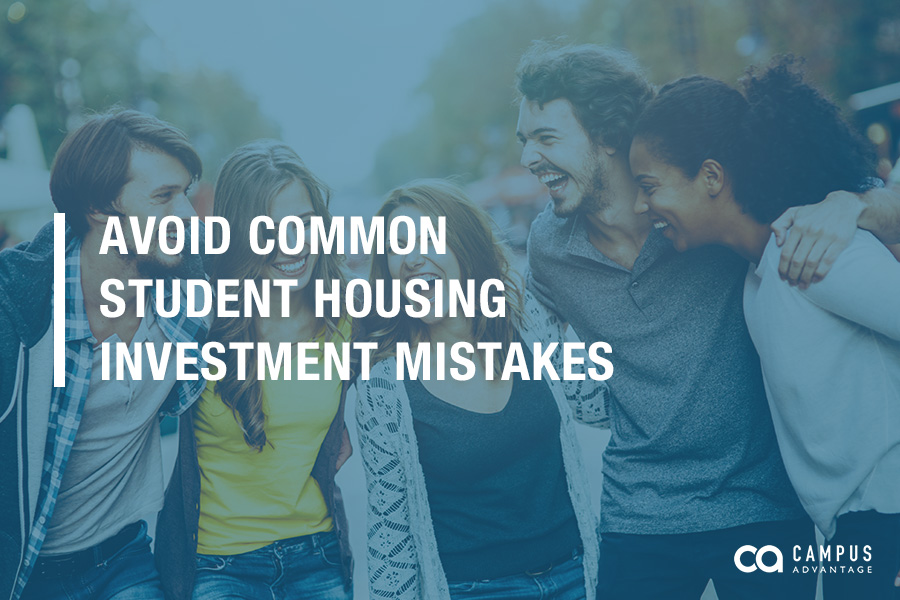 The student housing sector has become a very popular asset class over the past several years. With comparatively recession-resistant characteristics, a historically steady rental stream buoyed by relatively high enrollment trends at four-year institutions, and tight on-campus housing supply, investing in off-campus student housing is now mainstream. The New York Times reported in February 2017 that capitalization rates in the student housing sector typically run one-half to three-quarters of a percentage point higher than with traditional multifamily properties, making student housing an attractive segment for real estate investors.
As with all investments, knowing when to sell is key to maximizing returns on your student housing investment. In most cases, the investment strategy you set in your acquisition planning stage will dictate when you sell. For example, it would be unusual to sell an asset acquired to drive steady, long-term returns within a three to four-year window. However, changes in business strategy, and most importantly, market conditions, can change the game plan. 
We see three common mistakes that lead to poor decisions in determining the right time to sell student housing investments:
Holding on too long. In holding student housing properties for three years or more, your investment should be suited for long-term capital growth. If a property is no longer experiencing significant rental rate growth, waiting longer than needed to sell the property will simply lose you money.
Getting greedy. Often, there are unrealistic expectations around how much should be financially gained from selling a student housing property — or how much rental rates should increase over a given amount of time.

 

Maintaining a realistic sense of property values and rental rates can help ensure you stay level-headed regarding the decision to sell.
Not taking into account the optimal time to sell. When you are deciding whether or not to sell a property, the time of year should be a consideration. While it is not a good idea to hold onto a property too long, remembering tight student housing schedules will help you position your property at the ideal time. October/November is a risk-neutral time to sell, as the lease-up season is complete, therefore the concern of filling beds is removed. However, waiting too long after lease-up season means that buyers will have already moved on. While timing should never be the only factor when deciding whether or not to sell, it can aid investors that are on the fence in making the decision.
Want to learn more about our approach to maximizing returns by selling at the right time? Check out our white paper: How to Know When It's Time to Sell Your Student Housing Community.