EMPLOYEE SPOTLIGHT: PETER JBEILI IS HAVING THE TIME OF HIS LIFE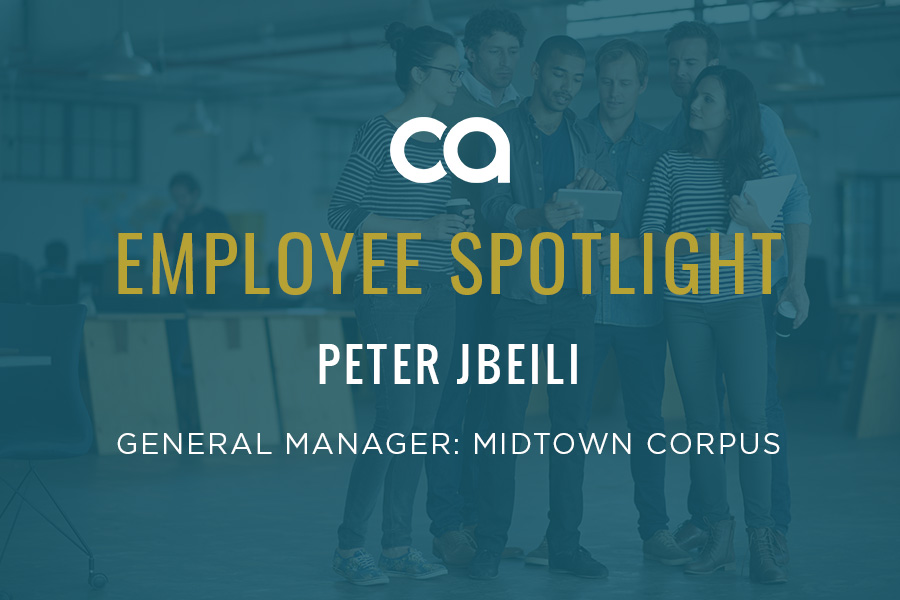 Peter Jbeili has mastered the work/play balance. A proponent of efficiency and productivity – as well as office parties – the Interim General Manager at Midtown Corpus in Corpus Christi, Texas juggles multiple roles while keeping both his team and residents happy.
Peter first experienced the Campus Advantage MOJO when Midtown Corpus was transitioned to become part of the Campus Advantage family of properties — and quickly joined along for the ride! He's a fan of Campus Advantage's open, inclusive culture and the creative ideas he and his team get to come up with to involve residents in new ways. He sits down with us to answer a few questions about his role at Campus Advantage and why Green Day is on the soundtrack to his life
Have you held any previous roles at Campus Advantage?

I began as the Interim General Manager last year. I feel that in that time, I've conquered the roles of General Manager, Assistant General Manager and Leasing Manager all at once. I've had to wear several different hats as I've grown as a leader, which has made me a master of acclimating.
What first attracted you to working for Campus Advantage?
Campus Advantage was transitioning Midtown Corpus into their new portfolio, and in the first week of onboarding with Campus Advantage, the team knew it was going be a fun experience!
If your life had a soundtrack, what's one song that would be on it?
Good Riddance (Time of Your Life) by Green Day, because it's all about doing your best to live in the moment and taking whatever life throws at you.
What are three words you would use to describe our culture and why?
Fun – We truly enjoy what we do and make it fun.
Efficient – No procedure is set in stone. If there's a better or more innovative way to do it we change it.
Effective – We strive to perfect every policy and procedure while keeping things fresh.
What are you doing to ensure that residents have a great experience living at Midtown Corpus?
We're always trying new things to get our residents involved in the Midtown Corpus community, so we put on a variety of events and programs.  When we have an event or program that residents really like or find useful, we share it with our sister properties to help everyone move forward.
What motivates you to get up and come to work every day?
The inclusiveness of the company. Any time there is a change, that change accommodates everyone, from the lowest rank to the highest rank. Everyone is down to earth, even the CEO Mike Peter and the COO Scott Duckett. They are very engaged and even congratulate Community Assistants on their accomplishments to ensure that they feel like part of the HUGE Campus Advantage family.
Thinking of your most successful teammates, what characteristics do they share?
They all encourage team feedback to drive change.  For example, our regional managers don't make blind decisions – everyone who will be directly affected by a change is consulted. They encourage the team to provide input, so It is very easy to give feedback. This means we make organizational changes that help the business, but also consider the staff and what they think will work.
If you had to choose one company value that best represents you, what would it be and why?
MOJO (the Campus Advantage philosophy of taking our work and our communities, but not ourselves, seriously)  – especially at the office. We like to have fun, impromptu office parties – gotta love what you do to do it right