HOW TO TURN AROUND LOW RESIDENT SATISFACTION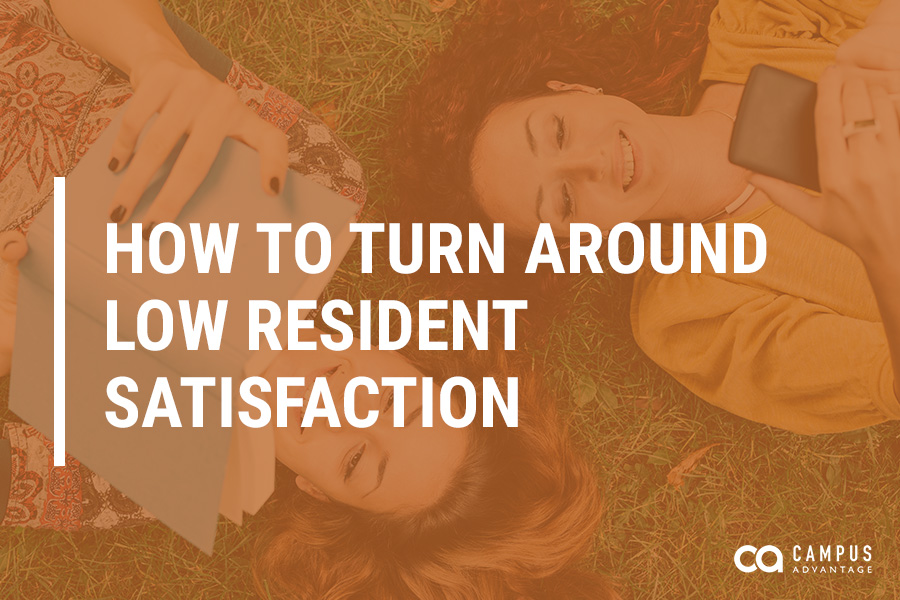 Campus Advantage creates predictable success for our student housing communities by focusing on two bottom lines. The first is what probably comes to mind initially: financial excellence and a positive return on investment. The second is creating excellent, rewarding experiences for our residents. By diligently focusing on both of these, we are able to meet revenue goals as a student housing management company while making raving fans out of the students who call our properties home, which is key for building an excellent reputation that brings in new residents each year while retaining current ones.
The first of these two bottom lines is straightforward to measure. The second may seem less so, but we've created a way to quantify whether we're doing our due diligence to create rewarding experiences for our residents. Using a formal process, we regularly assess property reputation and then take proactive measures to prohibit future issues.
Are you a student housing management company experiencing low resident satisfaction? Read on for tips on how to fix it.
Step 1: Discovering the Origin of Poor Resident Satisfaction
The first and most important step in turning around poor resident satisfaction is to identify resident concerns or recurring satisfaction issues. Your team needs to be equipped with the right tools and data to detect the issues and then resolve them appropriately.
There are many points during a resident's stay at a student housing community that present the opportunity for cultivating either a great experience or a poor one. When a student has left feedback for your community — whether on the positive or negative end — it's important to understand that their perception comes from somewhere, regardless of whether your team disagrees with their perception.  More often than not, poor feedback originates with something lacking within the  "3 P's": your people, products, and processes.
With this fact in mind, Campus Advantage created an offering called Reputation Management, which takes a data-driven approach to identifying the key failure points within a community's three "P's." Our Reputation Management service assesses reputation, students' perceptions, and our residents' level of satisfaction by providing a third-party perspective as well as aggregating external feedback. It has proved invaluable for us in turning around poor resident sentiment. Once you've identified that your community doesn't have enough parking, suffers from noise complaints, or is downgraded by appliances that are dated and no longer functioning properly, it's far easier to put a plan in place which details a series of corrective actions and outlines a means for addressing specific resident needs and desires.
Step 2: Prohibiting Future Dissatisfaction
Simply correcting issues is not what creates community fans. This is where the second part of reputation management comes in. You must implement forward-facing steps to ensure that whatever contributed to low satisfaction doesn't happen again and that positive sentiment is proactively sought after moving forward.
At Campus Advantage, we regularly survey our communities through various means to gather students' opinions on our properties, learn how we can improve, and determine what events and experiences to provide in the future based on interest. These surveys provide insight into both pain points and positive opportunities in a fresh way that allows us to proactively deliver excellent service and experiences.
Our #1 tip for preventing future resident dissatisfaction is investing in your people. You need to motivate, train, and enable your team to outperform expectations; this will result in high customer satisfaction. A great exercise is to mentally evaluate if you would feel comfortable with every one of your employees — from maintenance staff to leasing agents — solely handling and supporting an unhappy customer on a missed experience. If there is anyone on your team you feel would not provide the highest tier of experience and follow-through, it should be a key priority to develop that person until they are able to provide a superior customer experience.
We hope that this framework has provided a helpful tool for turning around low resident satisfaction. While poor satisfaction is certainly concerning and can be harmful to your property's reputation, it doesn't have to stay that way. With the right processes, perceptions can be turned around and proactively addressed in the future so that positive resident sentiment is restored. If you're interested in learning more about our Reputation Management services, please feel free to contact us.