Student Housing Investments in 2021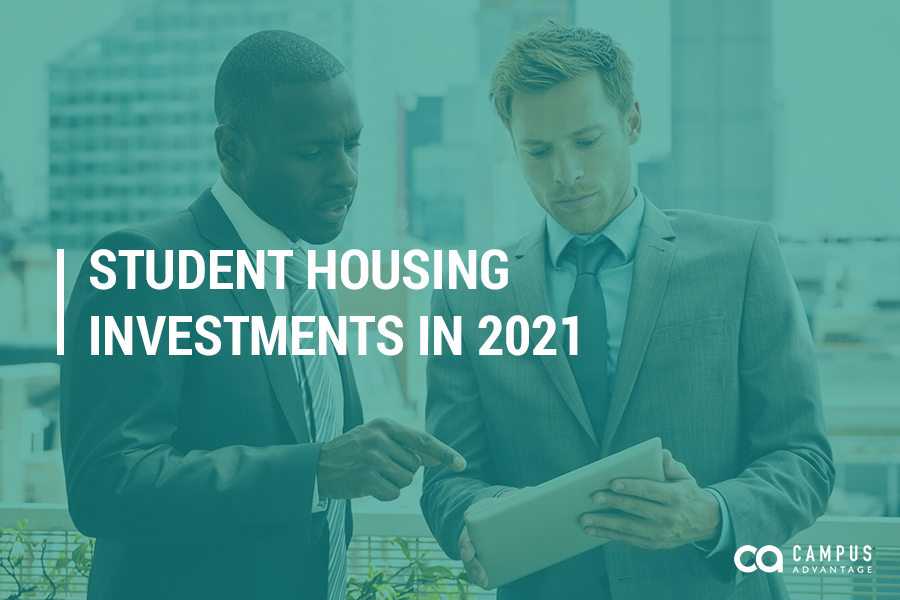 2021 has arrived, and with it, investors look ahead to another year of making the right decisions for their portfolio. Commercial real estate experienced tremendous volatility in 2020 due to COVID-19, and among the class' pillars — office, industrial, multi-family rentals, retail, and student housing — office and retail faced, and continue to face, significant volatility. Retail investment sales plummeted 73 percent year-over-year in the second quarter of 2020 (Real Capital Analytics), and offices are predicted to face a net 215 million square feet of global vacancy due to the pandemic (Cushman & Wakefield). In contrast, student housing is proving resilient throughout the pandemic and subsequent recession. According to CBRE, year-over-year Q3 2020 rent growth was 1+.6% compared to multifamily's -3.3%, underscoring that student housing is a low-risk investment with generally predictable returns. Looking ahead to 2021, there are a number of reasons why student housing is predicted to continue to perform as a worthwhile investment.
Increased enrollment in tier one schools (defined as universities with more than 20,000 full-time students) with a combined reduction in enrollment in tier three schools (less than 10,000 students). In the long term, we predict that many state systems will reevaluate their third-tier branch campuses and send those students to their tier one or tier two schools. An increased number of students attending tier one schools will be very attractive to investors looking to fill occupancies.
More second-year students returning to school. In 2020, many freshmen took a gap year or chose to go to school entirely online. We predict that, as we've learned more about the coronavirus and vaccines are distributed, those individuals will desire to return to school this year and be near campus and other students, increasing demand for student housing.
Online or hybrid learning means students will crave in-person experiences. Purpose-built student housing, that provides students with common study areas, high-speed internet, residence life programming, and proximity to campus, will be more important than ever before. Even if common areas and resident events look different than they did last year, a resident's student housing community will serve as a necessary means for relationship-building and connection — in fact, it may be one of the only places where they are surrounded by intentional opportunities for community during this uncertain season. Communities with exceptional events and experiences for residents will be, more than ever, a critical part of the fabric of the university, and a smart choice for investors.
Final Thoughts In 2020, student housing proved to be a resilient asset class and, given performance in past economic recessions, it can be determined that this trend is the rule — not the exception — for investing in student housing. In fact, from 2008 to 2010 (during the U.S. housing crisis), publicly traded student housing real estate investment trusts (REITs) increased same-store NOI by 8.7%, whereas publicly traded conventional apartment REITS decreased NOI by 6.3% (SEC Public Filings). If you or someone you know is interested in student housing investment opportunities, Campus Advantage offers a fund that invests in a diversified portfolio of properties. If you are interested in Campus Advantage's student housing investment fund, click here.