Why Post-Pandemic Is the Time to Invest in a Student Housing Consultant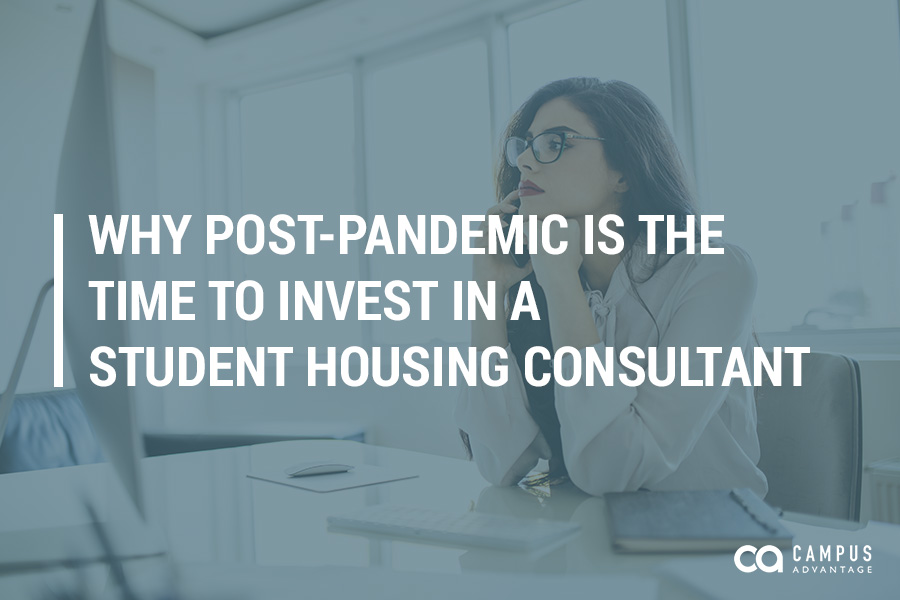 By Theresa Sopata, Vice President of Business Development and Client Relations
While overall, the student housing sector fared well throughout the duration of the pandemic, particularly compared to other real estate asset classes, it was no surprise that individual properties and markets experienced a less-than-favorable outcome. Whether it was high turnover, low collection rates, poor resident retention, or lower pre-leasing and/or occupancy results that led to underperformance, there are a few tactics a student housing consultant can employ that will bring your asset back on track to meet goals and expectations.
Due Diligence
If you own a property that was subject to underperformance in 2020, or are seeking to acquire a student asset, due diligence services performed by a team of expert student housing consultants are essential in supporting financially sound decisions. The pandemic affected each student housing property uniquely, ushering in the need for updated research on every factor that could affect a student's decision to lease. These factors include intangibles, such as student enrollment demographics, competitive analyses, and marketing and leasing campaign messaging, as well as tangibles, such as the modernity and functionality of common areas and units. A thorough understanding of these elements that affect performance can drive success for owners and happier residents resulting in a higher retention rate.
When considering a student housing due diligence team, the ability to be flexible as the pandemic continues to pan out will be key for optimizing the investments of buyers. Anticipating the need to pivot to virtually supported due diligence needs, Campus Advantage quickly structured and adopted new practices to thoroughly inspect and analyze the assets without sacrificing the quality of the study. While many of the services had to be completed virtually, some services such as unit walks were pertinent to complete in-person. Leaning on CDC guidelines, our student housing due diligence teams were able to deliver expectations while adhering to PPE, distancing, and safety protocols.
Operational Assessment
Slow-growing innovation trends, such as virtual tours, self-guided tours, an increase in digital marketing spend, and designing spaces focused on bringing the outdoors inside were pushed to the forefront as a main focus in the last year. As we continue to move forward from the pandemic, an operational assessment may be very helpful for your property to analyze expenses, revenue, usage of existing common area spaces and various customer services that students expect today. Is your property continually offering engaging events for residents while adhering to the changing CDC guidelines? Are students able to reach you through technological platforms that allow for constant and open communication?
Consultants are able to identify areas of optimization during an operational assessment and, when resolved, contribute to critical relationship-building between your property and current and future residents that will greatly benefit your bottom line.
New Development Lease-Up
Our consulting team's combined 40 years of real estate experience includes consultation on new student housing developments all over the United States in over 100 markets. Real estate is local, and our team is able to offer a tailored approach to each project. It is imperative that each new development is assessed and analyzed with the ability to leverage lease-up intellect and narrow in on each market's unique offerings including the student demographic, demand capture, oversight of enrollment and housing trends and forecasts, the current and future pipeline, knowledge of the location, and overall desires of the market's particular student body. These insights and analyses fuel the consulting team with data that will assist in creating an initial operations budget in addition to a custom marketing plan that will be designed to introduce the development to students well before move-in day. Working with our consulting team, you will find that our combined efforts and orchestration of many moving parts will heavily assist in your project achieving budgeted occupancy and NOI goals.
Market Analysis
In student housing, every market is highly varied. This was on full display at no other juncture than during the pandemic, where some markets incurred dramatic shifts in performance, and others remained stable. While it is important to understand national trends, it is critical to keep your finger on the pulse at the micro-level — and this is where a student housing market study comes in. A market analysis can properly forecast rental rates, operational expenses, enrollment projections, occupancy rates, and target demographics to help set and exceed expectations.
How to Choose a Student Housing Consultant
If you've decided that the time is right to hire a student housing consultant, there are a few things to consider:
Experience matters. Years of experience are always beneficial, but in the ever-changing student housing industry, they are crucial. Our consulting team has a combined 40 years of experience and has completed over 300 professional engagements, giving us the knowledge and expertise needed to help properties thrive.
Data matters. We believe data is absolutely necessary to drive top performance. Our consulting team performs annual market assessments on each of CA's managed properties for supply and demand fundamentals and helps recommend property strategies for the upcoming year.
Company culture matters. Our culture is built on the values (intelligence, integrity, passion and MOJO) we live and breathe as an organization, guiding how we propel each other and our clients to success.
Resident relations matter. Our Students First® program was built from top to bottom with residents at the forefront, because we know our residents are our most important audience. By creating a program for our residents that causes them to want to leave raving reviews and tell their friends, we boost occupancy and increase retention for our properties.
Our consulting team is flexible and able to work with each client by catering our variety of services to unique needs and goals. If you're ready to optimize your property and prepare for success post-pandemic and beyond, contact us here.